The Best Type Of Flooring That Will Complement Any Living Room Style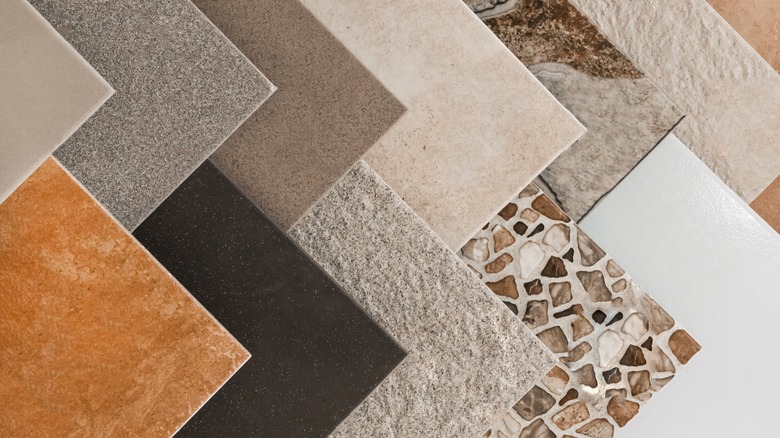 AYDO8/Shutterstock
Choosing a floor to fit your particular design style (and the aesthetic of your living room) can be challenging, given that each type has its own vibe. First, you have to decide if you want carpet or hardwood flooring, which is a whole other task in itself (though many homeowners opt for the latter). The type of flooring you choose for your living room not only affects the vibe of the space, but some can actually add value to your home, LemonBrew states. But if you don't plan on moving houses, your focus is probably geared toward choosing the best floor to complement your space.
There are several factors to consider when shopping for the best living room flooring, such as durability, scratch and water resistance, and of course, aesthetics. And while some floors may only work for certain living room styles, there is one type that will turn any living room into a work of art.
Solid oak flooring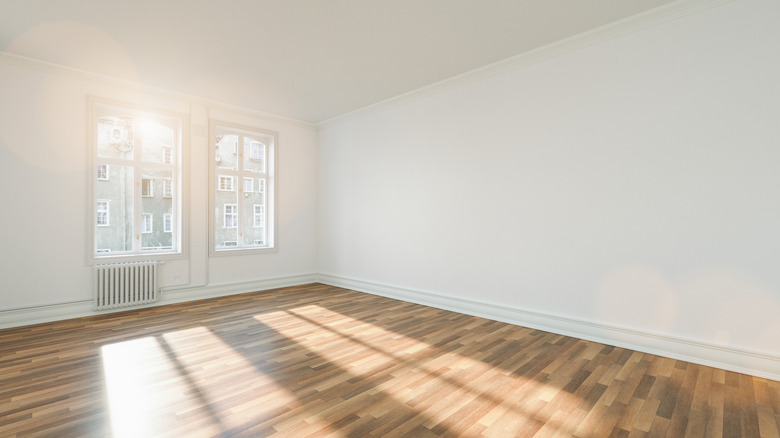 r.classen/Shutterstock
A timeless classic, oak hardwood floors complement any living room style, from mid-century modern to California coastal. Oak is a lot like wine in the sense that it gets better with age. It's superior to all other hardwood floorings because of its durability and the fact it can last hundreds of years, Harman Hardwood Flooring Co. explains. You can even choose between red oak or white oak (both are equally as opulent). Red oak offers a sophisticated look, while white oak helps brighten up the space. One of this wood type's best features is that it doesn't need staining — you can install it as.
Not only will oak hardwood floors complement your living room, but because of the material's durability, they are suitable for every room in the house; according to FlooringStores, you can even use white oak in the bathroom! Once you've installed the flooring in your living room, add a large, plush area rug for a cozier feel, or opt for a geometric pattern to give your space a funky vibe.
Benefits of oak floors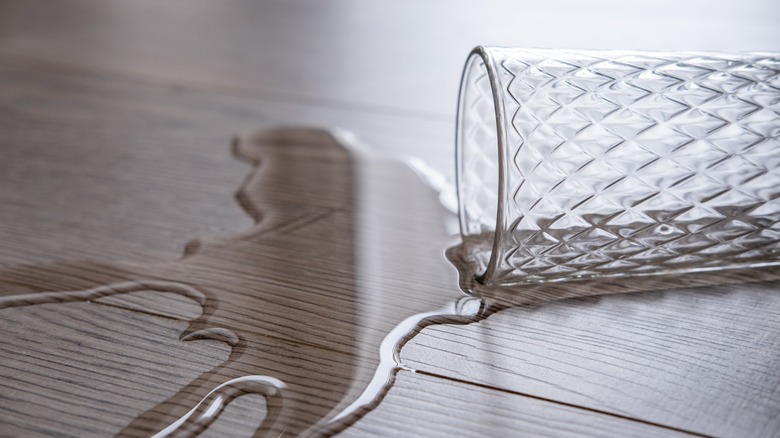 polya_olya/Shutterstock
Oak is such a popular flooring type because of its resistance to scratches and other damage, says Carlisle Wide Plank Flooring. If you have children or four-legged friends, or your living room gets a lot of foot traffic, you'll definitely benefit from having this flooring type in your home. White oak is even water-resistant, so you can feel good knowing your living room floor is safe from spills and other messes (again, if you have pets or kids, white oak is a lifesaver).
According to Blue Ridge Floors, this wood type is super easy to stain, and you can count on a smooth and even look when the job is finished. This means you have a wide variety of color options to choose from, so you won't feel limited when designing your living space. Best of all, oak is one of the more affordable flooring options, which is great if you're working with a tight budget.