Home Depot Or Lowe's: Which Has Better Deals On Hardwood Floors?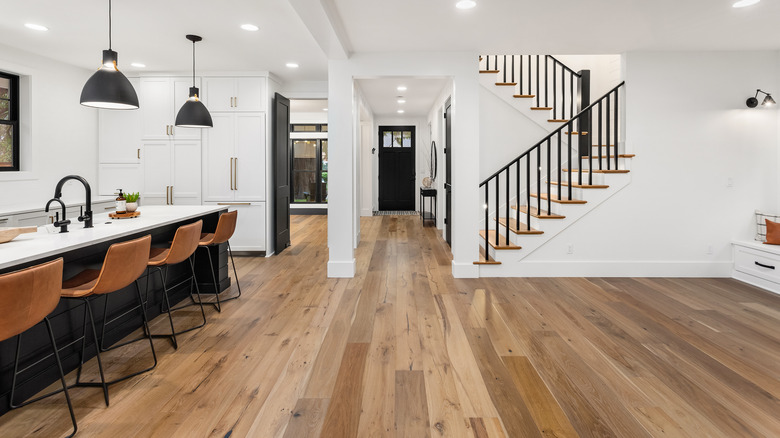 Justin_Krug/Shutterstock
Nowadays, most homes have hardwood floors, but some are still stuck in the carpet era. Carpets have their place (like in the bedroom), but many would agree hardwood floors are the reigning supreme of flooring. With that said, the price of having the most popular flooring type isn't cheap. Homeowners pay an average of $2,000 to $6,000 to install hardwood floors, according to U.S. News, and that's just for a 200-square-foot room. The bigger the room, the higher the cost. If you're installing hardwood floors in your entire home, you're looking at a massive price tag.
To cut down on costs and stay within budget, keep your eyes open for good deals as you shop for hardwood floors. Don't jump at the first one you like without taking a look around. Odds are, you can find something similar somewhere else for a better price. Most homeowners take to Home Depot and Lowe's for their renovation needs, especially hardwood floors. However, one store has better deals than the other ... but which one? It's time to answer the question, who has the better deals on hardwood floors?
Price and materials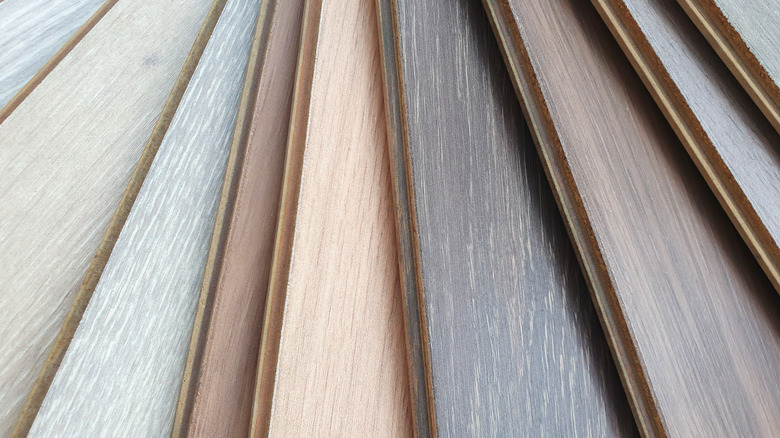 Wongsakorn Dulyavit/Shutterstock
First up is the Bruce Hickory Country Natural Flooring from Home Depot. At $4.59 per square foot, it's one of Home Depot's least expensive hardwood flooring options. To install this type of flooring in a 200-square-foot room, you're looking at around $1,000. Hickory is highly ranked on the list of hardwood flooring options, Floorset states. It's incredibly durable and outlasts even the strongest wood — even red oak. Because of its durability, hickory is a great choice for households with kids or pets. The only drawback is it's more likely to swell than other woods.
Next up is the Bruce Frisco Pewter Oak Flooring from Lowe's, priced at $3.79 per square foot — nearly a dollar cheaper than its competitor. However, according to FromTheForest, hickory is superior to oak, so while you're paying more at Home Depot, you're getting higher-quality floors. Oak is more prone to scratches and dents than its counterpart. Not only that, but oak wood is more likely to have insects and heartwood decay.
Customer reviews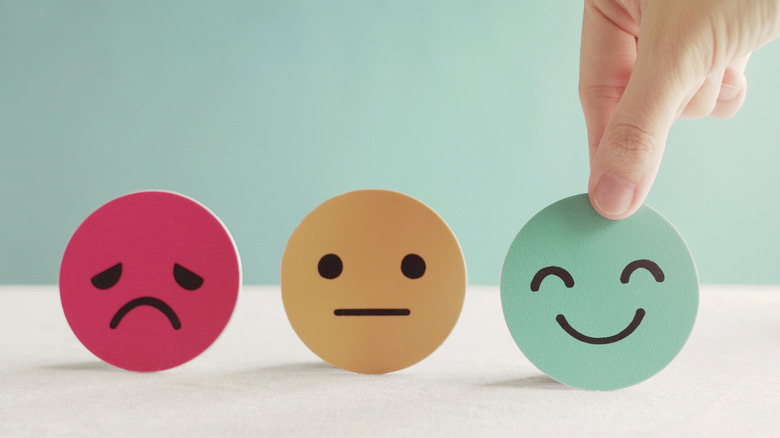 SewCream/Shutterstock
With more than 760 5-star ratings, it's clear Bruce Hickory Country Natural Flooring is a massive hit. Many customers raved about the floor's durability and how easy it is to install, as seen on Home Depot's website. One customer said they were able to complete two bedrooms and their living room all in one weekend. Another reviewer said the flooring is well worth the price, while another stated how clean it looks in their home. If you're looking to match the hardwood floor you already have, customers said the Home Depot's hickory floors did exactly that.
The Bruce Frisco Pewter Oak Flooring at Lowe's is currently rated at 3.7 stars, whereas Home Depot's flooring has a 4-star rating. Additionally, Lowe's had more 1-star reviews than Home Depot. While customers said Lowe's oak flooring was easy to install, many had negative things to say. One reviewer said their flooring arrived cracked and warped, while another called it "garbage," claiming more than 80% of the boards had defects. After looking at the prices, materials, and reviews, Home Depot's hardwood floors are a clear winner.