What's The Best Way To Bring Etsy's 2022 Color Of The Year Into Your Home? - Exclusive Survey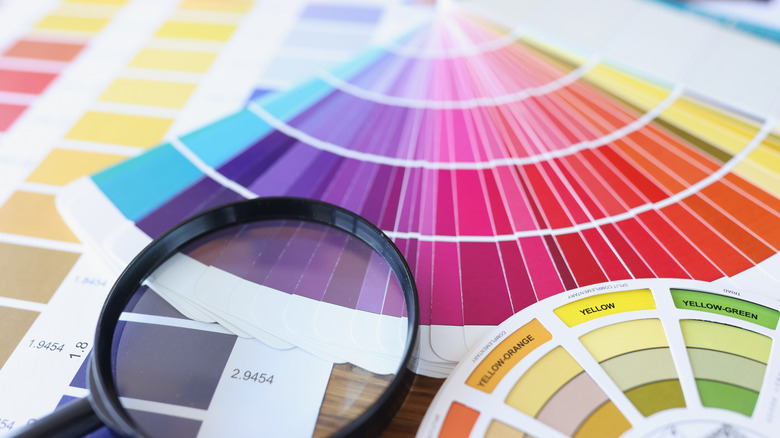 megaflopp/Shutterstock
Etsy revealed their 2022 color the year, and it's a beautiful and deep emerald green. While explaining the reasoning behind their choice, they noted the increased popularity of this extravagant color, as online searches for emerald green merchandise have increased by 64%, and searches for emerald green décor also saw an increase of 60%. This dark shade of green is capable of harmonizing with many other shades such as neutral shades, as well as vibrant golds and silvers.
Recently, House Digest conducted a survey asking participants how they would incorporate Etsy's color of the year into their own home. We gave them six options: kitchen island cabinets, bathroom walls, living room curtains, bedroom wall accents, living room rug, and décor pieces. If you love this hue as much as we do, but aren't sure what to do with it, check out which option ended up being the most popular choice. We'll explain exactly how you can make this color work for your home, too.
Add a touch here and there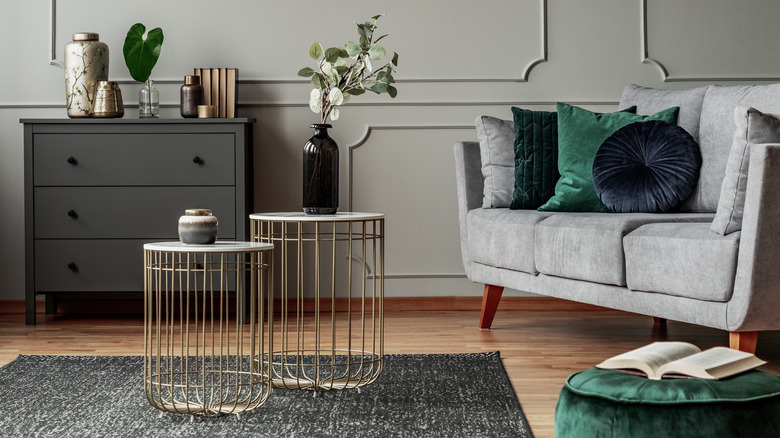 Ground Picture/Shutterstock
Out of 606 respondents, 30.36% (184 people) chose décor pieces as the best way to incorporate emerald green into their home, according to our survey. This color has the ability to adapt to any design aesthetic, such as minimalism, art deco, modern, and traditional, according to Elephant Stock. Additionally, you can introduce this rich shade through works of art, and add emerald green furniture to the space to create a sense of rhythm. It's also advised to insert a few antique pieces for a truly timeless look.
TreeHouse says this shade can be complemented with different colors, such as beige, gray, charcoal gray, black, silver, and gold. So, if you're going for something moody, we advise incorporating an emerald green sofa with a black throw blanket. If you want something more elegant, a tufted emerald ottoman with a gold tray on top will do the trick. Also, don't forget about lighting! A table lamp with an emerald green shade is sure to add a feeling of sophistication to any room.
Bring in elegance and depth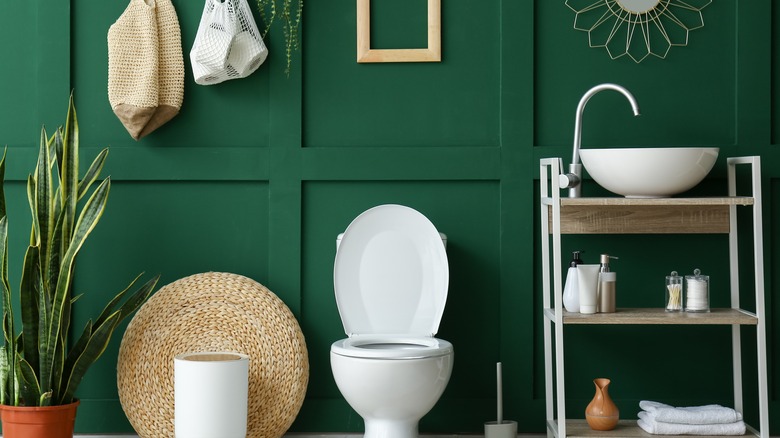 Pixel-Shot/Shutterstock
After décor, 17.82% (108 people) chose painting their bathroom walls as a way to bring emerald green into the home. We're typically accustomed to seeing bathrooms painted with bright colors because we want the space to feel bigger. But while many homeowners believe dark paint colors will do the opposite, that's not always the case. Since emerald green is so dark, it can visually create depth, making a small bathroom seem bigger, according to The Painters Inc. This happens when glimmering lights from the bathtub and shower tile bounce off the dark hue.
If you want to properly complement your emerald green walls, we advise choosing brass or gold hardware, as those colors typically look great with this shade, according to Emily A. Clark. Pairing this color with wood floors that have golden undertones would also help create a classic look.
The following are the other options from most to least amount of votes: living room curtains with 96 votes (15.84%), bedroom wall accents with 87 votes (14.36%), kitchen island cabinet color with 86 votes (14.19%), and living room rug with 45 votes (7.43%).