Heather And Arryn Blumberg Talk Staying Sane And On Budget During A Home Renovation - Exclusive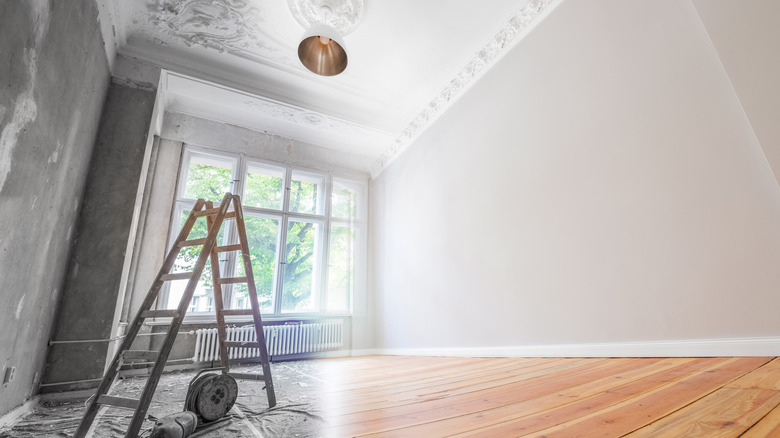 hanohiki/Shutterstock
Living at home during a hectic renovation is enough to drive any family mad. Of course, you'd have to be a little off your rocker if your new property is a sprawling 1800s Victorian funeral home that's undergoing a drastic goth-glam facelift. However, Heather and Arryn Blumberg of the new discovery+ show "We Bought a Funeral Home" are not the type of couple to be scared away by mysterious leaks, unidentified flying critters, or the prospect of swinging a sledgehammer. They're also not fearful of bold design, as evidenced by the couple's unique tips for cultivating an alternative interior aesthetic in their exclusive interview with House Digest.
As it turns out, the couple's ballooning renovation budget ended up being much more harrowing than the prospect of a haunting. Thankfully, though, the Blumbergs know how to keep costs down whenever possible. "When executing your vision, be open to taking on projects to save money, be it doing the demo, or painting, making, or upcycling furniture," Heather said exclusively to House Digest. "There are lots of ways to cost cut, and your contractor is probably very happy to have you take on some of the unskilled items so his team can focus on the real value-add [or] expert pieces."
Of course, cutting costs is important, but some things are best left to the professionals. "Take the time to learn from your trades, but also know what is worth paying for. Plumbing and electric you should never do yourself," Arryn added.
Raising morale during a home renovation
Life in a construction zone is both physically and mentally draining, especially when your children are there for every step of the process. However, while it's impossible to escape a home renovation without feeling any stress, there are a number of ways you can minimize the burden on your family. "Set expectations with everyone. It will be dirty, it will be uncomfortable at times, you will all get annoyed with each other, and that's all okay," Heather Blumberg explained. "But also have fun with it. Camp out, do picnics, challenge each other to cook with unusual tool[s] — whatever appeals to your family. We played a lot of board games. They make us laugh. And that reminded us that it's a fun adventure we are on."
Naturally, living with your family in a chaotic environment is much more palatable when everyone has a space to call their own. This is especially true for families with teenagers who require solitary time to recharge their social batteries. "We really tried to put the kids first, got them set up quickly in rooms and spaces they could escape [to] and relax in, away from the noise and dirt. This helped them feel settled, [and] that in turn took stress off of us," Arryn Blumberg explained.
While the Blumbergs still have a way to go before completing their home redesign, they've already laid the groundwork for a successful renovation that won't sacrifice their family's closeness or privacy. "We still have over half the house to go, but at least now everyone has their space to retreat to, or a lovely area for the family to come together," Heather said.
You can catch Heather and Arryn on the premiere season of "We Bought a Funeral Home" on discovery+, streaming now.