Which Furniture Store Has The Cheapest Desks?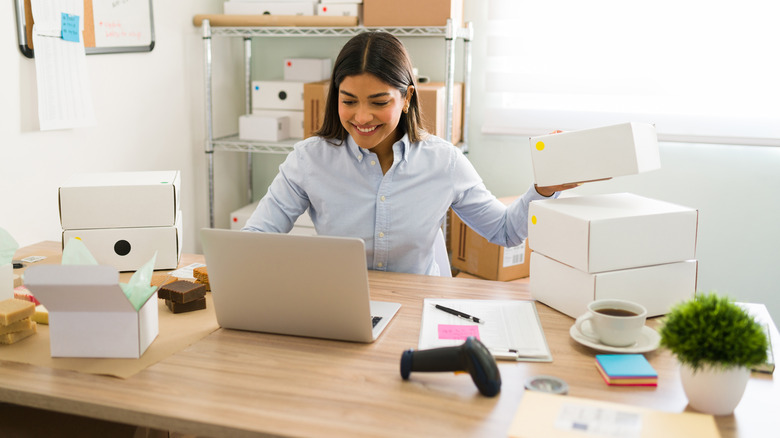 antoniodiaz/Shutterstock
Prices for furniture have gone up dramatically –in fact, they haven't been this high since 2013, according to MarketWatch. In April of 2022, furniture prices had gone up 8% compared to the year before, which was almost double the overall inflation rate for that month. However, this doesn't mean you have to hold off on the home décor project you've been wanting to complete — especially if it's for a space you have to work in, such as a home office. In order for an office to be complete, or at least functional, you'll need to introduce a desk. The average desk costs anywhere between $285 to $1,200, but can sometimes even be as high as $7,200, according to PriceItHere.
Fortunately, we've found the furniture store that sells the most affordable desks. Don't worry, we've taken into consideration the type of material it's made of as well as previous customer reviews. Affordability doesn't mean you have to sacrifice quality, so take a look to see if this retailer is offering exactly what you're looking for.
Walmart is the winner
If you're looking for an affordable desk, Walmart might be the place you want to check out first. They have different styles to choose from at various low prices, per their website. Some desks are priced as low as $45, and the most expensive one they sell online is about $540, which isn't too bad. As we scroll through their options we've noticed the reviews are mostly positive, too.
For example, the Better Homes & Gardens Glendale Transitional Desk is about $160, and has a 4.1 star rating. It comes in two colors — rustic gray and dark oak — and we believe it would complement a rustic or farmhouse design. Many reviewers, such as one who goes by the name Erin, claim the desk is very durable, and they've explained that they didn't face any major issues. It is made out of wood composite, which can sometimes be stronger than real hardwood, via Gambrick. The only downside many customers reported is how long it took to build the product.
Affordable options with fairly good reviews
Another affordable example from Walmart is the Mainstays Basic Metal Student Computer Desk, which is sold for about $60. This is a metal desk with different color options for the desktop and shelves, such as pink, white, mint green, yellow, and gray, as well as a rustic wood finish. Just like the previous option, reviewers such as Rena claim that this product is also sturdy. Others, such as Maria, say they also like the small size of the desk and how it fits in their office.
However, just like before, there were a few complaints about the process of building this desk. Celine said that one of the screws wasn't being cooperative, so they had to make a stop at Home Depot to purchase another one. But, they were still satisfied with their purchase and its design. So in a nutshell, the affordability and durability of the desks sold at Walmart are worth it as long as you're ok with putting in the extra time to build your furniture.