The Price Of Wooden Desks Has Gone Up Drastically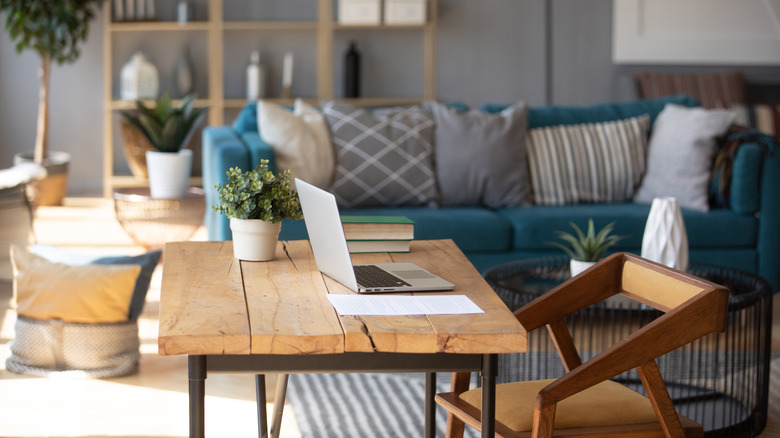 fizkes/Shutterstock
Since April 2018 there has been a notable price increase on furniture and other household durables, as demonstrated in data provided to House Digest from the U.S. Bureau of Labor Statistics. In that period of time, costs have escalated by more than 30%, in conjunction with the heightened prices on lumber. This translates to changes in the furniture business, in which wooden desk prices are steeper than ever. Depending on materials and the amount used, you could be paying anywhere between $250 to $1,000 for a solid wood desk, according to Rooms Solutions.
Among many other industries, the COVID-19 pandemic has disrupted the lumber market, and the ensuing shortage has driven up prices over the past two years in particular. Why? The summer of 2020 saw a huge increase in lumber demand when people were stuck at home, building DIY projects to pass the time. By the fall of that year, building construction resumed, and workers found themselves with a wood shortage, as Forbes explains. The lumber industry has also seen a shortage of employees, which trickled down to the wood product companies, slowing production of desks and other wood furniture.
Thankfully, prices are on their way down
Fortunately, Forbes states we should be seeing pre-pandemic costs in 2023, as the demand for housing won't be as great. This means lumber, plywood, and other building materials will return to their prior levels (if you can hold off on a new desk until then, it will be worth the wait). If you're in dire need of a desk for your home office now, keep an eye out for deals at your local big box and furniture stores. American Home Shield recommends shopping for office furniture during August and September in particular, when stores are pushing their back-to-school sales.
You might do well checking out secondhand shops or estate sales as well. There are a ton of surprisingly great deals on previously-owned furniture — all you have to do is find them. And if you can't find a wooden desk at a price that works for you, consider building one yourself. Not only will it cut down on costs, but you can also customize it to fit your style and needs.