This Sofa Trend Is The Perfect Way To Add Style To Your Space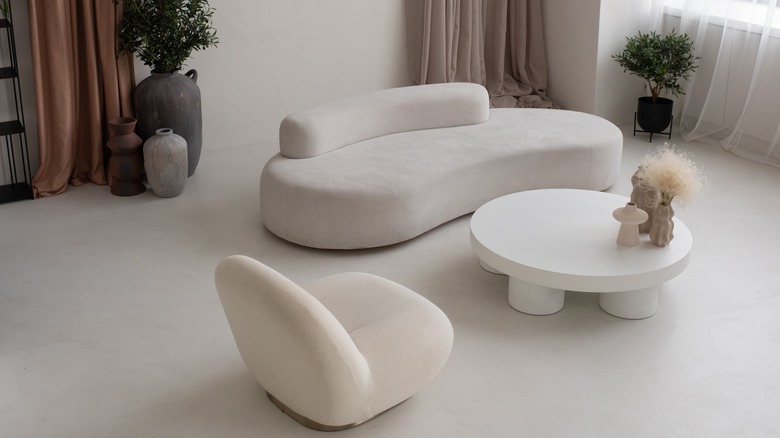 Pressmaster/Shutterstock
Your home is feeling stale, but you're not able to pin down exactly why. The bones of the property are relatively new, and you have gradually updated it over the first few years you've lived there. So, what is it? The answer might surprise you. One of the key focal points of a room, whether it be a living room, a sitting lounge, or even a bedroom, is often the sofa.
For starters, the sofa is the most important purchase for a living room, even more so than the coffee table or storage ottoman, according to Knox Home Furnishings. Not only is your sofa one of the largest pieces of furniture in your house, it's often the first thing people notice when they enter the common area. Depending on your lifestyle, it may be used to offer comfort or accessibility, and it may need to be large enough to host friends and family. When this piece of furniture starts looking tired, it's guaranteed to bring down the rest of the room with it.
If you're ready to update the sofa in your living room, one of the prevailing trends you can utilize to achieve a more stylish aesthetic is a curved sofa. Below, we'll break down what that is and why it should be at the top of your shopping list.
A fresh silhouette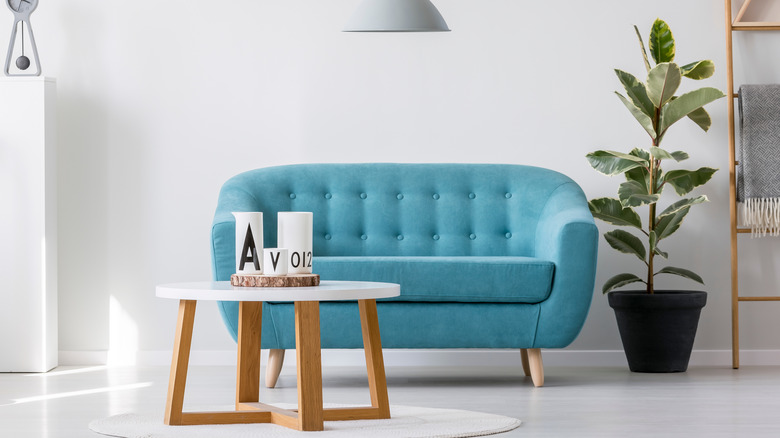 Ground Picture/Shutterstock
Homeowners and visitors are accustomed to the typical sofa silhouette. It can be a bit boring, especially if it's a stale or predictable color like a brown or beige. A rounded sofa can add a fresh silhouette and a dose of personality to a familiar room. While a more amorphous or rectangular shape presents a masculine edge, the rounded sofa frame presents something slicker and more feminine. This juxtaposition presents a plethora of design opportunities.
A dark, moody cocktail lounge styled with a leather sofa and warm tones can still retain its rugged qualities, but with a refined sensibility centered around a piece that is curved. Your living room will ooze comfort with something classic like a Chesterfield with arms that curve up and over, or even a more modern take like an elegant cabriole with arms that curve in as if they're giving your guests a hug, notes Home Stratosphere. A room with neutrals, low contrast rounded furnishings, and lots of natural light will definitely offer a soft, feminine quality. Aesthetically, however, a rounded sofa can also be quite striking, making it a great starting point for creating a sleek mid-century design.
Comfort and scale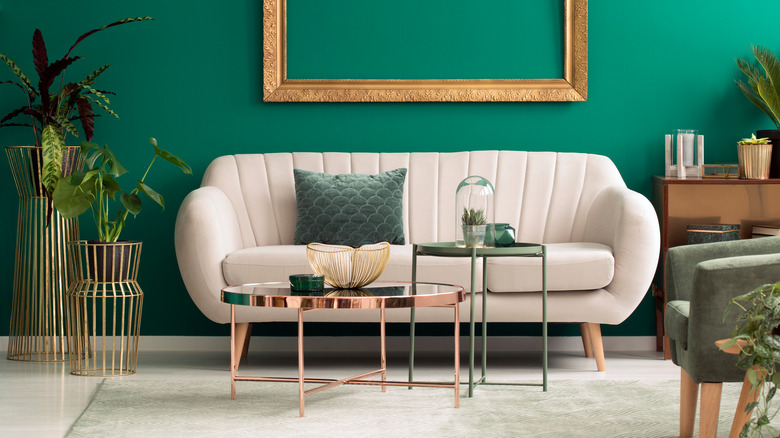 Ground Picture/Shutterstock
Rounded furniture really adds a level of grandeur to a room in a way that few other design elements can, points out Mansion Global. Why? Well, by having a rounded sofa as the centerpiece of a room, the height of your centerpiece has now decreased and, thus, the ceilings and size of the space now feel greater. Yes, the backs of rounded sofas are often lower than those of traditional sofas, which translates to a great design hack if you live in a small home or a place with low ceilings.
Bringing in a rounded sofa will also encourage you to scale back the size of your other pieces. Furthermore, curved sofas installed in rounded rooms will have an even greater effect. The combination of this type of sofa with this architecture will create an expansive and panoramic quality. As a result, the room will have a flowing, gentle, and relaxed quality that it may have lacked before. This is the furniture facelift you have been looking for.