The Best Color Palette For A Rustic Home Decor Style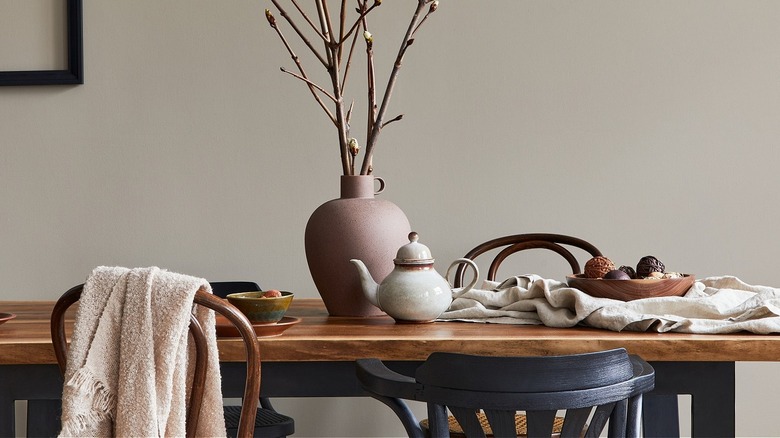 Followtheflow/Shutterstock
Rustic decor can be hard to define, as it actually covers several design styles like French country, cabin, Mediterranean, and farmhouse. Sherwin-Williams has a Rustic Refined collection that's dedicated to the terra cottas of Tuscany, while Benjamin Moore's modern farmhouse palette is more preppy and solidly North American. So when it comes to choosing the right palette for your home, it's best to find colors that work with many aesthetics, while still bringing the warm glow of rustic sensibility to your space. 
We looked at many of the trending rustic shades from major paint companies, like Benjamin Moore, Sherwin-Williams, and Glidden, to create a color palette that not only looks great but can work with multiple, more specific design styles. We'll help you to establish a palette of your own, and give you tips on how to incorporate the shades into your rustic home decor style — from paint to pillows.
The best shades broken down
Whether you're going for a minimalist yet warm vibe, leaning into fall tones year-round, or want a sun-kissed Tuscan villa, these colors play well off of each other. That's partly because earth tones read as neutrals, so you can splash in deep greens, muted blues, and even warm cinnamon browns. In the above palette, reading from left to right and top to bottom, the comparable paint tones are Sherwin-Williams Latte, Benjamin Moore Rainy Afternoon, Benjamin Moore Shelburne Buff, Sherwin-Williams Stargazer, Sherwin Williams Hushed Auburn, and Glidden Spiced Cinnamon. If you find yourself drawn to that barely-there off-white background, opt for Behr Hazelnut Cream. 
To keep your design from becoming too busy but filled with color, try to select two to three shades as your primary colors, and the others as accents. While this is certainly more colors in the palette than you might see in a more minimalist home, or if you're used to using the 60-30-10 rule, part of rustic charm is embracing a more eclectic and organic aesthetic. In addition to these shades, try to use black, white, and natural wood tones to break up the space and avoid color overload.
How to incorporate these rustic colors into your home decor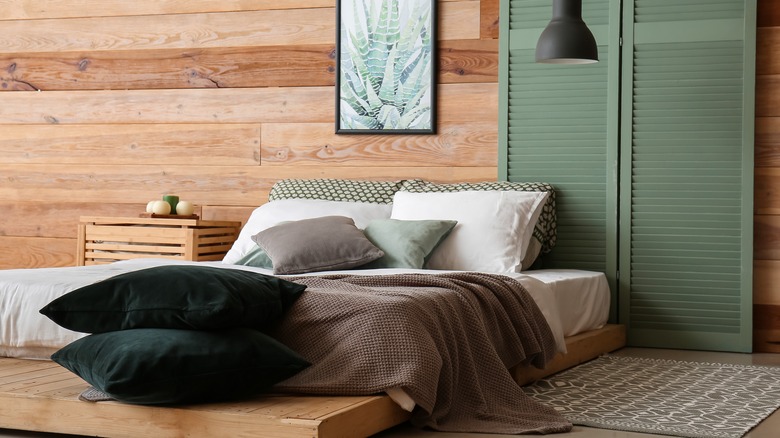 Pixel-Shot/Shutterstock
You may be thinking "I don't have enough walls for all those paint colors!" And that's just fine. You don't need to get a gallon of each of these paint colors. Instead focus on a few areas to paint — walls, molding, window trim, and maybe an accent wall. You can do these in one or multiple colors. Then think about furniture for your rustic decor: Do you have wooden furniture that has seen better days, and have a trending rustic shade you're dying to try out? Sand it down and give it a fresh coat. 
Then think about how to incorporate color without reaching for the paintbrush. Area rugs, artwork, pillows, and blankets are great opportunities to bring rustic colors into your home. To make the space feel cohesive and polished, use a consistent color palette throughout your home, just varying the ratio of each color room by room.