The One Type Of Rug That Most Homeowners Prefer - Exclusive Survey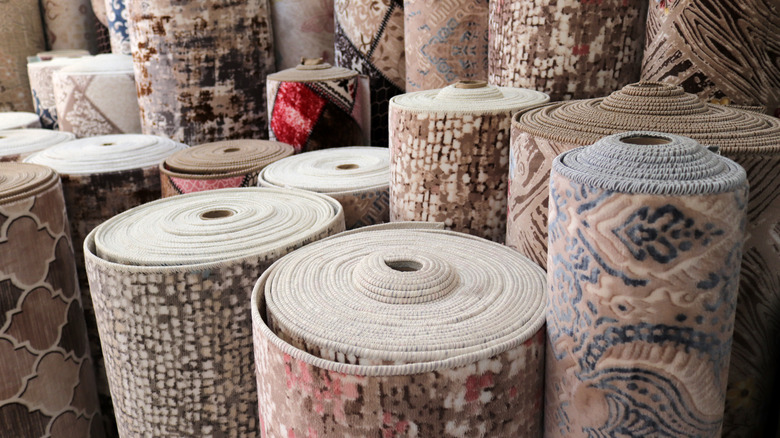 safakcakir/Shutterstock
When designing a room, perhaps you have a method for choosing the right area rug. Maybe you begin by deciding on the right size, then consider your style and color scheme; according to Ballard Designs, this is an excellent rug-picking technique. When choosing a size for the living room, make sure all the front legs of your furniture are on top of the rug; in the dining room, ensure all the chairs fit, even when pulled out. To pick the right style, consider your aesthetic, preferences, and lifestyle — if you have pets or young children, a durable rug may be your best bet. When selecting colors, make sure your rug complements the rest of your space.
Perhaps, you have a favorite go-to look for rug styles. To discover what aesthetic most homeowners prefer, House Digest surveyed 606 people. Participants could choose from the following options: oriental, shag, coastal, Moroccan, geometric, and vintage. Over 23% of participants chose one of these styles, and the answer is revealed below.
Embracing a traditional look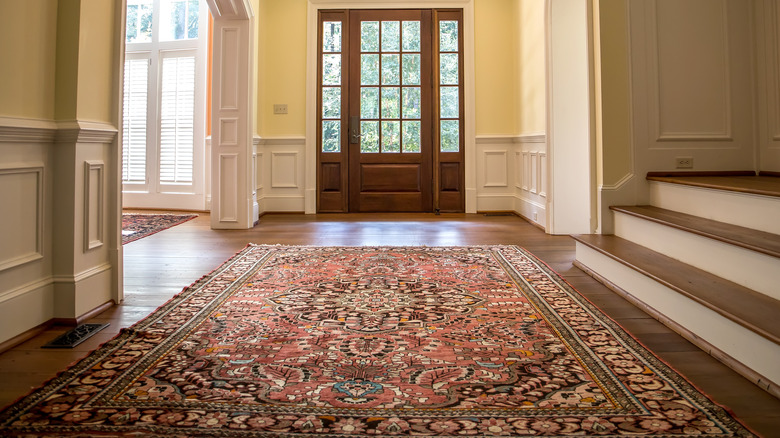 Ursula Page/Shutterstock
Over 23% and 141 participants said an oriental rug was their favorite. According to Teas & Weaves, traditional oriental rugs are of excellent quality, as they are handwoven from natural products and last up to 80 years. These rugs are woven primarily in the Near East, Central Asia, and the Middle East. Zakian adds that these rugs can be much more valuable than other types, especially when they are handmade with high-quality materials. Additionally, their distinctive appearances always have a timeless appeal.
While an oriental rug could look great in a traditional space, they are also often placed in modern rooms. Critelli Modern Furniture says that they infuse life and color into a modern design, which makes the room appear more attractive. Those who love the clean and simple Scandinavian style may desire to decorate with an oriental rug, as their geometric patterns and colors will add lots of personality. Further, these rugs would add warmth to a primarily cool-toned room.
The other styles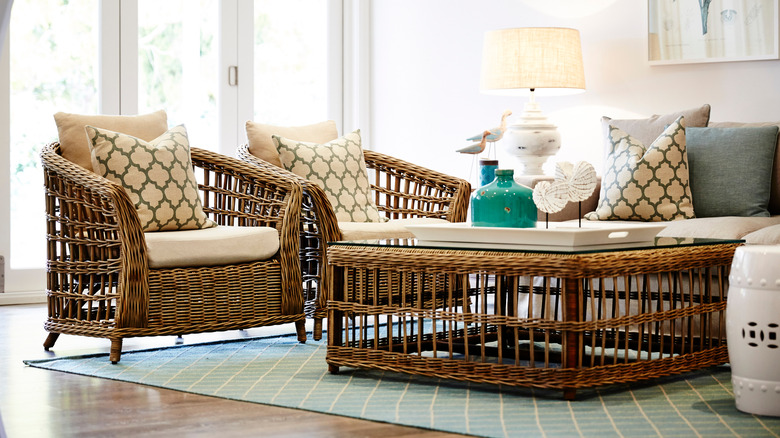 PhotoMavenStock/Shutterstock
The second most popular style was coastal, which was chosen by over 19%, accounting for 118 people. RugKnots says that these typically blue or tan rugs usually feature free-flowing patterns that evoke images of the ocean, waves, or the beach. They could also be made up of natural materials that remind the observer of nature. After coastal came vintage rugs, which 17% (103 people) of the respondents chose. Maison dePax says that vintage designs typically have a geometric or floral pattern and are 25 to 100 years old. 
The Moroccan style came next and was chosen by under 16% (95 individuals) of the respondents. These wool rugs typically feature geometric shapes or folk art designs and can feature bold colors that add lots of character, per Coco Carpets. Under 14%, making up 84 participants, selected geometric as their favorite rug style. Finally, soft shag rugs came in last; under 11%, that's 65 votes.