How To Style Your Home With Antiques This Fall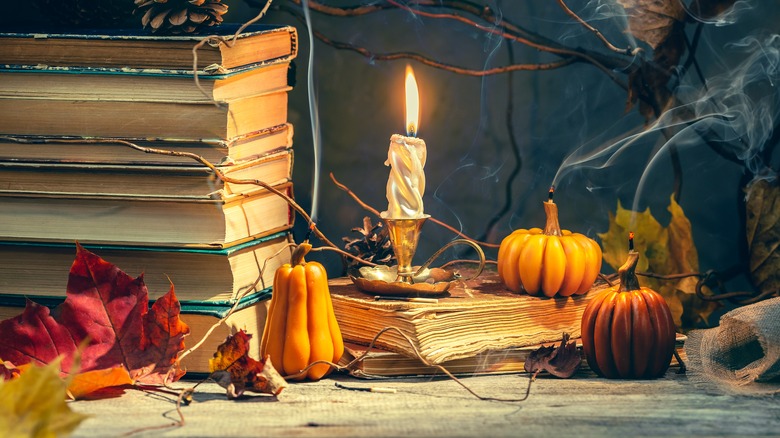 Andriana Syvanych/Shutterstock
Fall is right around the corner, and for most of us, it can't come soon enough. The warm colors, cozy blankets, and pumpkin spice candles are just a taste of what everyone loves about this season, but decorating our homes has to be the best part. There are the typical decorations: pumpkins, black cats, autumn leaves, and other festive accessories. But this year, why not explore different options to really reach the core of fall decor? One way to do this is by going to your nearest antique store to find the perfect ensemble, whether it's for your entryway, fireplace, dining table, or coffee table.
Using antiques to decorate a fall theme might end up being your new favorite activity, as antique items emit a special vibe new items can't, per The Quick Journey. Antiques help make your home feel more cozy and add an extra layer of depth to any room, as each piece has its own backstory. We'll show you how to use antiques to transform your home into a fall paradise — warning, once you're done decorating, you may never want to leave your home.
Use different materials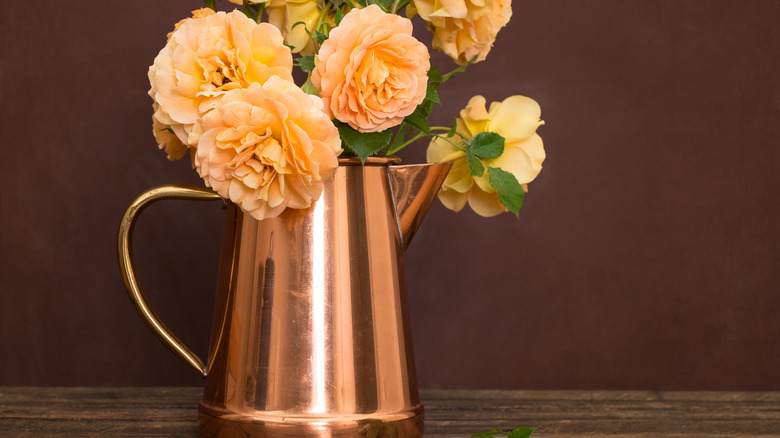 p_ponomareva/Shutterstock
Anything copper can be incorporated into your fall decor, as it emits a warm hue, and is easy to pair with other colors, per Postcard from the Ridge. For example, if you were to obtain a copper pitcher, you could then fill it with soft, complementary colored flowers. There are several different types of flowers you can use, such as a bouquet of roses, with different shades of pale purple, or different shades of light orange, according to Petal Talk. Chrysanthemums are a great choice, as the bright orange complements the warm copper, and gives it more of a casual look than roses.
Anything rusty and chipped could also be a perfect decor piece for your residence. The mixture of gray and orange will go well with the rest of your design, and it'll look as though you've had the item for decades. Remember, you can give anything new life. Life on Kaydeross Creek said they'd even integrated a metal tree with a square piece from a hot tub and later transformed it into a beautiful piece of fall art.
Get creative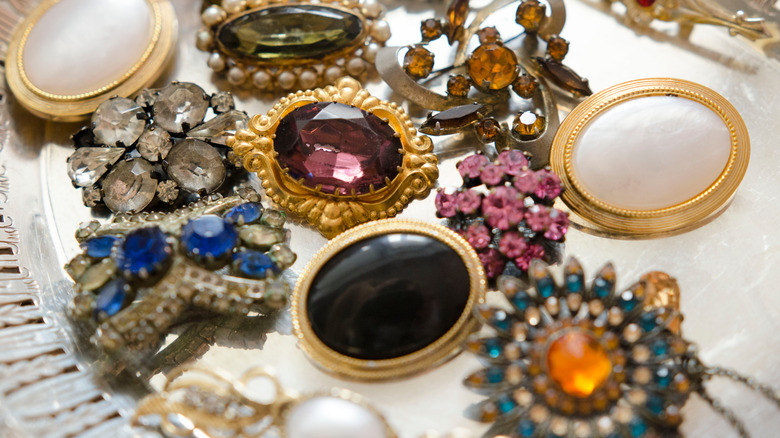 OksanaSheliag/Shutterstock
If you're a fan of antiques, you probably already have certain pieces you love collecting. Keep in mind to incorporate fall aesthetics into your design so that it's not all just antiques, such as pumpkins and colorful leaves. In fact, GasLamp Antiques & Decorating Mall showed a perfect example of a pumpkin made entirely of vintage brooches. Some brooches were small pumpkins, others were flowers, and there were even brooches that were depicted as owls. You can really invest your time and look up local folklore to incorporate into your home. In fact, there's a myth that if you hang a broom upside down in your home it will provide you with good luck.
Additionally, table centerpieces can be quite simple, such as a picnic basket full of faux oranges, pears, or apples. Since the fruit is plastic, you can also place this basket on your front porch to add a touch of charm. Postcard from the Ridge recommends adding tiered trays throughout your home, as they can be filled with all sorts of fall items from top to bottom.