How Home Depot Can Make Your Home Merry And Bright For The Holidays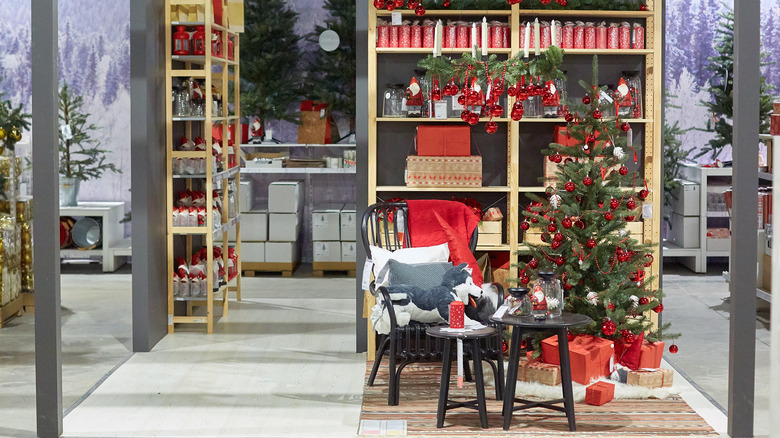 Vadiar/Shutterstock
It's never too early to pick out decorations for upcoming holidays. It's a sacred process that shouldn't be done last minute or skimped on if you want the final design to appear complete and balanced. There are many things to think over, such as the types of lights, colors, characters, and other holiday themes you'd want to incorporate to create the perfect design. However, we advise finding one or two stores to do your shopping, as it makes choosing your holiday décor items less confusing.
We suggest taking a look at Home Depot because they offer a variety of décor for almost every holiday, according to their website. From Halloween to Christmas and Hanukkah, there are different options available for many needs, such as either indoor or outdoor décor, animatronics, and props. We'll show you which items from Home Depot are sure to bring holiday cheer to your property.
Who says you can only have one tree?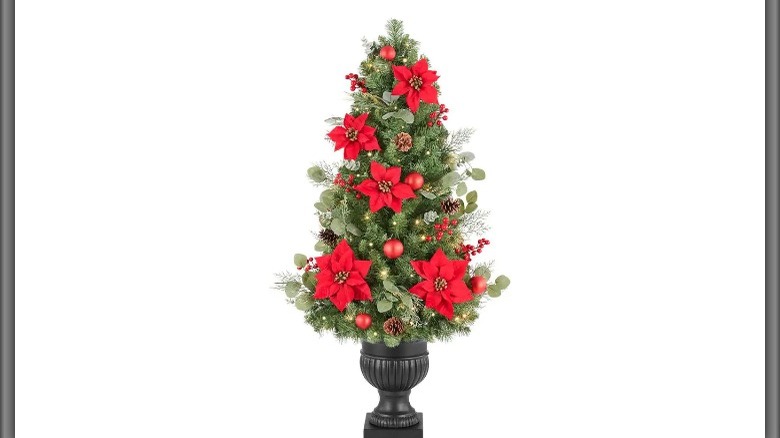 Home Depot
The Berry Bliss Potted Christmas Tree from Home Depot introduces a variety of design elements. From the bristled greenery, pops of bright red, and twinkling, shiny lights, we believe it can make any space bright and cheerful. This product is only 4.5-feet high, which means you can feature it in almost any area of the home. For example, it can be placed inside by the staircase to create a more interesting visual; you can easily create a cohesive look by introducing other green and red décor in that space, too, such as red ribbons wrapped around the stairs' handrail. Or you could place two outside on your covered front porch to create a warm and inviting entrance.
Luckily, the red ribbons on this dainty tree will most likely complement your current home décor. Red looks great with a variety of colors, such as blue, brown, gray, orange, pink, tan, and yellow, according to Shutterfly. It's is also a great hue to complement neutral color schemes, as it will add the extravagant brightness the space needs.
A table centerpiece that will light up the night
If you're celebrating Hanukkah this year and plan to invite family over, then you'll need to create the perfect centerpiece. To that end, the Nine Branch Electric Chabad Judaica Chanukah Menorah from Home Depot is crafted with an interesting angled style that is sure to inspire an eye-catching design for all eight nights. This product comes with LED white candlesticks for those who don't want to deal with the mess of melting wax. But if you desire a more traditional look, you can detach them and insert real candles.
This product is finished with gold, so it will look great on a dining table with gold silverware or cloth napkins. According to Elesi, white is also a color that commonly complements gold. We suggest maybe laying down a few white flowers or figurines to complete the tableau. Blue is also a complementary color — one fitting for the occasion, too — and we believe adding a dark blue table runner will bring in some much needed depth.