Clint Harp's Tips On Incorporating Wood Features Into Your Home - Exclusive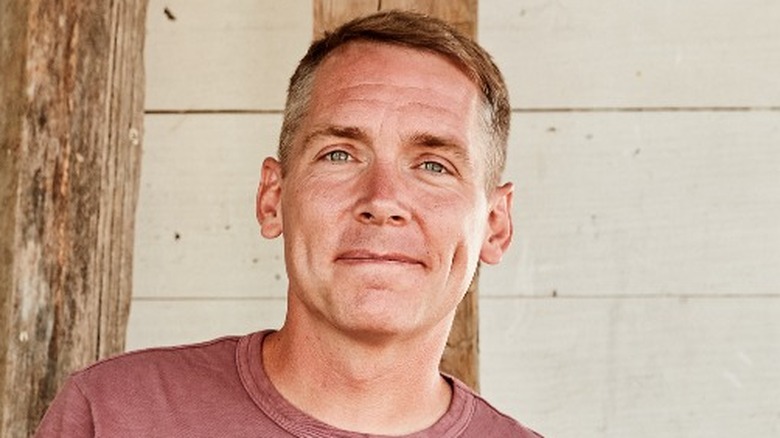 HGTV
Clint Harp has always had a love of working with wood. His maternal grandfather was a carpenter who built homes, and Harp would join him on job sites, watching home construction from the ground up. His love of wood led him to become a carpenter himself and open a shop with his wife, Kelly. Harp was first introduced to fans on "Fixer Upper" as the go-to carpenter for Joanna Gaines. It was here that viewers fell in love with his handcrafted work and rustic designs.
Now Clint Harp helms his own show, "Restoration Road" on the Magnolia Network, where he travels the country in search of centuries-old structures to study their history and how they were created. Studying the craftsmanship of these buildings inspires Harp in his own carpentry and restoration practice. In an exclusive interview with House Digest, Clint Harp shares his tips to incorporate wood in your own home.
Add character without shortcuts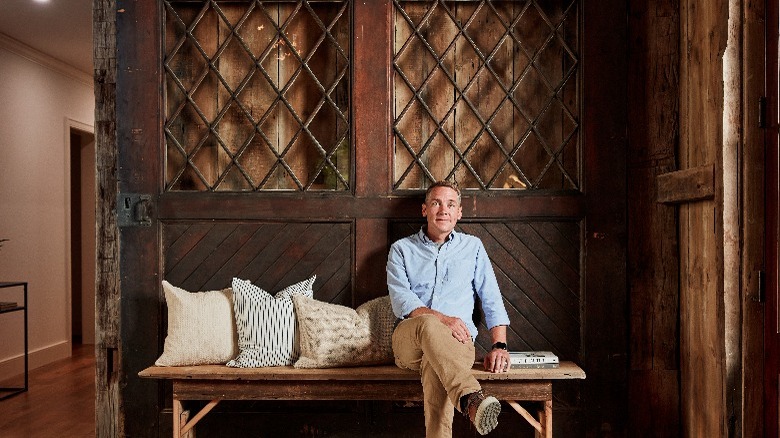 HGTV
Not everyone can live in a historic home. But many feel that newly-built and modern homes lack the character and warmth of older dwellings. Adding character into a new home can make it feel unique, more comfortable, and less stark. Using wood is a great way to add warmth and character to your space. But Clint Harp warns against trying to force new wood to look old.
"Shortcuts to 'used' can be tricky. My thought is [to] play the long game," advises Clint Harp. "Buy a nice handcrafted piece of furniture and then use the heck out of it. Don't be afraid to make a mark and let the piece reflect the lives that have loved around it and lived on it. In due time you will have that piece that everyone is dying to buy at the antique store, and every mark and scar on that table will be your story and not someone else's." 
These pieces that you use and wear yourself will mean more than one you buy with someone else's memories. After years of use, it could become an heirloom piece.
Invest in wood pieces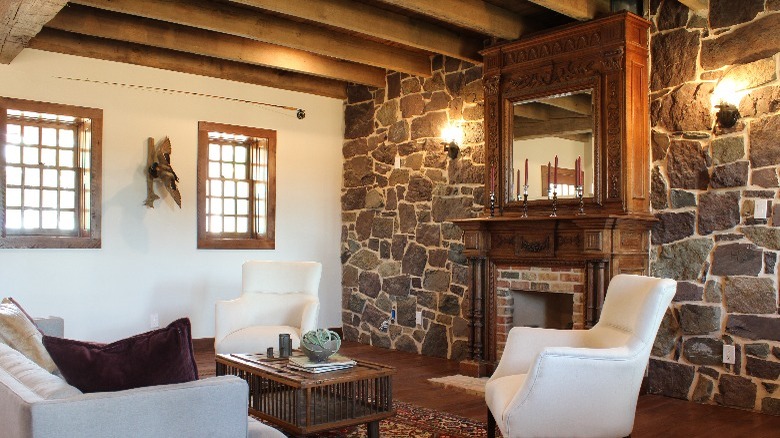 HGTV
Wood is a timeless material for home decor, but there has recently been a resurgence in using real wood as a way to add character and coziness to a room. Solid wood pieces can be expensive, however. If you had to buy one solid wood piece, Clint Harp has a suggestion: "For me, anything handcrafted or locally crafted is always a win. Tables, mantels, and doors are a great purchase." Look for local artisans, who might sell at flea markets or have their own shops. These statement pieces will give your home a focal point and a unique character.
You don't only have to go large, wood accent pieces can add just as much character. "And if you want to start smaller, handcrafted cutting boards, bowls, candlesticks, wine racks, and shelves — you can't do better, " Harp tells House Digest. These pieces can add a pop of warmth to shelves and coffee tables. They're unique pieces that add plenty of character.
"Restoration Road" is available for streaming on The Magnolia Network and HBO Max.