30 English Cottage Design Ideas That Radiate Charm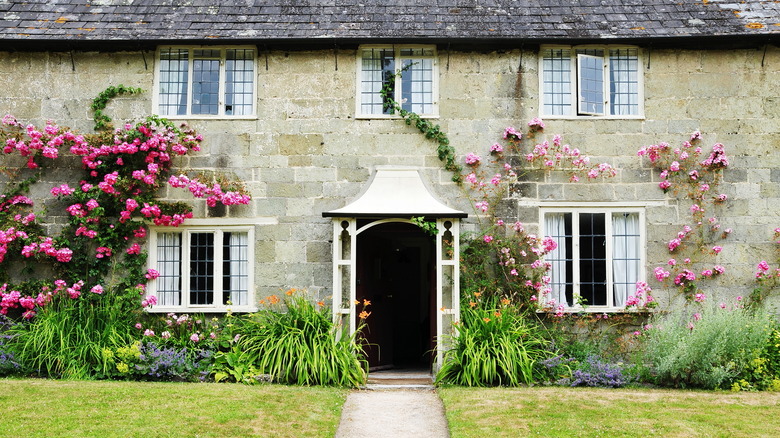 1000 Words/Shutterstock
Many people are drawn to the English countryside with its expansive land and quaint cottages. If you've traveled extensively in the Cotswolds, you've most likely found inspiration around every corner. Just thinking about a comfortable home in the middle of nowhere, far from the hustle and bustle of city life and without hoards of neighbors, sounds completely idyllic. Maybe you watch "The Holiday" every winter and dream of switching your busy city life just as Cameron Diaz did when she left her hectic career and life in Los Angeles and ventured to that quaint cottage that Kate Winslet called home in the film (via IMDb). Or maybe you grew up reading classic English novels like "Wuthering Heights" and "Pride and Prejudice," and were exposed to the romantic English countryside lifestyle early on. 
According to Trendsideas.com, there are six designs that can make a home have that English cottage aesthetic. The outlet says the abode should have a country kitchen, a garden, a traditional drawing room, antiques, floral décor, and wall paneling to check all of the boxes. AllTheRooms notes a few more highlights for this housing category, including low-beam ceilings and fireplaces, to give it a cozy feel.
If you've been dreaming of small-town cottage life and are looking for a quaint rural refuge away from it all with sunset views, a roaring fireplace, and creaky wood floors, then keep scrolling to get inspired by these 30 English homes.
1. A quaint home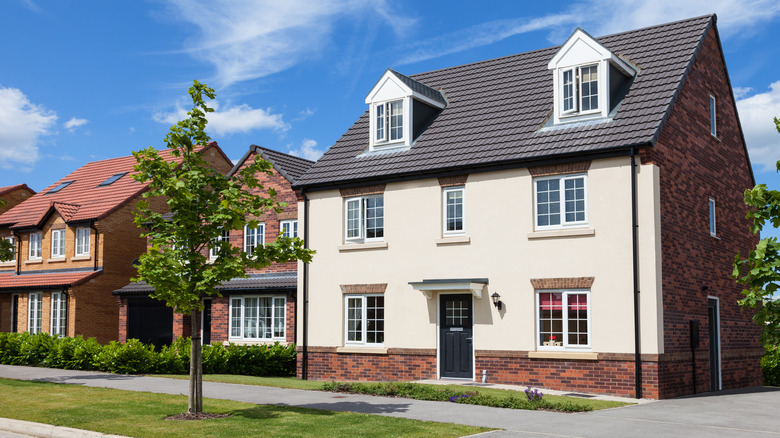 Ewelina W/Shutterstock
This stylish English country home's exterior features brick on the bottom and the sides. On the front, durable concrete painted in the prettiest shade of beige protects the house from typical weather throughout the seasons.
2. Traditional elegant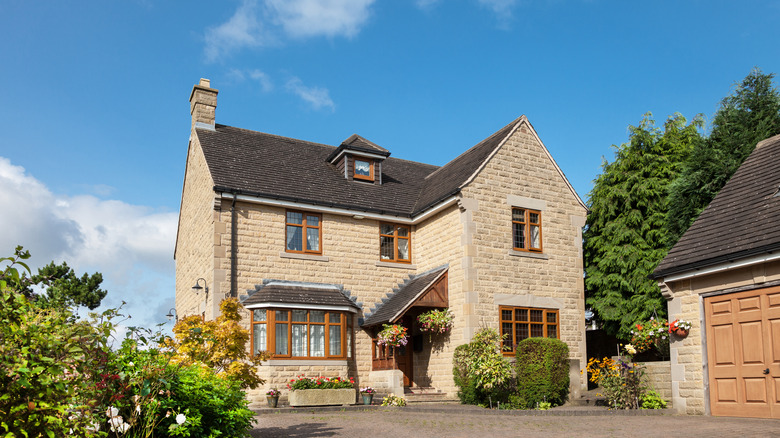 Ewelina W/Shutterstock
We can appreciate this stately British manor made of traditional stone with the perfectly painted window trim in a neutral brown tone, which ties the main house to the garage. As with most country homes in England, the landscaping is on point.
3. Get away from it all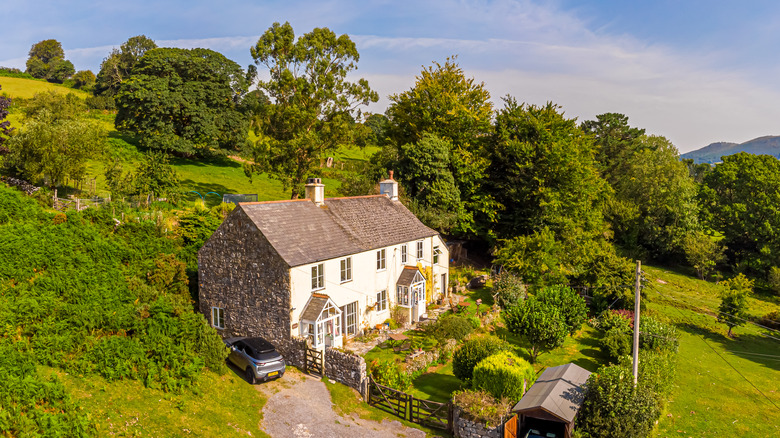 Alexey Fedorenko/Shutterstock
An English country home set in the idyllic Dartmoor National Park boasts spectacular views as far as the eye can see. Imagine how relaxing it would be to view these rolling hills with your morning cup of coffee. Plus, we don't see another house nearby, so you're truly getting away from it all.
4. Stone perfection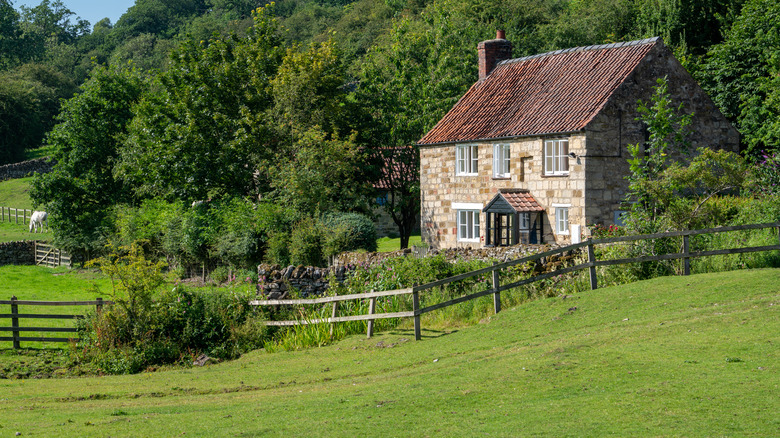 MaggieGracePhoto/Shutterstock
If there was an abode that reminds us of the cottage in "The Holiday," it's this one. The all-stone exterior perfectly depicts this style of a country dwelling. Just envision the ideal seating area with a fire pit to make this home the most relaxing getaway from life in the city.
5. Focus on the porch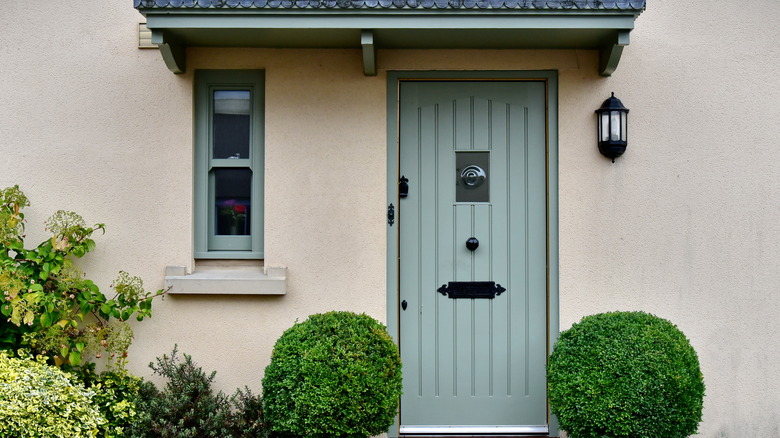 1000 Words/Shutterstock
With a country cottage, you will want to focus on every detail, especially the porch. The door is painted a unique sea-green color, as is the trim on the tiny window. Beautiful potted shrubs trimmed in a round formation finish off the look.
6. A traditional thatched roof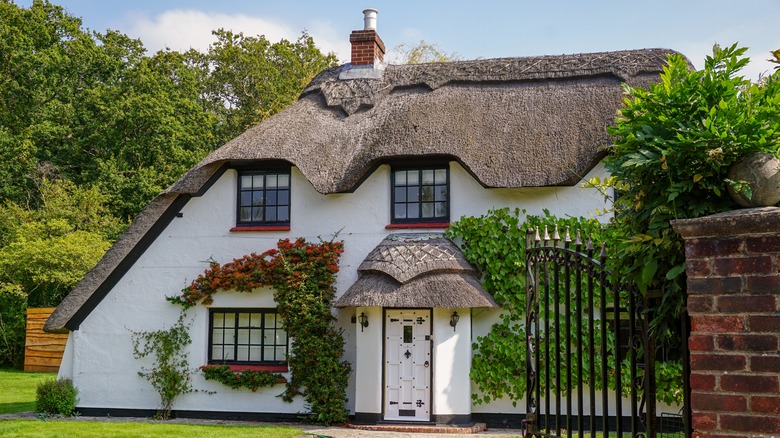 P.Cartwright/Shutterstock
This quaint cottage is a quintessentially English style with the traditional thatched roof made famous in the region. According to the Heart of England, these roofs have been around for about 10,000 years, showing longevity.
7. The greenery grows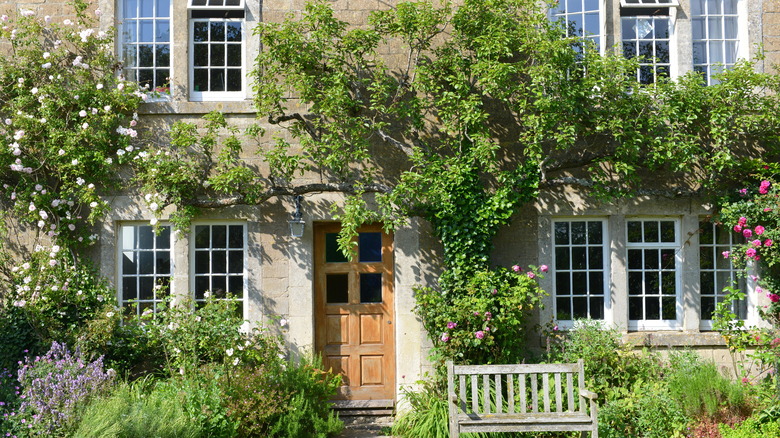 1000 Words/Shutterstock
A stone house is a classic, and we suggest letting your floral vines crawl up the side of your home for ambiance. With a view like that, you can plan daily picnics with all of the trimmings, from delicious sandwiches to cakes and tarts.
8. Let travel inspire you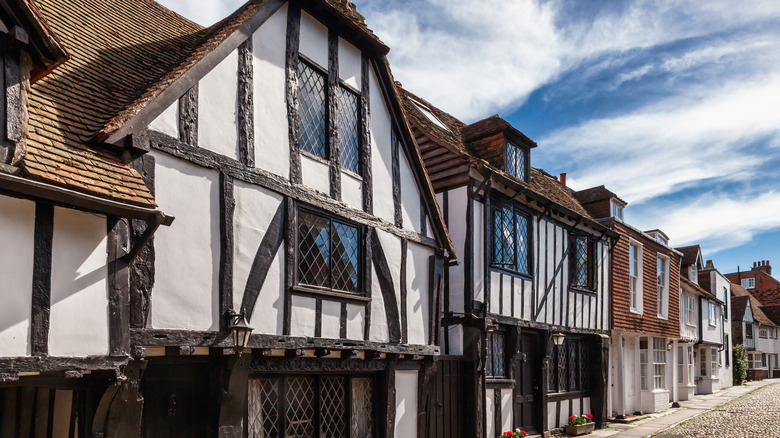 Dmitry Naumov/Shutterstock
Travel can inspire your design! This popular village in East Sussex, England, has so much inspiration for you to create your own country home. The connected houses with various styles feature a timber-framed slate roof that you could easily emulate for your own residence in the countryside.
9. A modern farmhouse with sunsets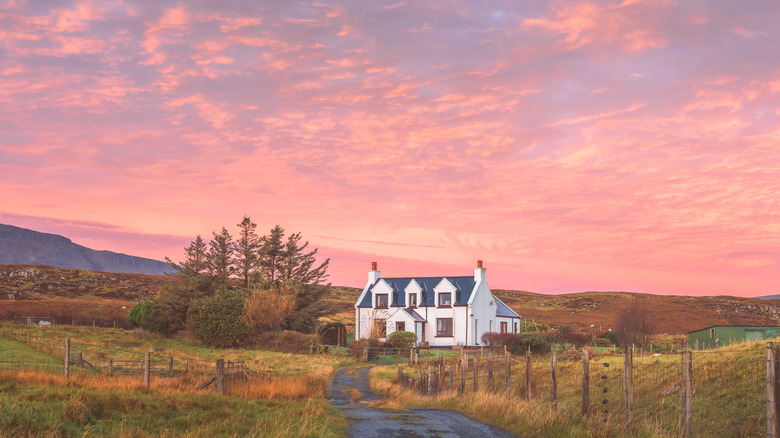 Stephen Bridger/Shutterstock
This farmhouse's totally modern architectural style, along with the pinkish sunsets, would beckon us back every weekend. The long winding driveway and rolling hills make this a dreamy escape.
10. Sprinkle in lots of colorful flowers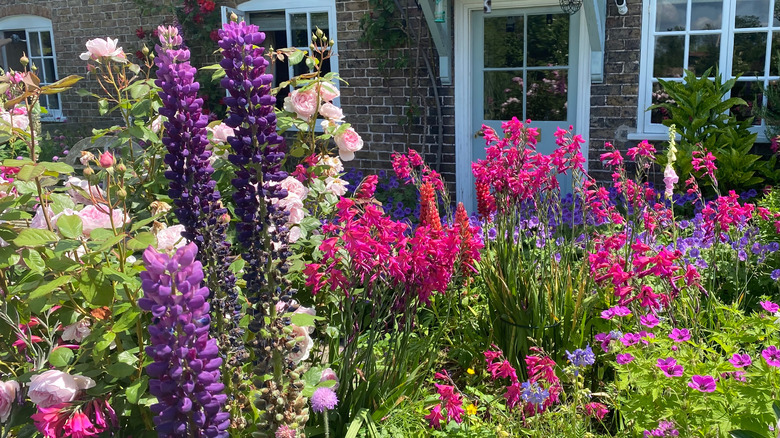 Teenasparkler/Shutterstock
You can't own a country getaway without planning for luscious blooms everywhere, including your front and backyard. The mix of floral colors in bright hues of purple, and pinks, are a reminder of how much flowers bring joy to a home, not to mention the divine smells that permeate the air.
11. Crazy for wisteria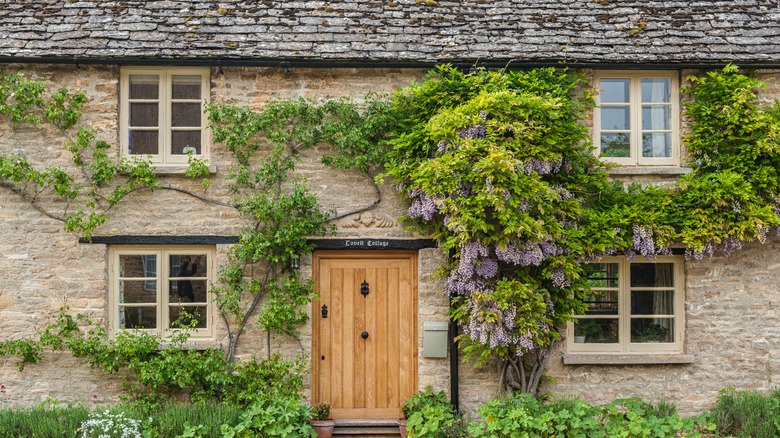 Laura Facchini/Shutterstock
This English stone country cottage has a traditional thatched roof and is covered in beautiful wisteria, creating the most romantic atmosphere. Although wisteria is lovely, it's essential to keep it pruned diligently, according to Platt Hill Nursery, which suggests doing so at least twice a year. It will keep your retreat from looking weathered and overgrown.
12. A cottage near a winding river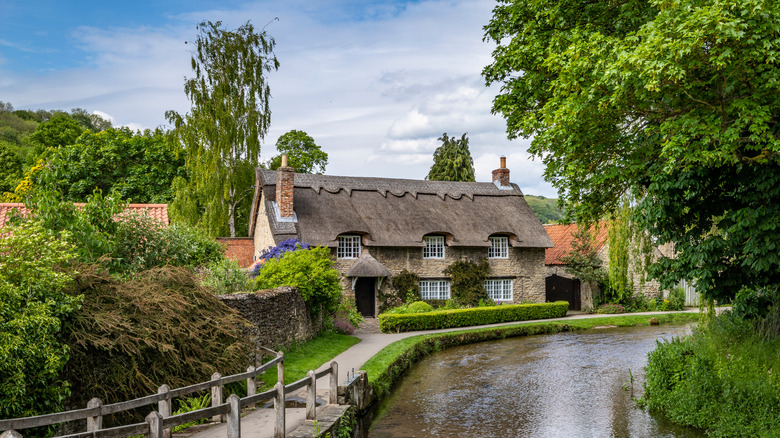 Carl Milner/Shutterstock
A traditional English-style home like this is enchanting with the winding river that flows in front of the house. This cottage looks as if it comes straight out of a storybook. We can appreciate the natural appeal of this traditional stone home with a thatched roof.
13. A cottage on the corner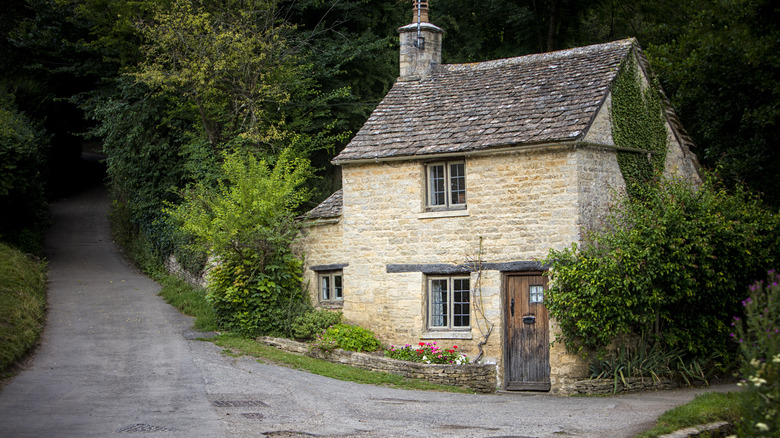 Stuart Monk/Shutterstock
This traditional old English cottage has an ideal location on the corner, which we bet gets a good amount of admirers while they're out for their Sunday drive. It has a light natural stone coloring, a weathered wood door, and a small area for plants, bringing it roadside appeal.
14. Add color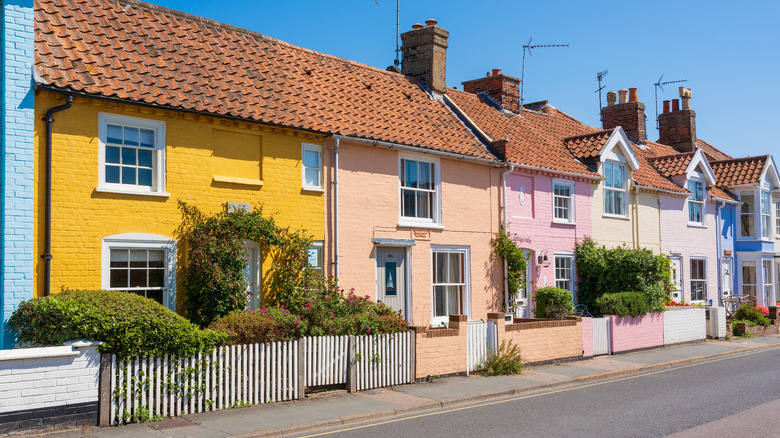 David Calvert/Shutterstock
These colorful row houses in Suffolk show how you can take a traditional home and give it a dose of color. They are beautiful in bright mustard yellow, peach, light pink, or light purple. Each color looks nice with the rust-colored roof, too. It just goes to show how traditional hues go well with just about any color.
15. Simple is beautiful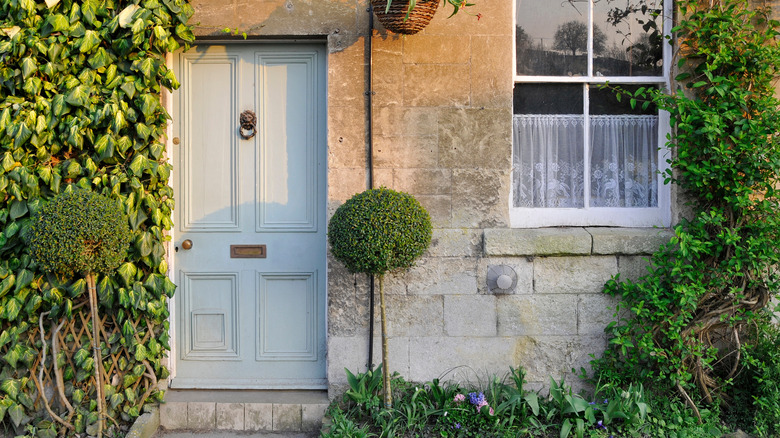 1000 Words/Shutterstock
This simple English stone home surrounded by lush plants looks great during the golden hour. To make it a bit more exciting, paint the door a color. Consider a bright shiny red or deep green.
16. Falling for this traditional cottage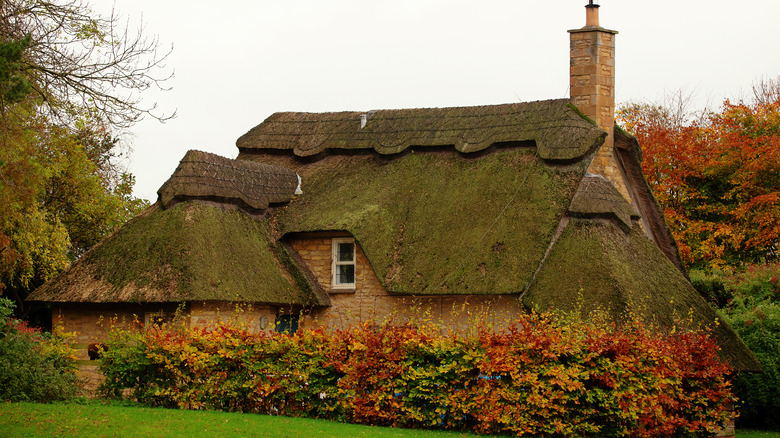 Anita van den Broek/Shutterstock
It's a glorious fall day in the countryside of Gloucestershire, England, and this traditional home is precisely the style that radiates charm with the shrubs and trees in beautiful fall colors. It is the perfect home to sit by a roaring fire with tea and a good book.
17. A show-stopping courtyard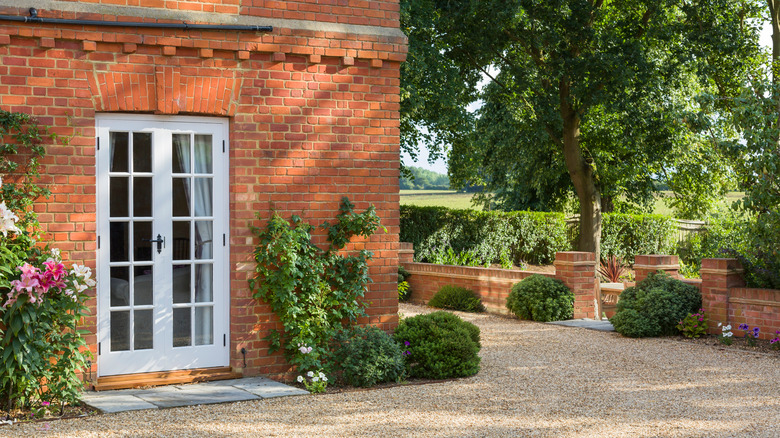 Paul Maguire/Shutterstock
This open courtyard has forgone grass and instead uses tiny pebbles, which would give you so much more time to enjoy long walks on the property. This brick cottage is very traditional, and the French doors provide easy access to the courtyard and allow you to sit outside enjoying the fresh air. 
18. Add a traditional garden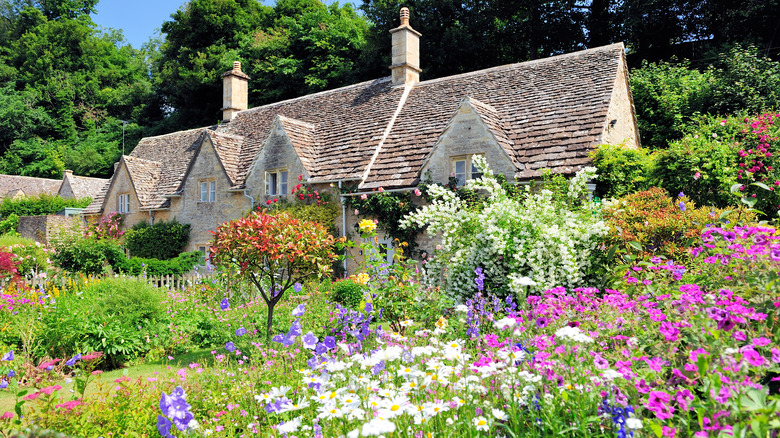 Vicky Jirayu/Shutterstock
What could be more quintessentially English than a lovely garden to tend to? Fill it with flowers like roses, lavender foxgloves, and your favorite blooms, so you have an endless rotation of fresh bouquets to bring into your weekend getaway.
19. A faint yellow quaint oasis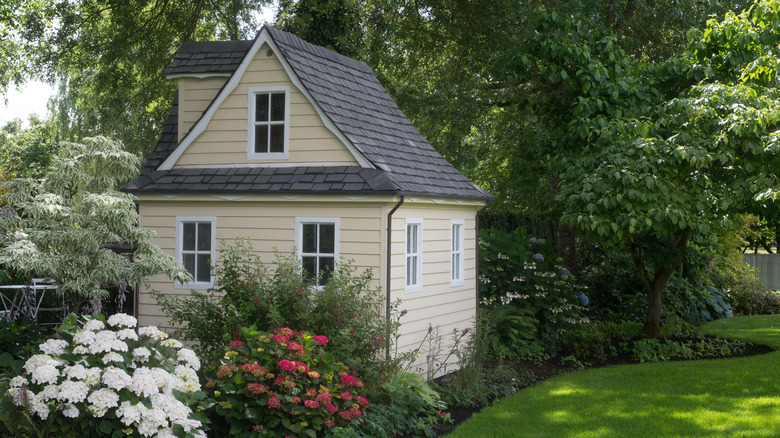 Jamie Hooper/Shutterstock
This tiny rural cottage is painted the faintest shade of yellow with interesting roof lines that make it quaint. It's situated among lots of luscious plants with a lovely path. Talk about an escape .... We know where we'd be every weekend.
20. Keeping with tradition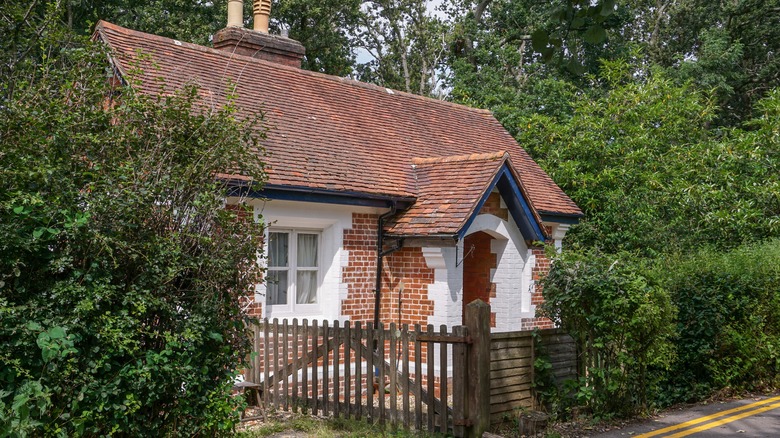 P.Cartwright/Shutterstock
This small English cottage appears well cared for and private, nestled amongst woodsy trees. The classic brown shingled roof pairs nicely with the traditional brick exterior and white-trimmed windows and doors.
21. Create a floral maze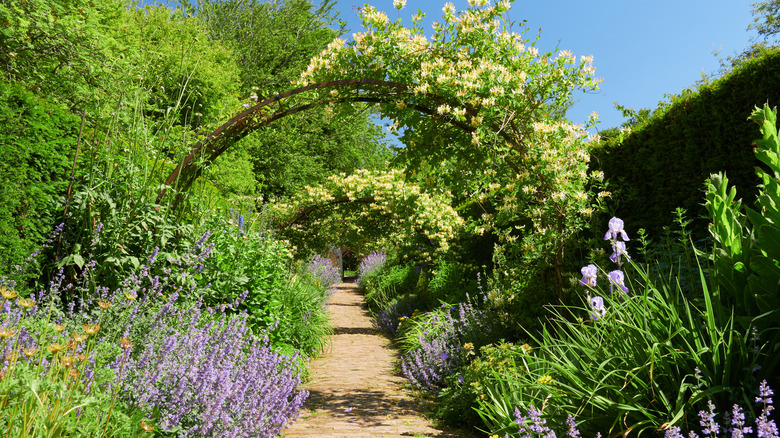 Duncan Andison/Shutterstock
If you have a lot of land surrounding your dwelling, consider creating a garden path so you can stroll on a pretty sunny day while visiting your countryside retreat. This particular garden has honeysuckle arches that anyone would love to admire and indulge in its sweet aroma.
22. This cottage is utter perfection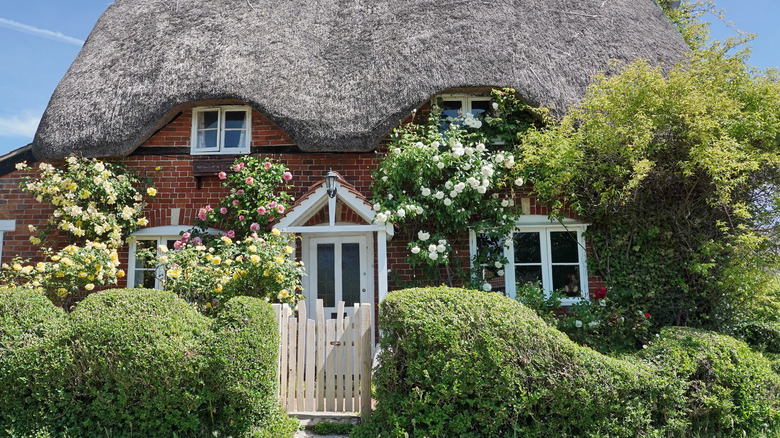 1000 Words/Shutterstock
Here's a prime example of how an abode is steeped in English tradition. It has a thatched roof, a brick exterior, lots of flowers, and of course, a white picket fence. This is the perfect example of an English country cottage.
23. A floral lover's dream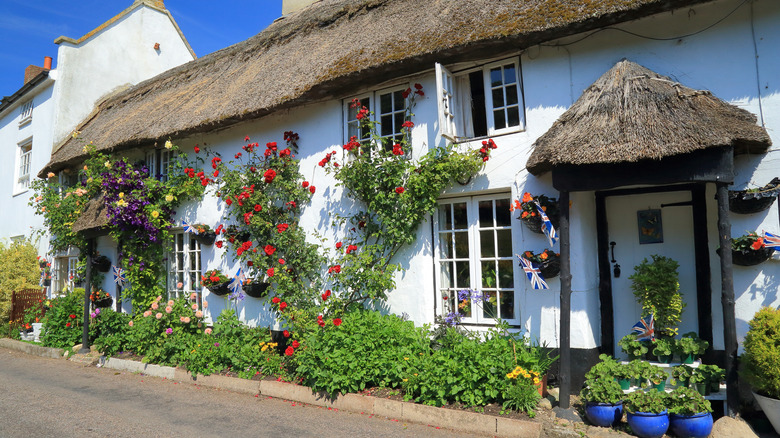 Savo Ilic/Shutterstock
We can tell that a garden lover lives here. With flowers cascading alongside the exterior of the traditional white cottage with a thatched roof and dormer over the front door, you'll be inspired to recreate this look. 
24. Peeking into a traditional English abode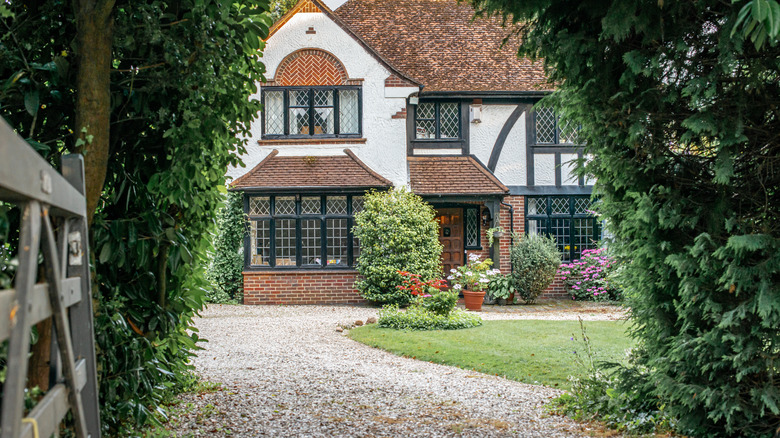 Konmac/Shutterstock
This classic home has many architectural details that make owning a home in the country appealing. Plus, the arched entryway welcomes guests with lush greenery, so magical that we love getting a peek at such a lovely traditional residence.
25. A scenic stone cottage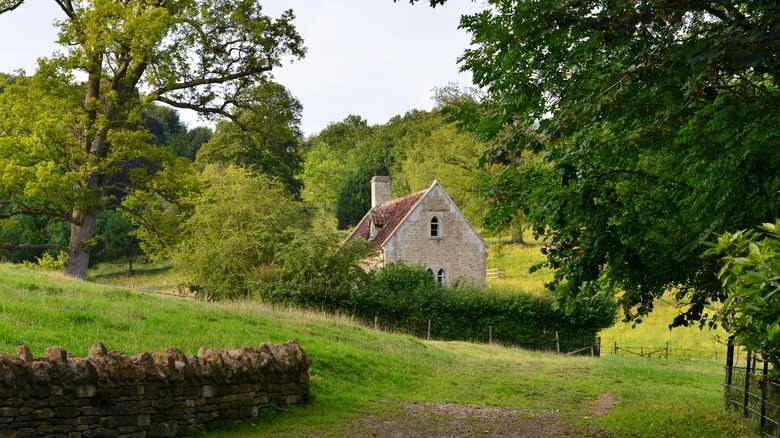 1000 Words/Shutterstock
Surrounded by gorgeous woodland deep inside rural England with scenic countryside views, this dreamy stone cottage shows that even the most miniature house can be a fantastic getaway.
26. Keep the medieval-style door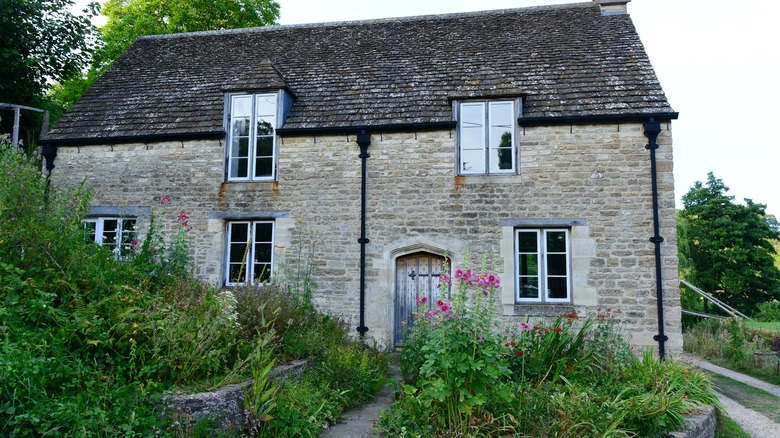 1000 Words/Shutterstock
One of the main reasons why a traditional English cottage is such a wanted design style is that it stands the test of time. This home looks just as good today as it would have hundreds of years ago with its natural stone exterior, gleaming windows, and medieval-style door.
27. An inviting front yard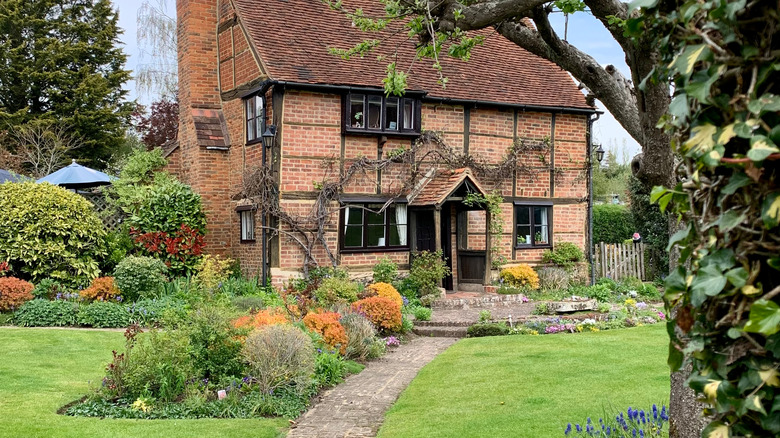 Alla Tsyganova/Shutterstock
The large front yard of this classic brick cottage would be a great spot to throw some epic parties, and we can't think of anything better than planning some spectacular old-fashioned outdoor games like croquet.
28. A bright blue hue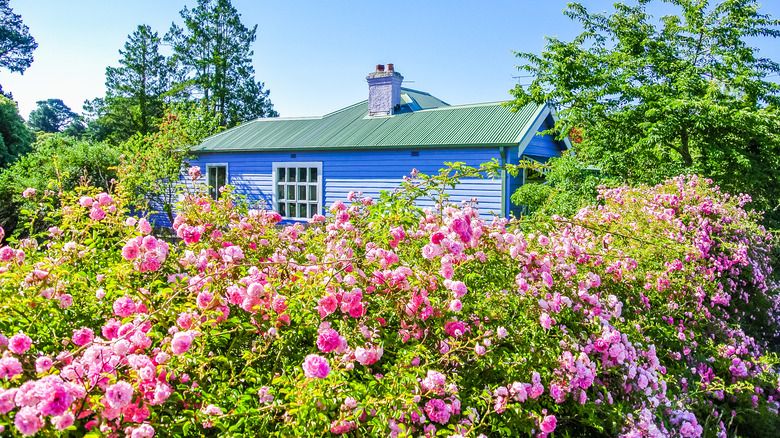 Nicole Kwiatkowski/Shutterstock
We adore a unique cottage and know it would have been too simple if it was just white, but these homeowners opted to give their quaint home some color, which is quite inspiring. They went with a vibrant blue hue that looks nice with the green roof and assortment of pink flowers covering the yard.
29. A woodsy gothic cottage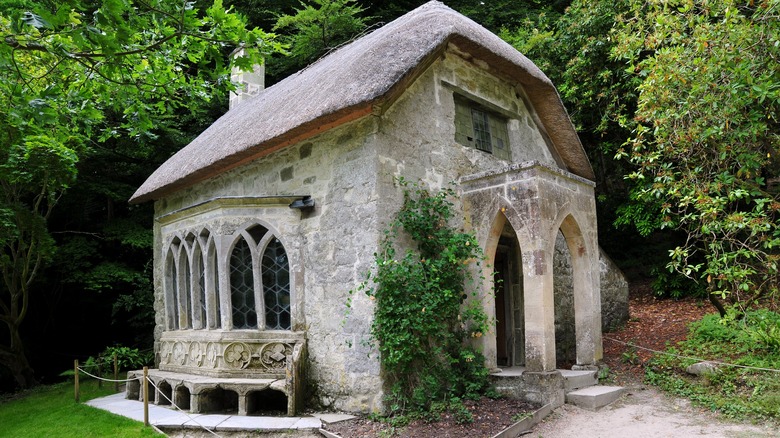 1000 Words/Shutterstock
Imagine frolicking through the woods and coming upon this tiny stone English cottage with exquisite gothic architecture, which takes this abode up a notch. It even has stone bench seating with intricate details, ideal for respite throughout the day.
30. Marvelous stone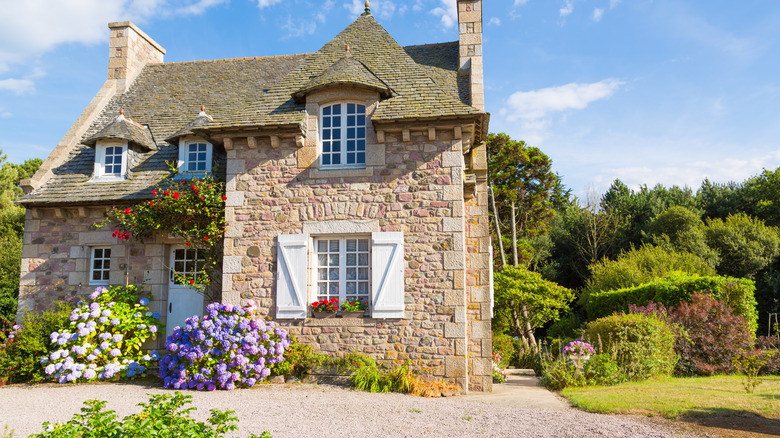 135pixels/Shutterstock
This traditional English cottage features several stones in different sizes and hues, which brings lots of visual interest to the home. Other classic elements include the thatched roof, a window with shutters, and the pretty flowers that draw the eye to the entrance.