What Is The Best Material For An Outdoor Walkway? - Exclusive Survey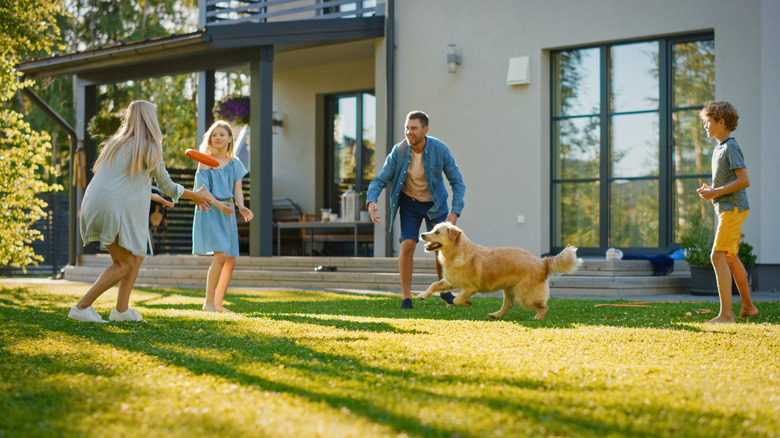 Gorodenkoff/Shutterstock
When it comes to the interior of your home, there are countless options for flooring, from carpet to hardwood to tile, and it can be tough to narrow it down and select just one or two options. And, as anyone who has embarked on a landscaping project knows, it can be just as challenging to select the materials for outdoor components like walkways.
In many yards, walkways have a huge impact, both in terms of aesthetics and functionality. As Lyngso Garden outlines, there are a few considerations when selecting the ideal material for your outdoor walkway. You should assess the amount and type of foot traffic the walkway will receive, as well as whether you'll need a smooth surface to roll items like trash cans or recreational equipment to different locations. You also don't want to run the risk of guests tripping, so if you opt for a material with exposed or textured edges rather than a smooth surface, you may want to ensure the walkway is well-lit. 
Budget is another important factor to keep in mind, as some potential materials are much more expensive than others. Finally, as iScape explains, the ease of installation may be important to many homeowners — some materials require bringing in a professional for installation, while others can be laid out yourself with a few trips to the garden center or hardware store. House Digest surveyed 606 individuals to figure out what materials were the most and least popular choices for an outdoor walkway.
An overwhelming preference for natural materials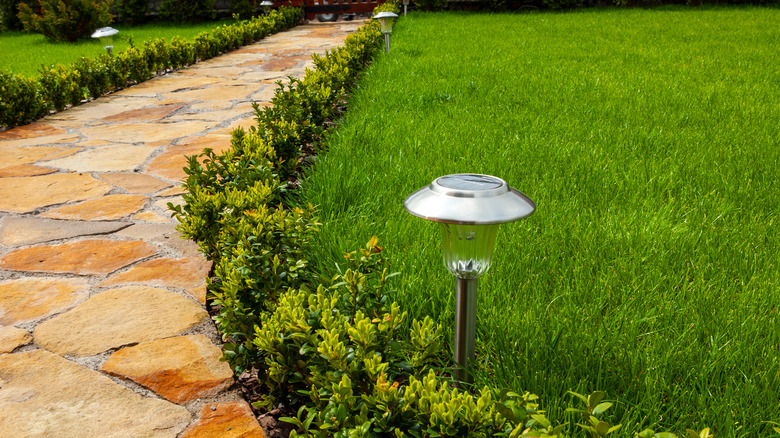 Andrey tiyk/Shutterstock
In terms of which material the majority of respondents would choose for their outdoor walkways, the answer was clear — 240 individuals, or 39.60% of respondents, selected natural stone as their preference. 
For many, this choice may primarily be for aesthetic reasons. The organic nature of natural stone means that it works beautifully with other natural elements in your backyard, such as plants and greenery, allowing the walkway to blend seamlessly in with its surroundings. Natural stone also comes in many different colors and sizes, as per Carroll Landscaping, so you can select a type of stone that helps you achieve your desired look. 
It's also a win from a functionality perspective. As Rock and Gravel Boutique outlines, stone can withstand severe weather conditions, making it a great option for areas where there's a lot of variation in temperature throughout the year. Additionally, neither moisture nor sunlight will negatively affect your natural stone, making it a very durable option. In fact, as per Stone Arch, natural stone walkways often look even better as they age, making them a worthwhile investment that will improve the look of your backyard for years to come.
Other common walkway options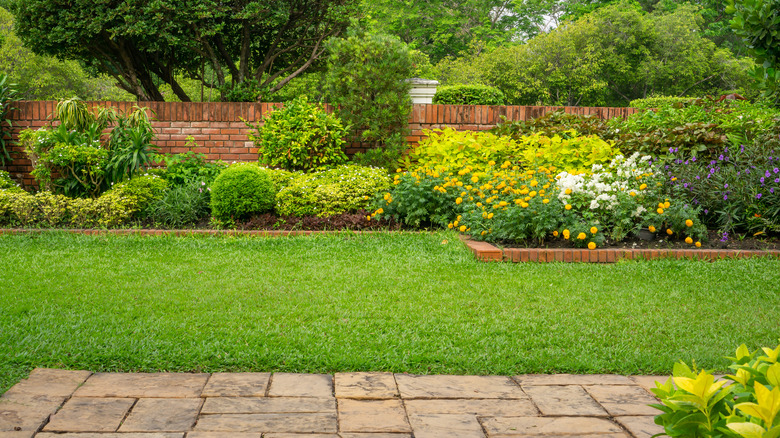 aimful/Shutterstock
Though natural stone was the clear winner, coming in second was concrete, which received 23.27% of the votes, with 141 people selecting it — it seems that in the case of walkways, functionality won this material a lot of points. Given that concrete is what the average sidewalk is made from, it may also lend some consistency to the exterior of your home if you choose to carry it through to your backyard. Plus, if you want to add a bit of design flair, you can do things like stain or stamp concrete in order to give it a different look, as Landscaping Network demonstrates.
Those who want a vintage feel in their backyard favored brick, with 131 individuals, 21.62% of respondents, picking it as their material of choice for walkways. The shape of brick means it can be laid out in a lot of unique designs, which can be appealing for those who want a certain aesthetic in their walkway. Though they may seem similar to bricks in the fact that they come in individual slabs, pavers received just 10.25% of the vote, and only 62 respondents would choose that particular material for their walkways.
Finally, rounding out the options were gravel and wood chips, which were selected by a mere 4.79% and 0.50% of respondents (picked by 29 and 3 people, respectively). While both are incredibly easy to install, it seems the rough surface didn't appeal to many respondents.