The Bathroom Features Homebuyers Are Clamoring For On My Lottery Dream Home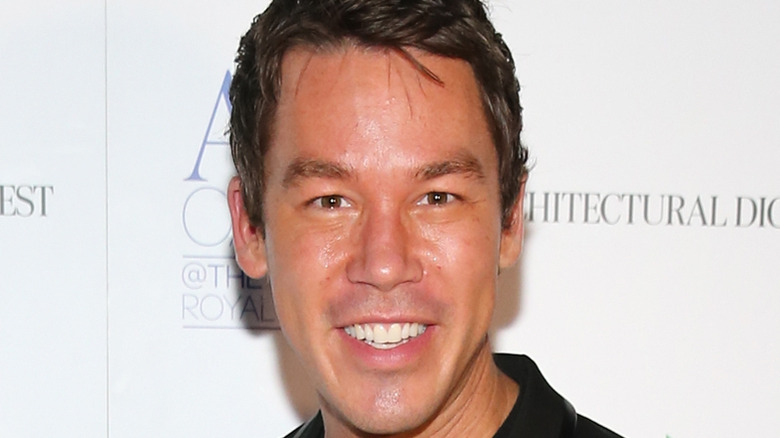 Neilson Barnard/Getty Images
When creating a list of wants and needs for a new home, the bathroom often has a lot of stipulations. From the total number of bathrooms to the features they include, bathrooms are a major detail when deciding if a house is right. And why wouldn't it be? People spend a lot of time in their bathrooms getting ready and relaxing. It's a room that has to be both functional and aesthetically pleasing.
David Bromstad has to balance these kinds of requests from clients as he shows them potential new homes on the HGTV show "My Lottery Dream Home." Buying a new home is an investment and the bathroom is a great place to invest in. Depending on what materials you use and what updated features it has, a bathroom can help increase a home's value between 10% and 40%, according to Badeloft Luxury Bathrooms. 
There are some features that are considered bonuses, which homeowners feel are nice to have but not necessary. But there are some features that are non-negotiable. These upgrades have become sought-after elements for a bathroom – Realtor reports what homeowners want most in their bathrooms.
Make it an en suite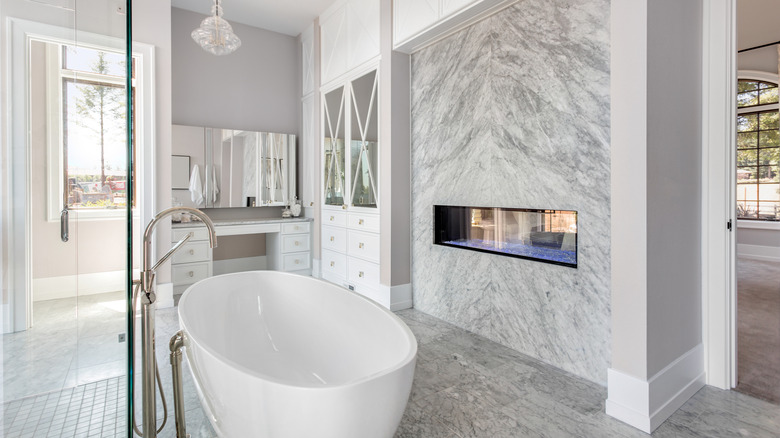 Justin_Krug/Shutterstock
Homeowners want an en suite, explains Realtor. A bathroom with direct access from the bedroom has become a top priority for many homeowners. At one point, these were considered a luxury, especially because they were not always featured in older homes. While they're still luxurious, they have become much more common in newly built homes. En suite bathrooms are so sought after that many opt to build one if the home doesn't already have this feature.
An en suite can improve the efficiency of your bathroom, says Kenneth Installations. With a bathroom connected to your bedroom, you'll have privacy and time for yourself. You'll never have to wait for a shower or to go to the bathroom. That also means other bathrooms will have fewer users, even if they have to share bathrooms off the hall. In an en suite, you can get ready for your day without being disturbed by other family members, which can improve your quality of life.
Wall-mounted fixtures, large showers, and lots of natural light are features The Plumbette suggests home add to their en suite bathrooms. Adding in more storage is always a plus in an en suite.
Seating in a large shower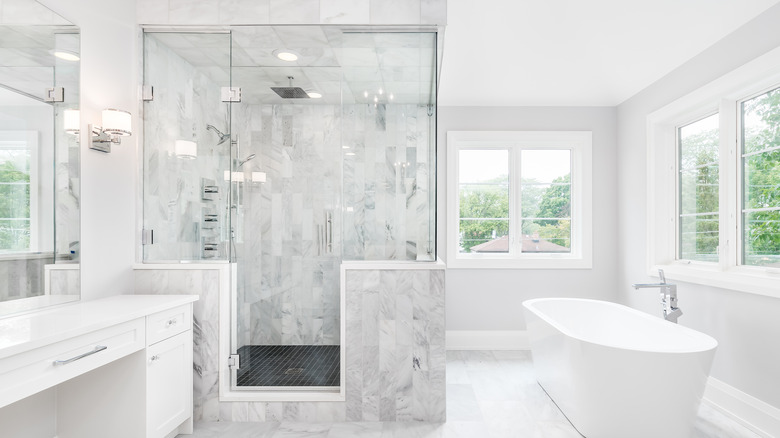 Hendrickson Photography/Shutterstock
While looking at the various bathroom options on "My Lottery Dream Home," David Bromstad's client was excited about the tiled bench in one of the homes, according to Realtor. A shower bench built into the wall can be a helpful feature when bathing. When shaving, you can lift your legs and rest your feet on the bench to get closer and more comfortable. A footrest is also great for exfoliating with scrubs, says Make It Right. A bench provides a place for soaps and face washes, and if anyone has mobility issues or injuries, a built-in shower bench is a convenient seating option.
Shower benches can be built into most showers, especially if you're planning to build or renovate. Even without a bench, large walk-in showers are a preferable option. Kohler recommends a shower that's at a minimum size of 36 inches by 36 inches for a small walk-in shower. However, a large walk-in shower can be as large as 60 inches by 42 inches. Larger showers feel more luxurious and the extra space makes bathing much easier.