Which Furniture Store Has The Cheapest Kitchen Chairs?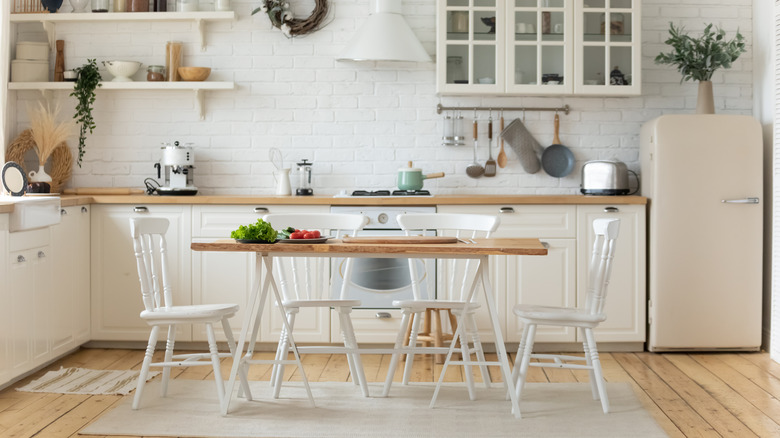 fizkes/Shutterstock
For many people, the kitchen isn't just a place to cook and prepare food; it's where you eat, too. In 2017, an Angie's List survey revealed that only 23% of individuals and families actually have and regularly use a formal dining room, according to Resource Furniture. Similarly, 86% of those searching for homes prefer either a combined kitchen and dining room or at least an open concept design, per a 2019 study from the National Association of Home Builders.
With that in mind, when furnishing this space, consider ditching any formal dining chairs and instead opt for something more relaxed. As such, swap out your fancy upholstered, high-back seating for more casual, wooden, or plastic options. Not only will they fit better, but they're also easier to clean and maintain. Plus, they tend to be less expensive. When comparing popular furniture stores, here's where can you find the absolute best and cheapest kitchen chairs.
Ashley Furniture's Jaspeni chair set
Some of the least expensive kitchen chairs are sold at Ashley Furniture — as long as you're willing to buy a set of four. The Jaspeni Dining Chair set costs $240, or $60 apiece. Meantime, the seating comes in two color options — white or black — and is made of plastic that has a slight swoop meant to contour to your back. Additionally, the base is made of naturally finished beech wood and black metal accents, while the legs flare out in a mid-century style.
Per the product description, assembly is required, but it should only take you about 15 minutes. Because the chairs are plastic, they are incredibly easy to clean, although the beech legs help elevate and provide a more sophisticated look. Plus, Ashley Furniture sells a matching Jaspeni Dining Table, which is also available in black or white with beech legs. At only $120, it goes perfectly in any kitchen.
IKEA's Adde chair
The absolute cheapest option, though, can be found at IKEA. Each ADDE kitchen chair is only $20, and unlike Ashley Furniture, they can be purchased individually. Available in either black or white, the ADDE is a little more utilitarian in design, as the seat is made out of plastic and the base is manufactured with coated steel. While the design is rather simple, that also makes it incredibly versatile for a variety of kitchen designs.
Another highlight of the ADDE chair is that it's stackable. If you only have a few people in your household who regularly use chairs, but want backups for guests, you can simply stack them in a corner, closet, or another free space. According to the product description, you only need some soap and water to clean the plastic. Specifically, it's made out of polypropylene, which is water-resistant and recyclable. There you have it — we hope these options provide a blueprint for a potential future purchase.