Home Depot Or Lowe's: Which Has The Best Deal On Christmas Trees?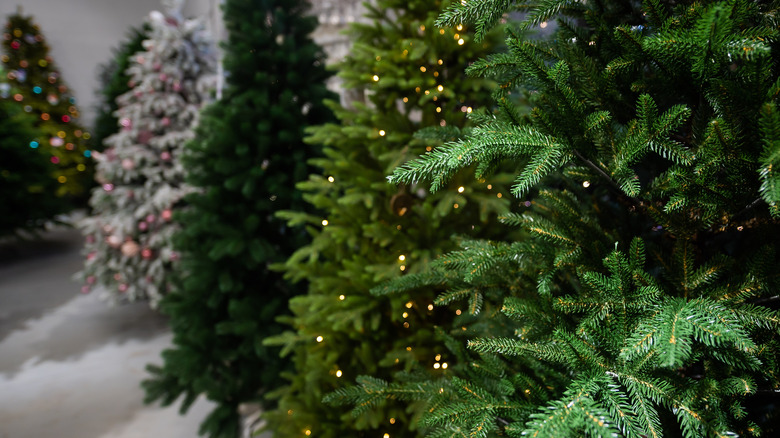 Reshetnikov_art/Shutterstock
As the weather gets colder and the holiday season rapidly approaches, those who celebrate Christmas will likely be on the hunt for Christmas trees that are both beautiful and affordable. For the same reason, many stores will be filled with an assortment of artificial and natural trees, but none offer as much variety as the popular home improvement stores Home Depot and Lowe's. Before diving into which store offers the best deals, you should know what to look for in Christmas trees. 
For simplicity's sake, this article will cover artificial Christmas trees. While real Christmas trees are better for the environment, the shopping process is much more subjective. Artificial trees are cheaper in the long haul, better for those with allergies, and safer — especially for those with pets or children, via Inspirations Wholesale. According to Christmas Designers, there are some things that you should look for when shopping for artificial Christmas trees. For one, pre-lit or pre-decorated trees are ideal. While you can certainly add more lights to your liking, it doesn't hurt to have an excellent starting base. Similarly, many fake trees have pine cones or different branch patterns, which mimic real trees and look more natural. As for material, polyethylene (PE) trees look much more realistic than PVC.
Home Depot Christmas trees
According to Wayfair, the best height for a Christmas tree is 7 to 7.5 feet. It would make sense, then, that the two best-selling and affordable artificial trees sold at Home Depot are both 7.5 feet tall. The first and cheapest is the Wesley Pine Christmas Tree, which costs $179. The tree has 550 pre-strung lights, and you're in luck if you prefer colorful and traditional lighting options. The bulbs are remote-controlled and color-changing, meaning you can easily alternate between rainbow lights and warm white. It has a solid 4.7-star rating, and 78% of customers recommend the tree.
For a slightly better and more realistic but still affordable tree, Home Depot also sells the Jackson Noble Christmas Tree for $299. This artificial tree has more than twice the amount of lights at 1,200, and they're also color-changing. This tree is also ranked slightly higher in terms of realism, with 4,072 total branch tips. It has a 4.5-star rating with a 77% recommendation rate.
Lowe's Christmas trees
Lowe's catalog of Christmas trees is a lot less vast than Home Depot and a little pricier, too. The cheapest, pre-lit, and full artificial Christmas tree is shorter and significantly more expensive than its Home Depot alternative. The Spruce Pre-lit Traditional Artificial Christmas Tree is only 7 feet tall and costs $209. It has 700 multi-colored LED lights. There is no right or wrong answer regarding white versus multi-colored Christmas lights, but Lewith & Freeman note that white lights tend to use slightly less energy. This tree only has two reviews and sits at a 3-star rating with a 50% recommendation rate.
A slightly pricier but better-rated artificial tree is from the National Tree Company and costs $230 at only 6.5 feet tall. The fake fir tree has a total of 650 multi-colored lights and a total of 1,838 branch tips. It has a 4.5-star rating in six reviews, with a 100% recommendation rate. Home Depot is clearly the winner when comparing the artificial Christmas trees sold at both mega stores. Home Depot reigns supreme in all critical categories — appearance, lighting options, positive reviews, and, most importantly, prices.