When Is The Best Time To Get Discounted Holiday Items At Home Goods?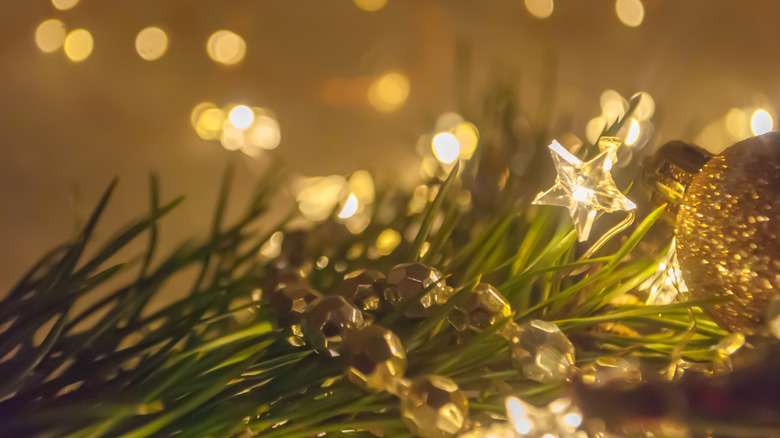 praneem79/Shutterstock
The holidays aren't too far away, which means by now, our favorite retailers are beginning to line their shelves with different holiday items. There are several holidays to celebrate, such as Halloween, Thanksgiving, Hanukkah, and Christmas. If you're someone who celebrates all four with friends and family, that's a lot of home decor and gifts you'll need to purchase. The holiday season can be an expensive endeavor, which means hunting down the best deals at the right time is crucial to avoid going over budget.
Last-minute shopping means you'll probably miss out on all of the most fabulous holiday items, so we've found the best time to hunt down the perfect, discounted holiday necessities at Home Goods. Space and Habit says there is a specific time every year holiday items are put out on the floor at Home Goods, and buyers can expect to find all kinds of festive merchandise, from soap pumps to hand towels to outdoor decorations, pillows, and more. We'll give you a rundown on the smartest way to shop for discounted holiday products items at this discount retailer.
Right after November 24
Space and Habit says after you've enjoyed stuffing your face with Thanksgiving goodies and spending time with family, you should quickly make your way to Home Goods the following days after. This will be the best time to purchase holiday items, because this is when their shelves will be at their fullest. As you get closer to certain holidays, such as Christmas, your options will drastically decrease.
If you're trying to figure out which day to go, The Kitchn advises shopping at Home Goods Tuesdays through Fridays in the late morning. This is because the weekends can definitely be hectic, as you'll most likely be competing with early birds and other people throughout the day. Monday can also be a pain, because it will take time for staff to replenish their shelves after two chaotic days. Now, if you want the best deals possible for your holiday items, you'll have to wait for that holiday to pass and grab what's left. Home Goods doesn't typically have enough storage to keep these extra items, so you'll be able to purchase them at a better price and use them next year.