Home Prices In Washington, DC Are Finally Trending Down Again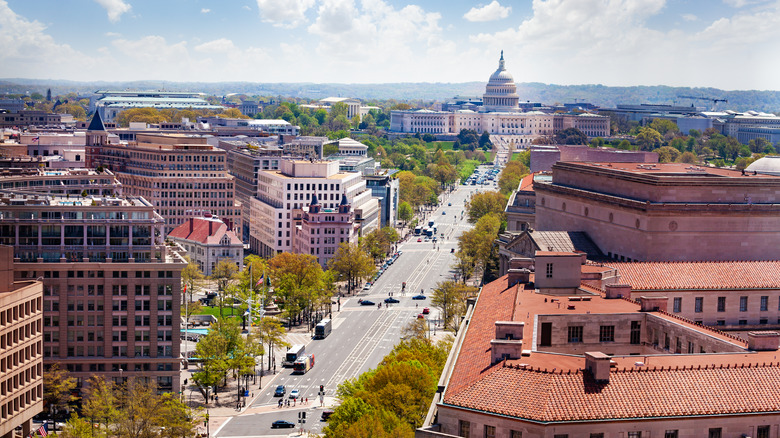 Sergey Novikov/Shutterstock
It's no secret the housing market has been experiencing significant increases over the past few years. In fact, between 2020 and 2021, housing prices in the US rose 18.6%, according to The White House. The COVID-19 pandemic affected many industries, and the real estate market is no exception. People who wanted to buy a house delayed their plans due to the pandemic, but demand rose again, and with a lack of housing supplies, these demands were unable to be met. Because of this, prices have slowly risen over the past year and a half, Ramsey Solutions explains.
In Washington, DC, median sale prices hit $570,000 earlier this year, according to House Digest data. But now, the data shows that prices are finally trending down. Prices began their descent in July of this year, and as of September, the median cost of a home is roughly $500,000. This is due to the decreasing demand in the DC area, says The Washington Post. Fewer people are buying due to high mortgage rates, so there's little competition in the housing market. Potential buyers may be looking at what's on the market but aren't going through with making any offers.
The future of the Washington, DC housing market
As of 2022, homeowners have begun their migration back to the Washington, DC area, specifically the inner city and its close-by urban counterparts such as Arlington and Alexandria, where sales have gone up, making up 15.1% of the metropolitan area's housing sales, The Washington Post explains. This is about a 2% increase since 2020, where sales in these three areas accounted for 13.6%. Moving forward, buyers will continue to watch housing prices fall, and in turn, more options will begin popping up around the US capital. Because the demand is much lower than it was in 2020 and 2021, potential buyers can take their time deciding what they want.
Sellers might be tempted to list their homes at a higher rate due to the lower demand; however, by the end of August, more than 40% of sellers reduced their asking price to reflect the rest of the DC market (via The Washington Post). Still, the housing market is finally returning to normal in this area of the country. As for the rest of the US, MBA economists predict a 9.8% increase in housing costs for 2022 and additional increases in 2023, according to Forbes.