15 Shimmering Gold Paint Colors To Make Your Space Feel Royal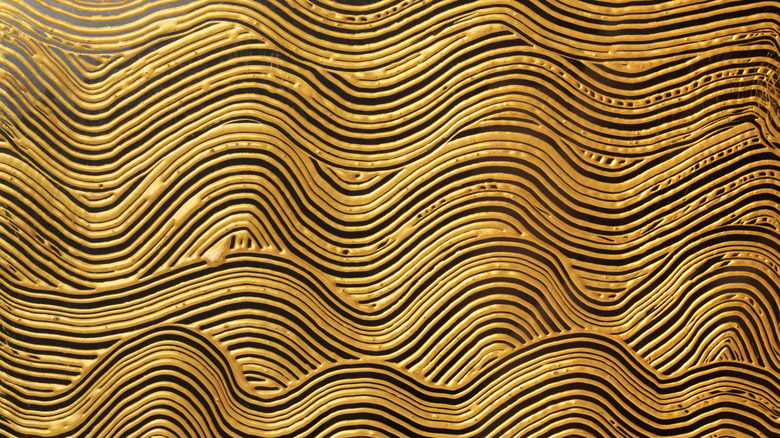 Rudchenko Liliia/Shutterstock
Brilliant and timeless, gold is often a symbol of beauty, strength, and wealth. Like the many royal crowns of England, including its scepters and orbs, gold is a precious metal that has been utilized to represent the splendor and magnificence of kings and queens for centuries. Highly durable and valuable, gold offers its everlasting shine in a variety of ways, including its undefiable color. With the chemical element generally used for currency and jewelry, ancient Egypt and Rome may have also discovered the color of gold by combining brown, orange, and yellow (via Symbol Sage). Like an opulent, baroque-style picture frame, gold is a warm-toned color that evokes feelings of glamour and success, sure to produce inspiration.
How can you incorporate the regal shimmer of gold within your home or office? Reminiscent of the malleable metal, there are several paint shades to consider. A bright statement, gold might be best used on an accent wall or entire space with suitable, contrasting colors like green, gray, beige, brown, black, and white. Other complementary colors might include blue, pink, purple, turquoise, and red. Places to explore with gold may be in the bedroom, living room, kitchen, or foyer. Fancify a weary vintage frame with a lustrous, metallic gold paint color, including beautifying other fixtures, furniture, trim, and accents. Wherever you choose to make something glisten with gold, it will undoubtedly enhance the space with its imperial presence. Keep reading to discover more ways to showcase everlasting gold within your desired space.
1. Pale and proper
A soft yellow gold is seen in various areas of this vintage-style bathroom with a sloped bear-claw tub. Like a private abode at Versailles, the pale shade accentuates the detailed double doors while complementing the light-tiled walls and cushioned chair with a similar faint hue.
2. Antique gold
This stately scene appears inspired by early- to mid-20th century with the fanciful wainscotting and trim, patterned wallpaper, and upholstered armchair. A rich, shiny gold color is presented throughout the space within the chair, walls, and mirror, along with a slightly deeper hue present within the wallpaper to complement the regal vibe.
3. Bold gold
Not typically a color you might find in a modern bathroom, this bold shade of gold transcends the space to a grand status. White-toned features contrast the bright, outspoken color amidst the sink/vanity, toilet, and décor, while the lights heighten the hue's intensity.
4. Modern gold
With a hint of brown, this seating area features a smooth, mustard-like shade on the lower portion of the wall, which contrasts well against white on the upper half. Browns and golds are also seen in the picture frames, lamp, wooden-framed loveseat, and wood block accent table for a mid-century modern look.
5. Metallic gold
Followtheflow/Shutterstock
From natural life to your favorite sports teams, green and gold are compatible. Here pictured is a plush green couch and pillows with a closely matching wall combined with various glistening gold metal elements. The hammered gold metal table, lamp, table, and planter, shine like gold stars amidst the dark, lavish vibe.
6. Golden bar
Highly reflective, a captivating gold shade is showcased on most of this kitchen island. Like a bar of 24 karat gold, the gleaming, metallic piece dazzles against the dark countertop, including a gray wall and black cabinetry. A gold metal light chandelier with orb shades complements the island along with the light herringbone design flooring.
7. Royal gold
A bedroom fit for a royal, this alluring shade of gold is showcased on an accent wall while juxtaposed with a dark brown wood wall above the bed. Complementing colors like yellow, white, and beige give support to the noble shade as well as the radiant recessed lighting.
8. Goldenrod
Comparable to the vibrant goldenrod plant, this space features an intensely golden hue on the wall suitable for a royal court. Noble and strong, the color is displayed with a harmonizing velvet-like couch and gold metal globe chandelier. The black and white pillows act as accents against the monochromatic scheme.
9. Orange gold
With a scrumptious appeal, the color gold can intensify further when mixed with orange hues. Pictured above is an imperial, vintage-style armchair that features a penetrating shade of orange gold present on the velvet-like material with complementing gold metal arms and accent tables present on one side.
10. Bronze gold
Although this bedroom features a wood-like wall texture, the color resembles the aura of the bronze age. Highlighted by the lighting, the coloring has a rich, earthy glow within its brownish-yellow hue. Neutrals like white, beige, brown, and cream accompany the darker contrasting shade.
11. Modest gold
Even a faint color of gold holds its power here. Sleek and cool, this kitchen features a subdued shade of gold within the cabinetry, island, and chairs. Paired with black, the tone is modern and sophisticated throughout. Other colors present are gray and silver, with lively greenery from the plants.
12. Green gold
Sometimes referred to as Vegas gold, green gold is a mixture of various parts of blue, green, and red. This elegant kitchen, covered in mostly blues and grays, features eye-catching, floor-length curtains in a hue with a touch of shimmer. A similar shade is showcased on the hood and in the floor tiles while contrasting the light features.
13. Rose gold
With a regal, antiquated vibe, rose gold shines and glistens well in jewelry and other metallic pieces. A blend of gold, silver, and red, rose gold can transpose its delicate nature into a lustrous paint color. Here featured is a mirror frame that transpires a rose gold hue, as it stands out from the neutral tones and colors.
14. Golden brown
Brown with a touch of gold or gold with a hint of brown — this robust, earthy shade combines parts of red, green, and blue. With a glossy gold tint, the living space pictured above showcases the color on two walls with various textures. Gray, white, and black are present throughout the furniture and rug, providing a bold contrast.
15. Champagne gold
Like a glass of French bubbles, the color of champagne can appear a yellowish cream to a sparkling gold. This luxurious kitchen is decked in a light, bright, creamy gold shade on the cabinetry throughout while contrasting with an elegant crystal chandelier and ornate champagne gold-colored molding and fixtures.