How We Designed The Living Room Of An Apartment We Just Moved Into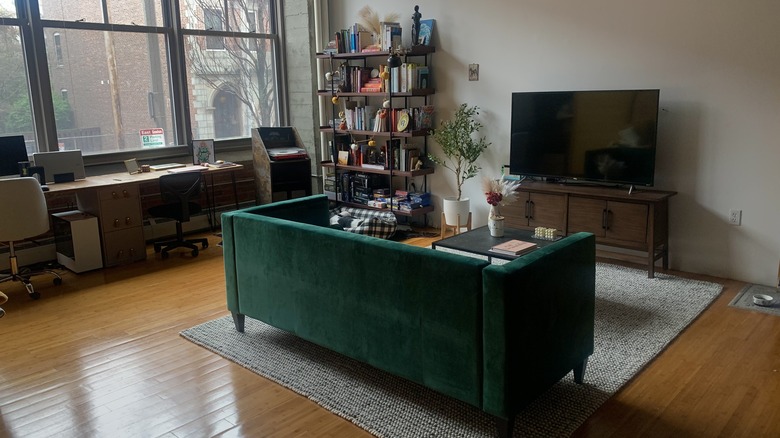 Juliana Lumaj/House Digest
The process of moving to a new home is a huge chore which consists of lots of lifting, stressing, funding, and a little bit of crying. Gosh, if you're moving from one state to another, we salute you for your stressful endeavor and hope you're able to keep the manic thoughts to a minimum. In fact, millions of Americans typically just throw away their large furniture items to avoid the hassle (even though recycling is encouraged), according to Cision.
However, moving into a new apartment with minimal décor items unlocks a new headache: deciding which furniture, colors, and textures your home requires. The space we tend to spend most time in is the living room, and designing this area first can help create a base of style and functionality you can use as inspiration for the rest of your residence. Unsure how to start? Nervous? Scared? Don't be. Below are five design tips to consider when creating a fresh living room design for a new apartment.
Introduce color into the space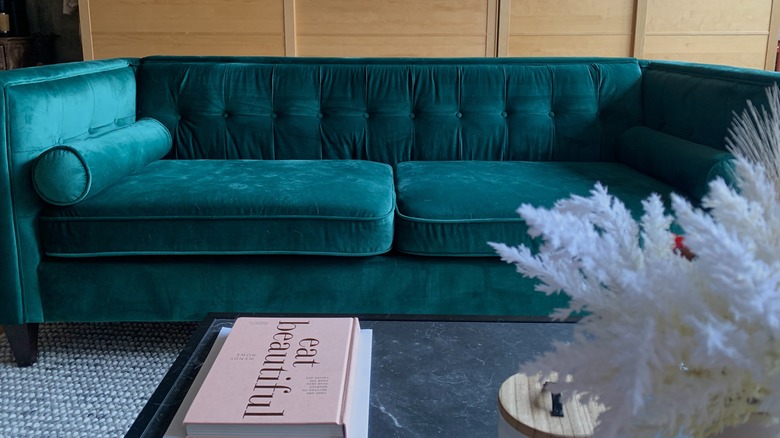 Juliana Lumaj/House Digest
The first thing you should do when walking into a new space is take stock of the present colors and tones. The living room of this loft-style apartment is full of warm wood tones; the floor and storage unit both have a hint of yellow, too. Additionally, against the window wall there are touches of red and gray from the brick and cement materials. Considering all of this, we decided that a dark green sofa would work best to tie in all of the colorful elements of the room. The shade adds a new and fun element to brighten up the area, and it also complements all of the different hues — especially yellow and red.
According to Beasley and Henley Interior Design, you can figure out which colors are complementary by pointing out the hues that are opposite of each on the color wheel. If your space is full of soft colors, it's advised to choose a stronger shade in order to create an impactful design. 
Create interest with texture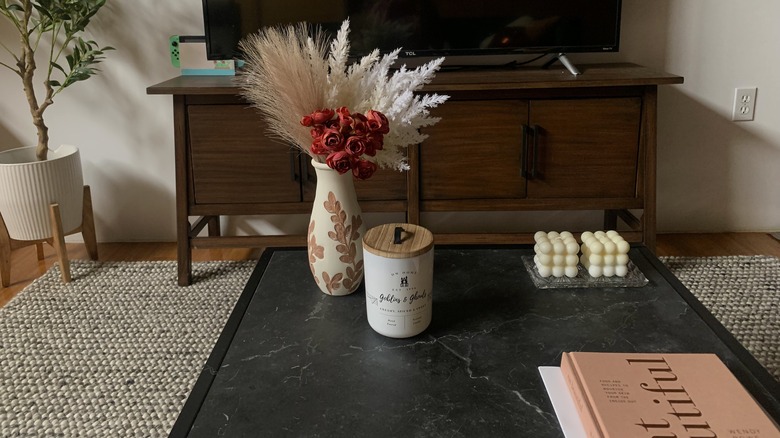 Juliana Lumaj/House Digest
Texture is also an integral element of interior design. However, you'll want to make sure to avoid implementing too many décor pieces made of the same material. For example, if you have a living room full of only wood furniture and smooth surfaces, this can create a bland and boring design. That's why it's important to introduce décor made of different materials to ensure your living room looks interesting and perpetuates a certain aesthetic, such as modern, rustic, or contemporary. 
In this living room, there are several décor pieces made of wood, such as the desk, television stand, and bookshelf. To help break this up, we introduced a faux black and white marble table into the space. This item added a much needed modern touch as well as some contrast. Underneath is a textured wool rug made up of small circular knots, which was incorporated into the living room design to create a sense of coziness. 
Bring in the charm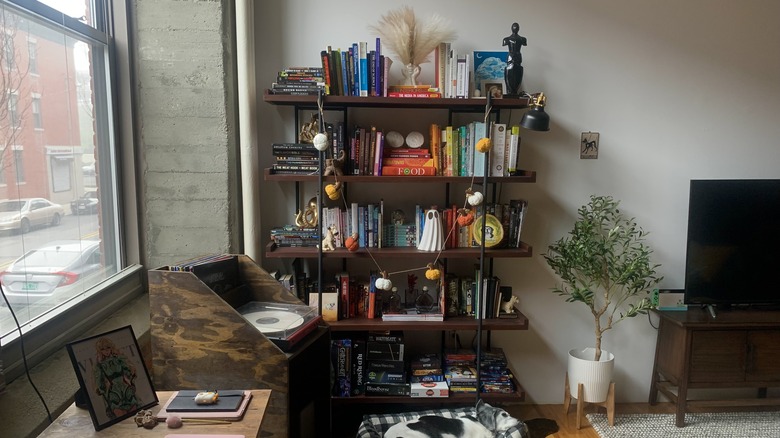 Juliana Lumaj/House Digest
Time spent in a living room is usually with friends and family while watching a movie, or perhaps eating delicious snacks while playing video games. Living room designs are usually oriented around style, functionality, and comfort, but we believe it's also important to integrate a sense of your personality. In this design, we use the bookcase to decorate for the holidays, show off beloved pets, and highlight other interests. However, we also kept organization in mind when assembling the books and décor. 
For the most part, the books are color coded and organized by genre, and the décor pieces are placed in a way to ensure there is balance between both ends of the bookcase. In order to create visual interest, there are also books stacked down the middle with décor placed on top to create a sense of rhythm and harmony. This is definitely more of a maximalist approach, but there are several ways you can go about designing your bookcase. HGTV says a bookcase can be used to display a few vases, small plants, and décor accents, which could be great for a minimalist design, too.  
Decide on the arrangement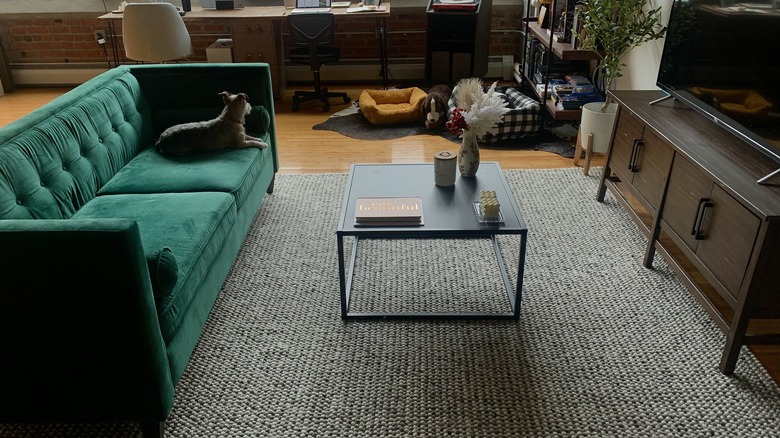 Juliana Lumaj/House Digest
As you decide on the colors, textures, and personal items you want to include in you living room design, the next step is to figure out how you're going to arrange your décor. Before purchasing anything, we suggest mapping out your space to avoid creating an uncomfortable and cluttered environment. In this living room, the sofa, coffee table, and television stand are sectioned off in their own area; the bookstand, record player stand, and desk also have their own designated space. This was done by ensuring there was a big enough gap between both areas, and we introduced a faux cowhide rug underneath the bookcase to create a cozy corner. 
Grace In My Space says there are multiple things to consider when figuring out your living room layout: the focal point, flow, seating requirements, purpose of the space, and obstacles you have to design around. You'll also have to identify the shape of your living room, and decide which other furniture shapes will be complementary.
Figure out what's missing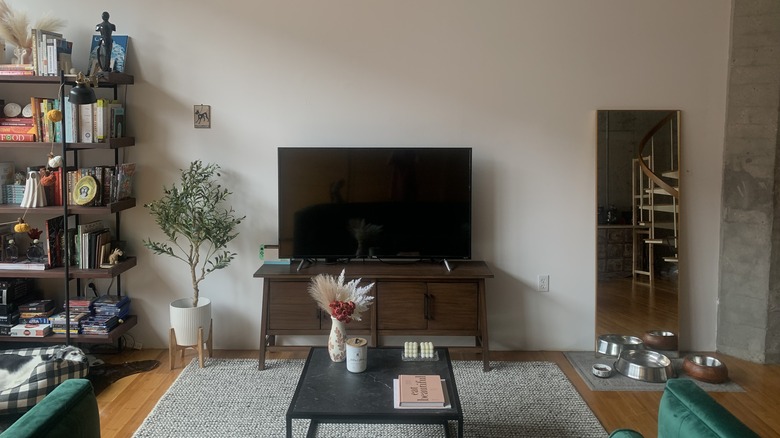 Juliana Lumaj/House Digest
Once you've purchased and situated all of your home décor, we suggest standing back and examining if there is anything missing. Since this is a loft style apartment, it has high ceilings and plenty of blank white wall space. We suggest that you take advantage of what is basically an empty canvas, and introduce some art or other types of wall décor so that you are truly enhancing the entire area as a whole.
It can be difficult to visualize and execute a creative design on a large wall, especially when there is a television involved. However, Jessica Devlin Design says creating a gallery of artwork is an option. There are two ways to go about this: clean and leveled or stylish chaos. If your home is more modern or contemporary, you can create a sophisticated gallery by choosing multiple frames with the same color palette and frame design, and ensure they are aligned when hung. If you want something more frivolous, then it's advised to stagger your frames and obtain picture frames of different sizes.