The Price Of Refrigerators Has Gone Up Drastically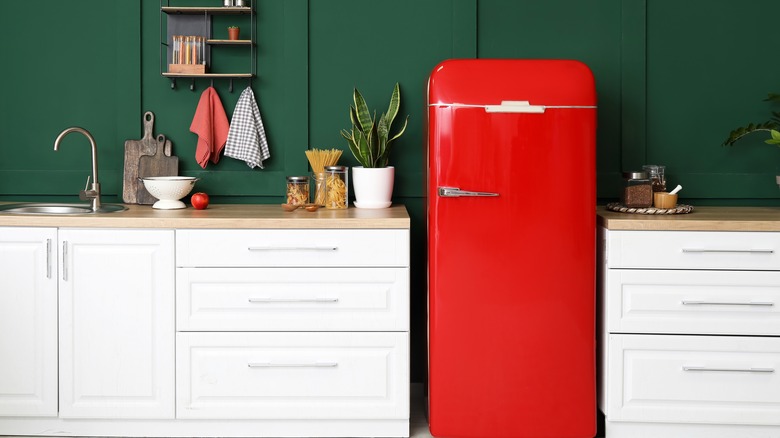 Pixel-Shot/Shutterstock
If you've been shopping around for a new fridge,  you've probably noticed the exorbitant prices on kitchen appliances as a whole, and you're not the only one. The U.S. has experienced a drastic price increase on refrigerators over the past three years. Beginning in April 2019, the cost of furniture and other household durables has gone up by a colossal 22%, and 17% since January 2021, according to House Digest data. So, who or what is to blame for these outrageous prices — chances are you already have an idea.
Because of the COVID-19 pandemic, manufacturers have slowed production of refrigerators and other appliances due to the lack of materials, explains CW Service Pros. However, the pandemic isn't the only reason; many raw materials are shipped via the Suez Canal, which has been experiencing a blockage since March of this year. This has caused a delay in shipping, which affects manufacturing — ultimately affecting the consumer as well. 
How to deal with the cost increase
Despite the high prices, we recommend purchasing a new fridge now, as experts are predicting a 10% increase in the new year, says CW Service Pros. As the costs of aluminum, copper, and steel go up, so do the appliances they're made from — which is why you're seeing a rise in the cost of refrigerators. U.S. News recommends holding off on shopping until national holiday weekends like President's Day and Memorial Day, when sales are abundant.
If you need a new refrigerator and absolutely cannot wait until a holiday, many retailers have special perks for people as part of their loyalty program, including Home Depot, for example. Do your research and see what other loyalty programs or memberships you can join. Most (if not all) programs require a one-time or annual fee, but you'll quickly find the perks are worth it — before you know it, you could have yourself a brand-new fridge.