What You Need To Know About Winterizing Your Flat Roof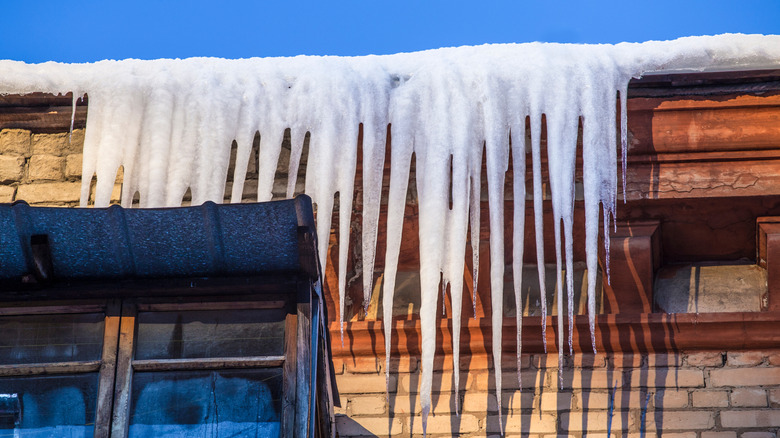 Kateryna Mashkevych/Shutterstock
What you need to know about winterizing your flat roof can best be summed up in a single word: Preparation. Early fall is the best time to get a flat roof inspected and readied for the harsh conditions that await. Pre-winter inspection is crucial, especially for aged roofs or previously damaged ones, says Kevin Lyman Roofing Co. Winter elements make working on a roof (flat or otherwise) more dangerous, and repairs more difficult. According to Canam Roofing, many flat roof products need to be used or cured under specific conditions. Roofing glue, for instance, is less effective when cold and should not be applied at low temperatures. Should you need to summon professional help, roofers are apt to be overbooked and less available during winter. Preparation in the fall will help stave off emergency repairs, and when the temperature drops it will prevent small problems from evolving into major ones.
The Craftsman Blog asserts that flat roofs (more precisely low-slope roofs, as opposed to pitched ones) entered the mainstream in the 1920s due to the influence of famed architect Frank Lloyd Wright as well as others. Fashionable, contemporary, and usually less costly than pitched roofs, flat roofs are a popular feature in homes, sunrooms, and additions. Low-sloped roofs are also widely used for commercial structures. A fall preparation routine including thorough inspection and repairs, along with year-round maintenance, will keep your roof in tip-top shape for winter and beyond.
Waterproof roof and ensure adequate drainage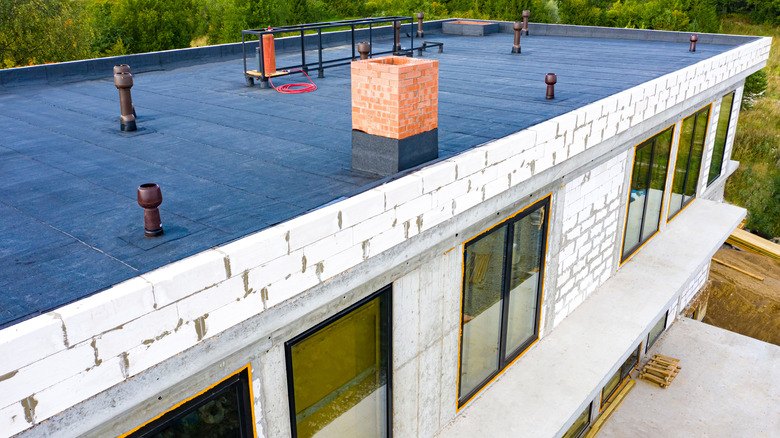 FOTOGRIN/Shutterstock
A flat roof can be as water-resistant as its pitched counterpart. However, ensuring proper drainage is a critical component of fending off the sequence of freezing and melting ice that can damage any roof, according to Flat Roofers. Gutter heaters (also called de-icing cables) can be installed to melt the surrounding snow to facilitate drainage, and are especially useful near a roof's edges to defend against ice dams, notes Showalter Roofing Service, Inc. The buildup of snow and ice is especially problematic for already weakened areas of the roof and its seams.
Drains and the drain hub need to be freed of muck and debris using a hose with a pressure attachment or a plumber's snake. In some instances you can scoop it out by hand. Gutters, ideally outfitted with gutter guards, and downspouts must be cleared of blockages. Sweep to get rid of sticks, debris, and leaves, and stay cognizant of the condition of nearby trees; fallen branches are a potential hazard. Be wary of snow drifts coming from neighboring buildings too, and any detritus or equipment sitting on the roof's surface should be treated as a potential hazard.
The roof's waterproof membrane is an important line of defense, and must be maintained regularly. Be on the lookout for punctures caused by falling objects, unruly weather, and even by contractors. A breach in this protective sheet is serious and may lead to water ponding underneath it. The membrane's seams are especially vulnerable.
Winterizing and all-year maintenance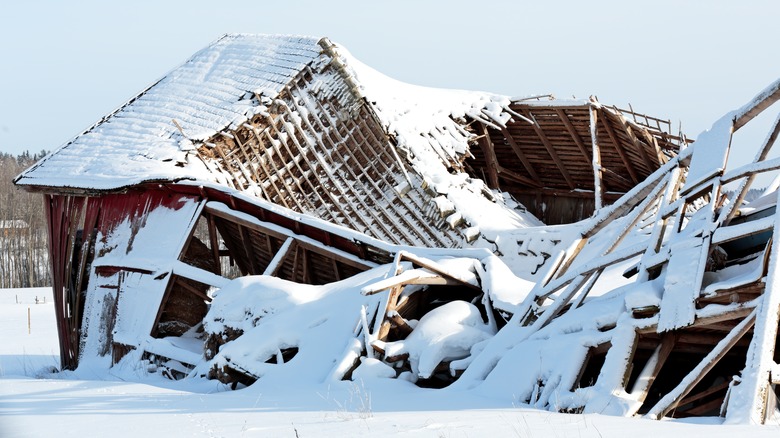 Elisa Putti/Shutterstock
Typical problems need to be addressed, among them signs of mold, warping, nests, and any loose, broken, or missing shingles. Inspect for holes and patch them. Also, be alert for blisters, soft spots, or bowing, which unfortunately require professional attention. A sagging roof is another threat to the membrane beneath it. Per Roofslope, those compromised areas might have to be excised, replaced, and resealed. Caulking, especially where the roof and wall meet, and sealants need to be checked and reapplied if necessary. Intact ceiling water pipes and the integrity of seams should be confirmed. Furthermore, Advocate Construction suggests purchasing a cap or screen for the roof.
Anecdotal evidence suggests that a flat roof is in danger of collapsing from the accumulated weight of snow, ice, slush, and water. However, as the Hartford Courant points out, up-to-code residential roofs in Connecticut are required to stand up to 30 pounds of the wintry mix per square foot, equivalent to 4 feet of loose snow. It also states that pre-code barns or sheds are the structures more prone to failure. Flat roofs are third on the list (via CT.gov). In any event, failure to take steps to winterize your flat roof may be akin to inviting an emergency repair or worse. Along with the requisite pre-winter preparation and follow-up maintenance, West Roofing Systems, Inc. advises having your roof's warranty and insurance contact information close at hand, and to formulate a plan of action should the worst occur.