The One Bedroom Vibe That Over 50% Of Homeowners Prefer - House Digest Survey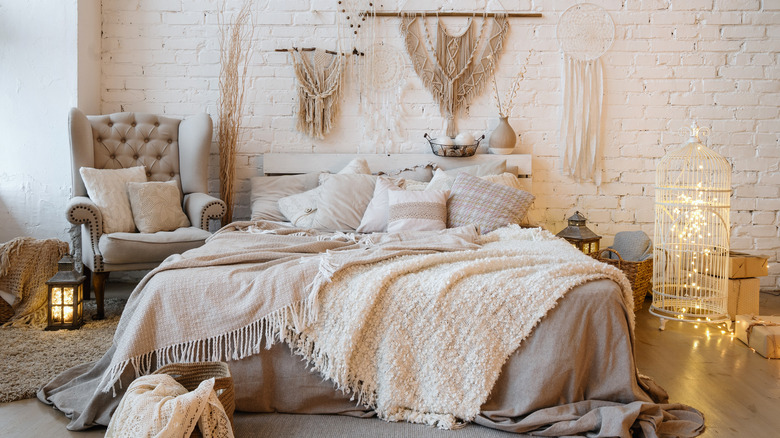 brizmaker/Shutterstock
When it comes to decorating a room there are many avenues you can go in order to achieve the ideal vibe. If you strive for a country-cottage environment then you might be looking at barn wood flooring, soft warming paint tones on the walls, and repurposed vintage items peppered throughout the room. Whereas, a more modern space could have a fine balance of newer minimalist furniture pieces with sleek metallic accents softened by lighter-toned blankets and throw pillows.
As you go through the decision process of how to decorate each area, some of the rooms around the home may be designed with hopes that it will create welcoming and social energy for yourself and guests who may come to visit. However, the way you style your own bedroom can be more personal and touch intimately on the things that make you satisfied.
Because a good night's sleep is so important and can be what sets your mood for the whole day, it helps to create an atmosphere that will work positively toward that goal. Simply decluttering your bedroom, surrounding yourself with accessories that you enjoy, and of course, choosing the right bedding can be crucial to putting together the perfect bedroom for yourself, according to HGTV. We here at Home Digest wanted to know what kind of vibe you prefer in the bedroom. In an exclusive survey done by House Digest, we asked 606 folks "How do you like your bedroom to feel?" Read ahead to check out their responses.
Comfort above all else in the bedroom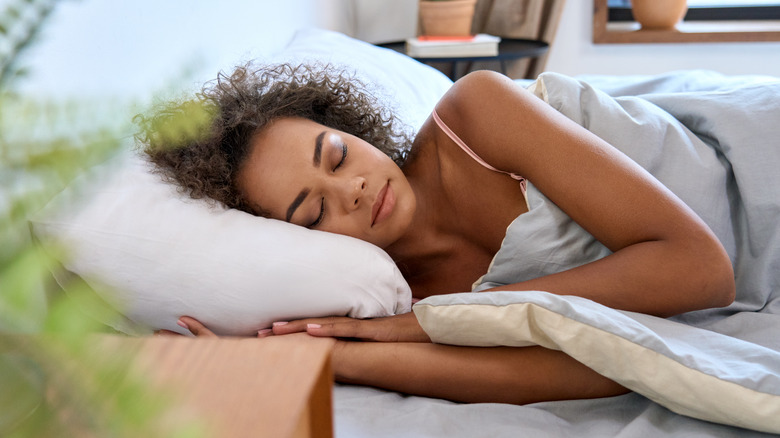 Ground Picture/Shutterstock
No matter how you design your bedroom, whether in a boho chic style, modern industrial, country farmhouse, or even gothic gloom paradise, it all comes down to comfort. When asked in an exclusive House Digest survey about how people want their bedrooms to vibe, 326 respondents — or 53.8% of those who voted — wanted their room to be cozy. This comes as no surprise because the main purpose of your bedroom is to give you the feeling of ultimate relaxation so that when your head hits that soft pillow you can let serenity drift you off into sweet slumber.
To add some extra coziness to your bedroom there are a few decorating tips that might help. Stick to soothing pale tones for the paint on your walls. Generally, if you want a more relaxing vibe, cooling colors live with soft purples, blues, and even greens help to generate a sense of calm. Try to stay with one color for the walls instead of focusing on different color baseboards and accent walls. This can provide a more comforting feel, according to Forbes, like being wrapped in a cuddle of color. Also, don't skimp on your bedding. A quality comforter, plush pillows, and a soft set of linens can do wonders for your sleep and for creating the right atmosphere in the bedroom. 
Some like to keep their bedroom practical and alluring
Kostikova Natalia/Shutterstock
On the other hand, 91 folks, or 15.02% of those surveyed said that they liked their bedroom to feel functional. Having a place for everything and everything in its place can be a desirable attribute for your bedroom. The right amount of storage and ideal side tables can keep you organized and free of unsettling clutter. Also, find a wall to hang a full-sized mirror to accurately assess the wardrobe choice of the day and to make certain that your bed is reserved for sleeping only, try adding a small comfortable chair by the window or a little table in the nook of your bedroom so that it can be used for other activities, according to Kate Beavis.
76 people or 12.54% of the voters want their bedroom to feel a bit frisky as they opted for a romantic vibe when it comes to the atmosphere of their boudoir. To increase the passionate persona of your bedroom try adding sweet-smelling candles and make certain you have soft glowing light bulbs in your bedside lamps. Having a more eclectic feel was important to 58 folks — roughly 9.57% of those surveyed — while keeping the bedroom in a minimalist tone was what mattered for 38 people or 6.27% of the voters. Finally 17 people — about 2.81% of the vote — enjoyed it when their bedroom appeared chic to their personal taste.