A Design Expert Tells Us How To Nail The Minimalist Aesthetic In Your Home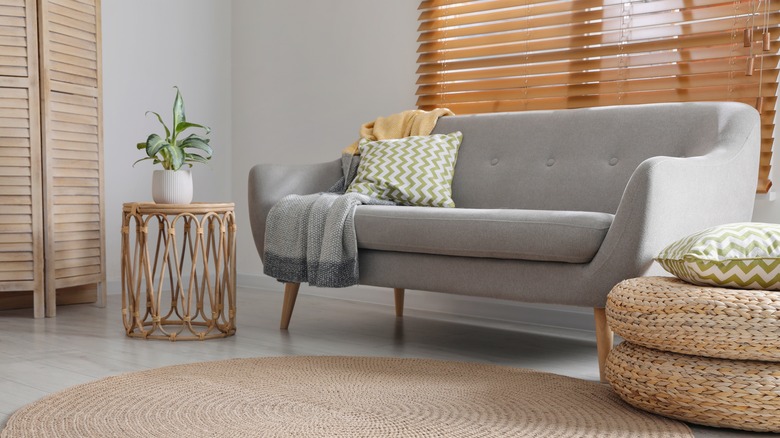 New Africa/Shutterstock
Many people live in a state of clutter, where there are so many objects, knick-knacks, and unorganized items throughout their homes that they feel overwhelmed. Simple Lionheart Life notes the negative ways that clutter can impact your life. It consumes time, space, and money while cutting into your energy and may even affect your relationships. No one wants to live in a stressful environment, which is why embracing minimalism can offer a great solution.
It's not easy making this type of big switch, though. How do you design a home that's minimalistic but still appealing and not too stark? Rachel Robarge, Head of Design at June Homes, offers some tips and strategies for getting the aesthetic right in an exclusive interview with House Digest. If you've been wondering how to make the switch and have a fabulous-looking home, here's where to get started. Try these tips for adding minimalist decor and style to your house.
Prioritize functionality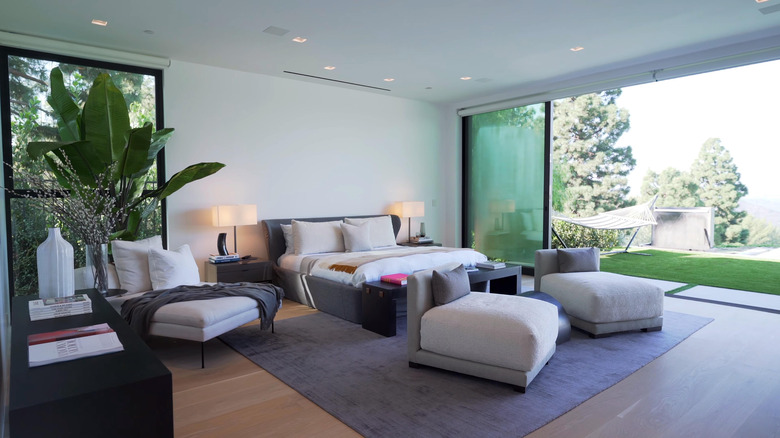 Gabo_Arts/Shutterstock
Start with the basics when it comes to designing any space like this. "The philosophy behind minimalism is to simplify to avoid unnecessary things," states Rachel Robarge. Maybe you don't need all of those old knick-knacks lying around. That doesn't mean you need to get rid of everything, though. The key is making decisions about what purpose a space needs to serve in your life.
Robarge says, "When trying to achieve a minimalist look, you need to understand how you will use your space and what is essential for that function." Do you plan to use this space for gatherings? Is this space necessary for storage? Perhaps your kitchen needs to serve as a place for meals or your dining room as a dual workstation. Define what the use of that space is, and then choose your items accordingly. "By understanding your function, it will be easier for you to remove objects that aren't needed," shares Robarge.
Utilize closed storage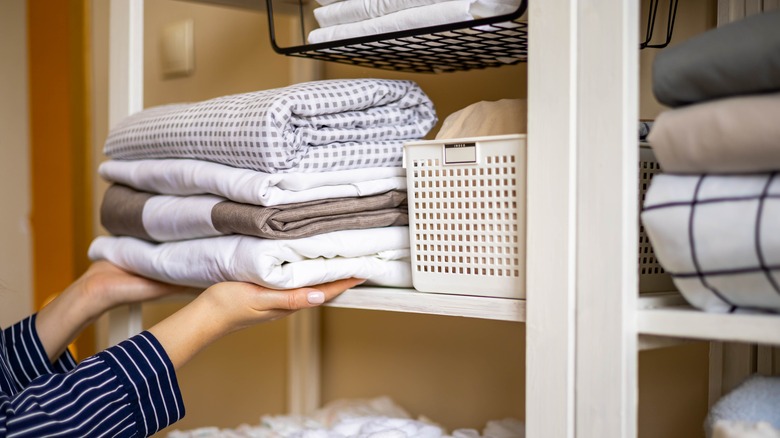 Kostikova Natalia/Shutterstock
Many people become frustrated when it comes to clutter, whether it is a stash of books on a table or piled-up mail in the corner. It could be the jackets by the front door or the six pairs of shoes that pile up that frustrate you. According to Rachel Robarge, the best solution is using closed storage. She states, "For all non-decor-related items, you need a place for them to go that isn't out in the open."
Robarge offers some key recommendations. "Having closed storage like closets, wardrobes, or credenzas allows you to have these items accessible but tucked away until needed." That doesn't mean your closets should be stuffed full of everything. Designate each space for something specific, such as a place for shoes, clothing, or papers. For those without ample closet space in their homes, things like chic lidded baskets or under-bed storage can help keep clutter out of sight.
Avoid high-contrast furniture and decor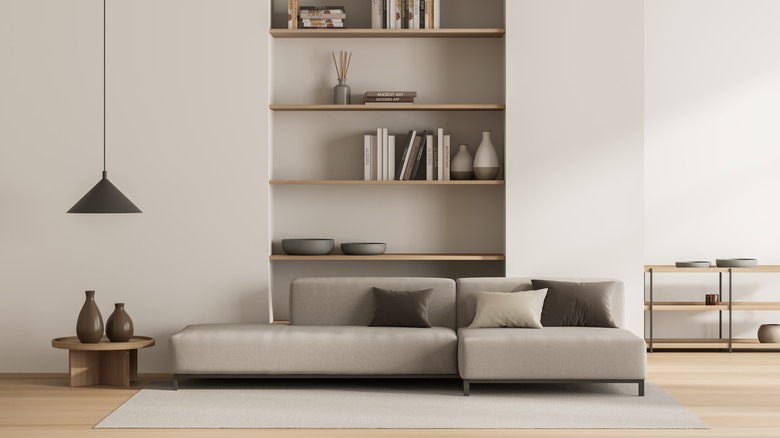 ImageFlow/Shutterstock
The next step is choosing the right furniture and decor — and when it comes to minimalism, it's all about consistency. According to Rachel Robarge, avoiding high-contrast pieces and opting for elements with more similar hues will help you to get that minimalist look. She says, "When choosing your furniture and materials, colors that are within the same family will create a soft, continuous feeling through the space."
And there is a lot of room to play around when making your color selection. Robarge reveals, "Whether you lean warmer with wood tones or colder with grays and black, keeping your palette consistent expands the eye, giving the illusion of spaciousness." You don't have to cover your home in gray and nothing more. Instead, choose hues with subtle differences to keep the space cohesive but interesting. Doing this will add a calming and open feel to the room.
Keep comfort and coziness in mind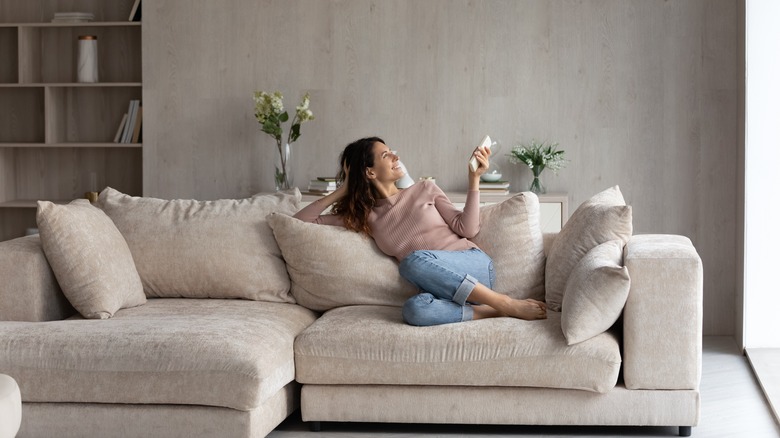 fizkes/Shutterstock
Some people may associate minimalist designs as being stark — but if you prioritize comfort, this doesn't have to be the case. Rachel Robarge shares, "It can be easy to choose furniture with modern design, but something many don't think about is how comfortable those pieces may be. Keep this in mind when selecting large items like your sofa and your bed." In other words, you don't have to choose furniture with a hard surface. Comfortable, plush pieces can work, too.
"Many modern silhouettes are very square and can come off cold looking. Choosing plush upholstered options will provide softness, which will give your space a much more inviting feel," shares Robarge. You're going for fewer items and a simpler pattern, but you do not have to sacrifice a cozy sofa that's perfect for lounging for your design. Get the colors and layout right, and then focus on comfort.
Don't forget about architecture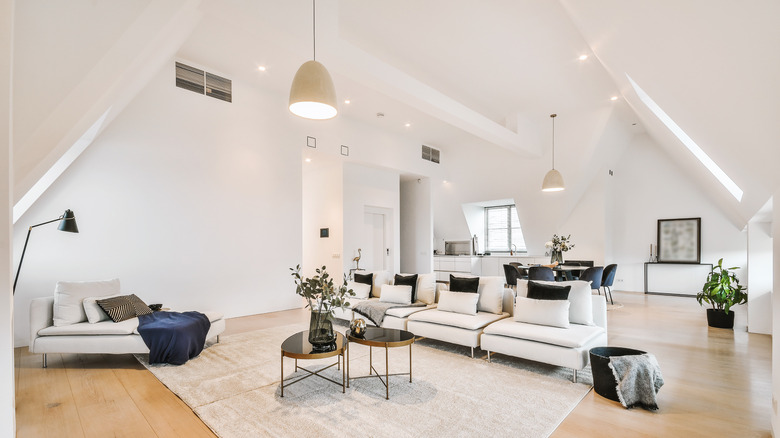 Procreators/Shutterstock
Sometimes the best way to pull off this aesthetic is by looking at a room's structure and details. "The architecture of the space should not be overlooked," states Rachel Robarge. "To achieve the ultimate minimalist look, avoid ornate moldings and decorative elements." If you plan to redo the entire space, make sure every component lends itself to this feel.
For lighting, be creative. "Integrated lighting is a great option to add some dramatic lighting without using fixtures," reveals Robarge. That could mean eliminating that big chandelier in favor of smaller, more impactful surface lighting. Don't forget the right color for the walls as well. "Also, continue the monochromatic color palette to your walls, and design elements will tie the whole space together," she recommends. Whatever hues you plan to use within the furnishings can be paired with the coloring on the walls and floors. Choosing the best color for the living room or bedroom can be hard, but it will help bring everything together.