Which Furniture Store Has The Cheapest Patio Chairs?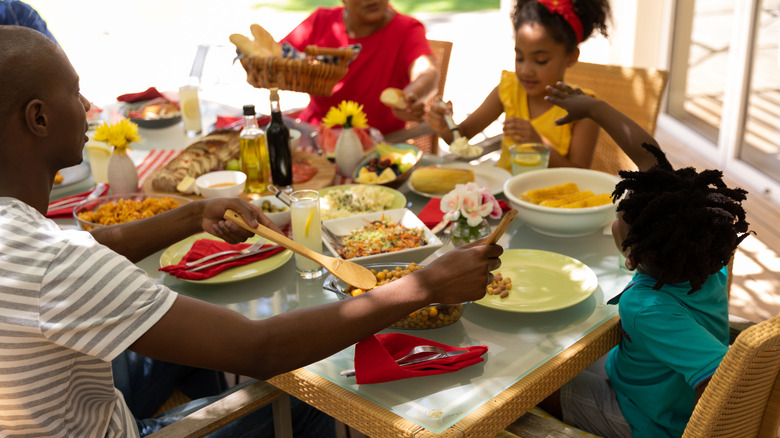 wavebreakmedia/Shutterstock
No matter what time of the year it is, you can always upgrade your outdoor seating arrangement. Some of us are lucky enough to live in a state where you experience summer weather all year long, so the proper patio furniture is a must for a comfy outdoor experience. However, patio furniture can be expensive, especially chairs, because they are sometimes sold per chair. So if you have a large family, that can quickly add up. According to Pure Patio, depending on the type you purchase, you could be spending anywhere between $300 to $2,000.
Many of us can't imagine dropping that much money on patio chairs, so we compared Target, Wayfair, and Walmart to see who had the cheapest options. We reviewed the quality of materials, previous customer reviews, and the style of furniture. Note that all prices are current at the time of this writing and are subject to change. 
Some homeowners may believe they must sacrifice their design aesthetic in order to stay on budget, but we'll show you that may not always be the case.
Some notable picks
Wayfair is known for selling a variety of home décor at low prices, and so we wanted to highlight the affordability of their patio chairs. For example, their Anacely Stacking Patio Dining Armchair is currently on sale, and is priced at about $82.39 for a set of two. The chairs are made of rattan which is ideal for outdoor use because it can withstand both sun and water damage if coated with lacquer, according to The Backyard Gnome. Out of 645 reviews, this product is rated 4.6 out of 5 stars. Reviewers, such as Cat, said they enjoyed the style of the chair, and may get two more due to the low cost.
Target also offers home décor at various price points, and we believe it's worth taking a look at their patio chair selection. The Elba Patio Armchair from the Room Essentials collection is only $45 per chair. This means a set of two would only be about $90 total. These retro chairs are described as rust- and fade-resistant, and can handle different weather elements. Out of 59 reviews, this patio chair is rated 4.6 out of 5 stars, and reviewers such as Emax says it's comfortable and lightweight.
Our top pick
Although Target and Wayfair offer different styles of patio chairs at low prices, we believe that Walmart sells a wider range of styles at similar or lower price points. For example, the Mainstays Greyson Square Set of 2 is currently only $35, which we believe is a great option for larger families because two sets would only cost about $70. We also like the fact that the chairs are foldable, so you can easily store them away when you need more space. This product is also made of wicker, which is durable against varying weather conditions and easy to maintain, according to Palm Casual Patio Furniture.
The Mainstays Greyson Square Set of 2 currently has over 1,500 reviews and a 4.7 star rating. Reviewers such as Christopher say that this patio chair is easy to fold, lightweight, and is more comfortable than other patio furniture they have used. Others such as Janetcf says she uses this loves this product and uses it on her front porch and back patio.