Get Inspired By These 20 Calming Sage Green Bedrooms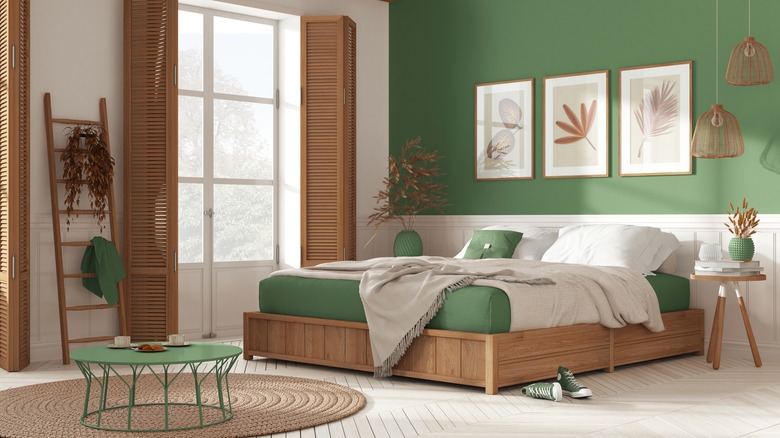 Archi_Viz/Shutterstock
Whether you're decorating your bedroom for the first time or redecorating for the ninth time, it never gets easier unless you go in with a solid idea of how you want the space to look and feel. Your bedroom should be your sanctuary and ultimate self-care space, claims lifestyle blog Parachute. In addition, it's crucial for the room to feel comfortable regardless of the design. Everything that makes up the bedroom, such as the furniture, bedding, decor, and paint color, is essential to curating the perfect oasis. Of course, when we think of an oasis, we think of relaxing somewhere like a spa, which is why sage green makes the best color for a calming bedroom.
Using green is a way to create a zen sanctuary. Since the hue is associated with nature and balance, it will immediately relax your body when you're around it, claims Sensational Color. There are numerous shades of green on the spectrum that can affect the way a bedroom looks. Sage is dark enough to set the perfect mood, yet light enough to match various decor in either vibrant or neutral colors. In addition, it's been nominated the color of the year by multiple paint brands, reports the Boston Globe (and Pinterest fans have crowned it a favorite too). We know you're in dire need of a day at the spa, so we've gathered 20 calming sage green bedrooms that can inspire your design and transform your space into a peaceful one.
1. Chic sage green bedroom
Sage green is a bold enough color that can stand alone in a bedroom, and it is best paired with wood furniture and neutral tones. This space has minimal decor but a lot of texture, such as the wicker and natural wood accents that give it character and balance.
2. Scandinavian-style
Entire walls don't have to be sage green to create a calming environment. This bedroom uses the color in different areas of the space, such as the base of the bed, the outline on the French doors, and the accent design on the wall. The rest of the room is neutral, making it brighter and more peaceful.
3. Two-tone
There are various shades of green, and using complementary tones can create an abstract look in a bedroom, especially when combined with mixed and matched picture frames. Here the sage and lime green tones generate a clean space with minimal decor. White bedding adds to the effect and incorporates a soothing feel.
4. Sage green decor
Instead of painting the walls sage green, opt for decor pieces in that color and other similar shades to transform the bedroom. Wood flooring adds warmth to the space, while the sage green curtains, olive blanket, and rug add a wash of color to the area. In addition, the small tree brings life to the room.
5. Minimalist bedroom
For smaller bedrooms, less will be more to prevent a crowded space. The light sage green walls add interest and brightness along with the natural light filtering through the large window, while artwork hanging on the walls incorporates more color and style. Ultimately, the look comes across serene and cozy rather than cramped.
6. Vintage-style
You might enjoy a matching furniture set of the same color. This sage green bedroom with the hued vanity, bed, and door frames works cohesively because it sticks with the same color. The white spaces and natural wood flooring break up the area so that it doesn't look highly monochromatic, adding warmth to the room.
7. Cozy sage green bedroom
Sometimes a messy look can work out. This bedroom has a bookcase behind the bed decorated with miscellaneous objects, just like the rest of the space, and yet, the room flows with a cozy appeal. The green rug stands out next to the sage green bedding and multi-colored pillows, creating a comfortable and soothing space.
8. French-style bedroom
This elegant French-style bedroom has a beautifully detailed bed frame and decorative pillows against a marble accent wall. The idea of incorporating sage green may seem unusual, yet it lends a perfect touch of color. It's also light enough not to overwhelm the room.
9. Contemporary-style bedroom
A bedroom that has a vast amount of space can be difficult to decorate, especially if the walls are blank canvases. However, this room has stunning sage green wainscoting panels that give the entire room personality. The purple and gray bed perfectly matches the green wall, making the space feel especially calm.
10. Eclectic sage green bedroom
The two-tone green colors balance out in this otherwise white room. Using sage green as an accent color on the walls contrasts the olive green curtain and rug. You almost don't notice the black and white tiling, but it does add charm to the entire look.
11. Modern bedroom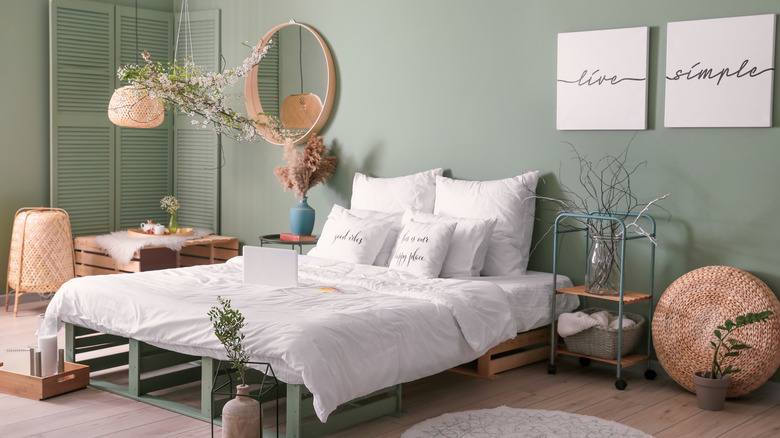 Pixel-Shot/Shutterstock
A great way to make a sage green bedroom feel restful is to integrate natural decor, even if they might not be real, such as the plants and branches in this room. Being surrounded by nature is known to boost your mood and make you feel calmer and safe.
12. Sage green bedding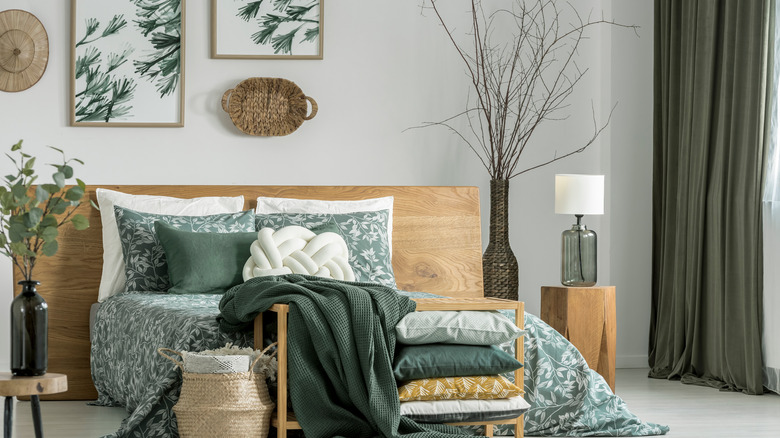 Ground Picture/Shutterstock
You don't have to cover an entire room in sage; sometimes the bedding can be sufficient. In addition, it doesn't have to be a solid sage green. Picking a melodic pattern may just help lull you to sleep. You can then match it to decor pieces around the room.
13. Monochromatic theme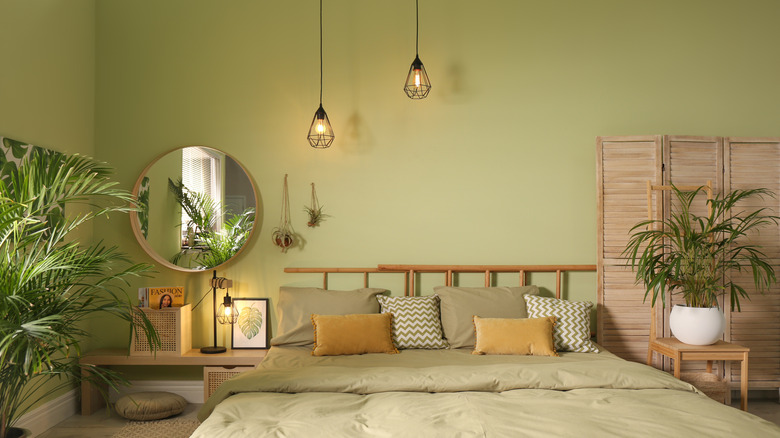 New Africa/Shutterstock
Go above and beyond with a single color like this all-sage bedroom. Use sage green for the bedding, pillows, walls, and plants to create the perfect monochromatic look. The slight hints of wood do a good job separating the wall from the rest of the space, adding warmth and texture.
14. Sage green nursery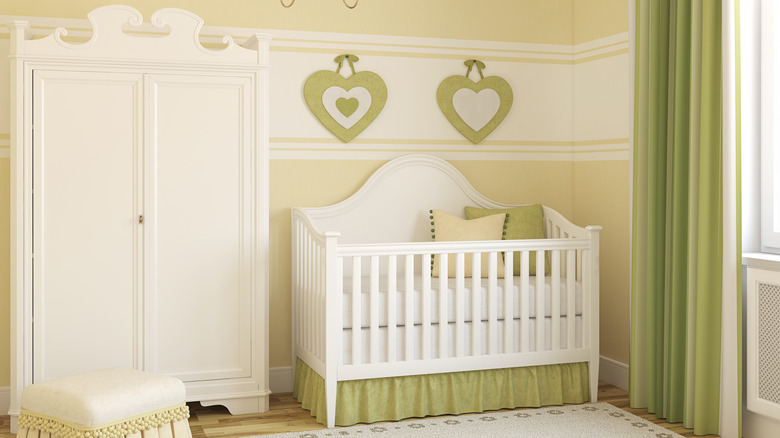 Tr1sha/Shutterstock
A baby's bedroom is just as important as an adult's, and the colors can affect their moods and emotions too. This nursery has a soft yellow interior, sage green curtains, and matching decor. It makes a peaceful place for a baby to sleep.
15. Ultimate luxury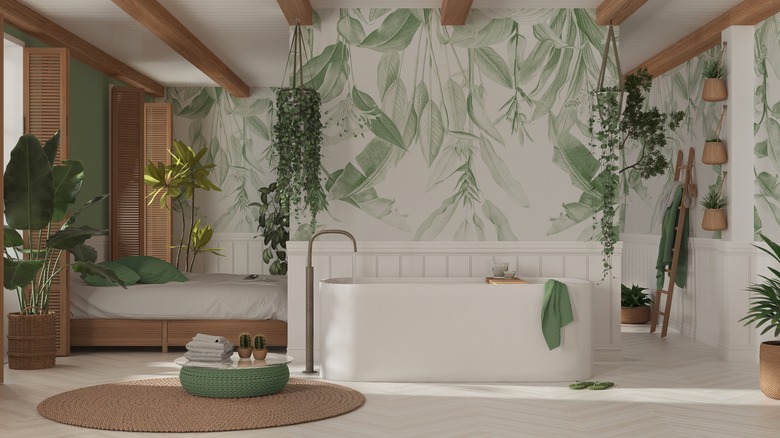 Archi_Viz/Shutterstock
A soaking tub in your bedroom is the epitome of relaxation, especially when decorated with plants and tropical-themed botanicals on the walls. This bohemian bedroom embodies the best way to transform your bedroom by using wood accents for warmth and sage green as a soothing color. This oasis will eliminate stress the moment you walk into it.
16. Relaxing kid's bedroom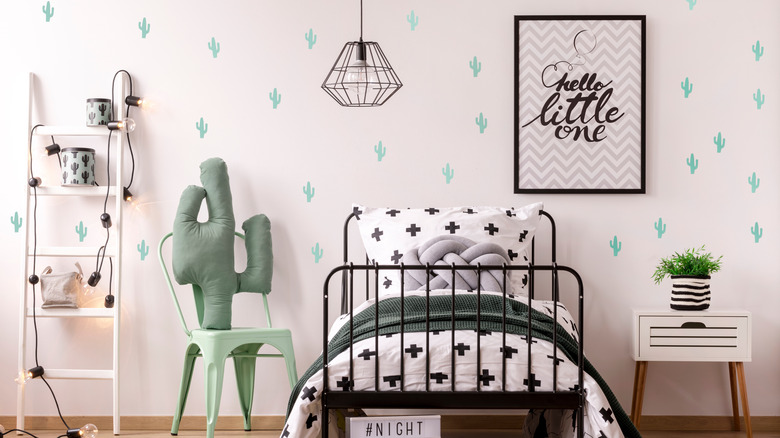 Ground Picture/Shutterstock
We mentioned how babies need a peaceful room to sleep in, and it's still necessary as they grow older. This kid's bedroom is stylish and tranquil, with tiny cacti painted on the walls and hints of sage green that will relax children and help them get a good night's sleep.
17. Royal experience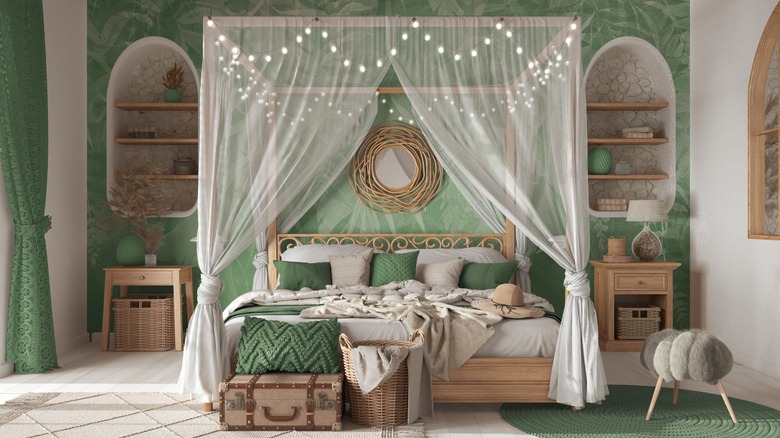 Archi_Viz/Shutterstock
Nothing is better than having a canopy bed for the ultimate royal and relaxing experience. It serves almost as a barrier from the rest of the room, and even the world. Again, the sage green and wood features blend to make an inviting and serene environment.
18. Neutral-toned bedroom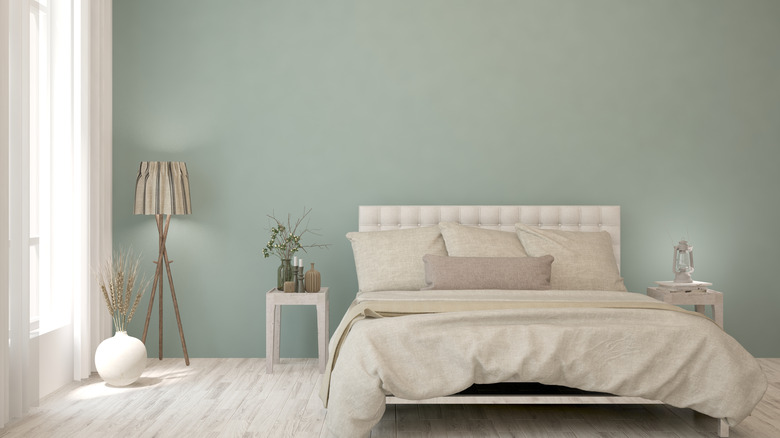 Antoha713/Shutterstock
If you enjoy simplicity but still want tranquility, then incorporating neutral-toned furniture and bedding against a sage green wall will make it easy to capture that mood. This bedroom uses the accent wall to add color to the muted space making it look cozy. Adding a few more plants would strengthen the calm and natural feeling in the room.
19. Farmhouse bedroom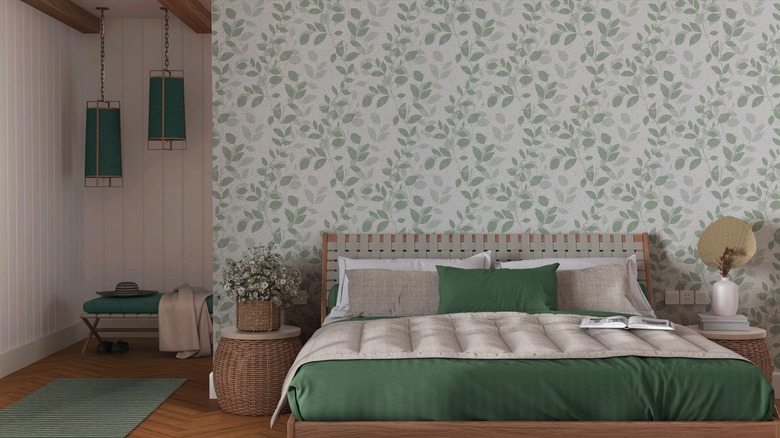 Archi_Viz/Shutterstock
Playing with different patterns is a unique way to figure out which ones work best in a room. For a sage green bedroom like this one, the multi-leaved wallpaper works excellently as a background for the bed and gently contrasts the shiplap wall next to it. The hanging light fixtures and small bench make the space homey.
20. Stylish sage green bedroom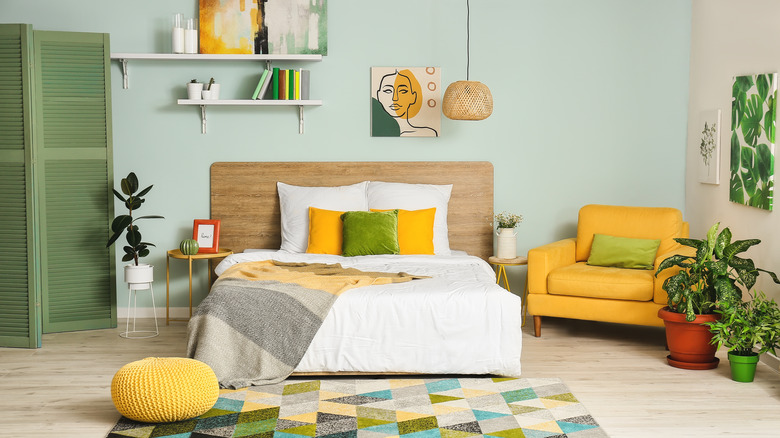 Pixel-Shot/Shutterstock
If sage green is too dark for your space, pairing it with a brighter color, such as yellow, can help liven up the room. This bedroom uses a sunshine yellow for the armchair and pillows to create accented contrast instead of making it the focal point. Both colors add peacefulness to the space.