15 Hedges You Can Plant In Your Yard That Grow Fast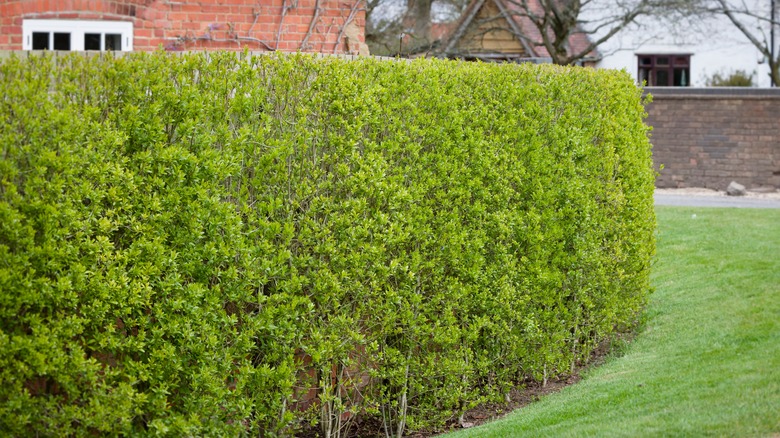 Paul Maguire/Shutterstock
Throwing a party in your neighborhood can be a hit or miss, depending if your neighbors enjoy music playing past 11 o'clock. You might not be a fan of loud music past 2 am, but your neighbors throw parties with speakers high on the weekends, not letting you enjoy your Saturday night. The music from the sound system travels throughout the neighborhood and past the thick walls and closed windows of your home. According to Plant Professionals, growing hedges that are dense in shape is the perfect solution if you want more privacy around your home. While it may not completely block the music, it can create muffled sounds.
Hedges can grow at various heights and lengths depending on how many trees or shrubs are planted together. They're great for sprucing up the curb appeal (via Plant Professionals), especially if you're starting from scratch. Perfecting the landscape's appearance can improve the value of your home. Some hedges have striking foliage attracting birds and bees and adding color to the space. Numerous hedges can be grown at different paces, but if you want a few to skyrocket within a few months, here are fast-growing hedges you can plant.
1. Waxleaf privet hedge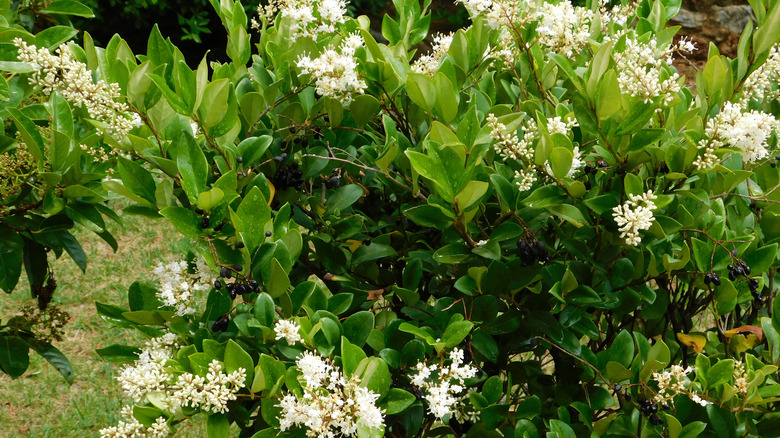 Konstantinos Livadas/Shutterstock
The waxleaf privet hedge ( ligustrum jamponicum 'Texanum') grows up to 10 feet tall and six feet wide, perfect for planting a barrier around the home. The waxleaf blooms in the Spring, growing as a glossy green hedge with fragrant white flowers that attract the bees, claims Monrovia. In addition, it can be grown as a tree which, trimming and pruning, can turn into a topiary tree or shrub. The waxleaf can be planted in moderately acidic soil in USDA zones 7 to 11, where it'll get full to partial sun.
2. Dwarf blue arctic willow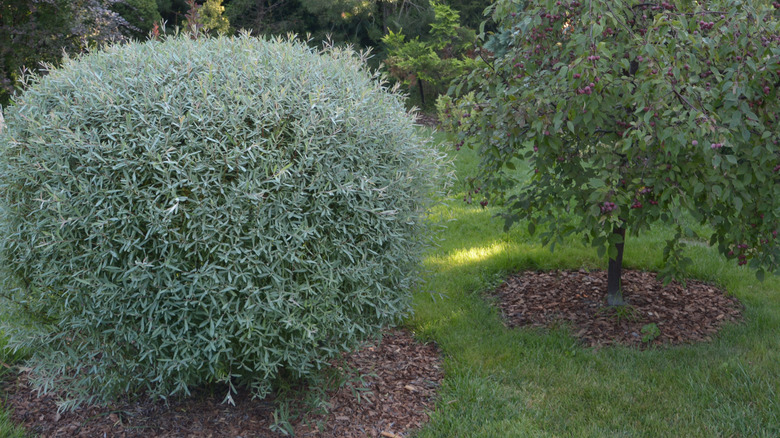 Vladimir Shulikovskiy/Shutterstock
The dwarf blue arctic willows (Salix purpurea 'Nana') grow up to 5 feet tall and 6 feet wide and have bluish-green foliage, especially in the winter, per Gertens, standing out against other shrubs in the yard. They have a rounder form when they grow to their mature height but can be pruned into any shape. Plant them by the house's entrance or the yard's perimeter. They thrive in USDA zone 4a, where they'll need a lot of sunlight and wet or moist soil.
3. Forsythia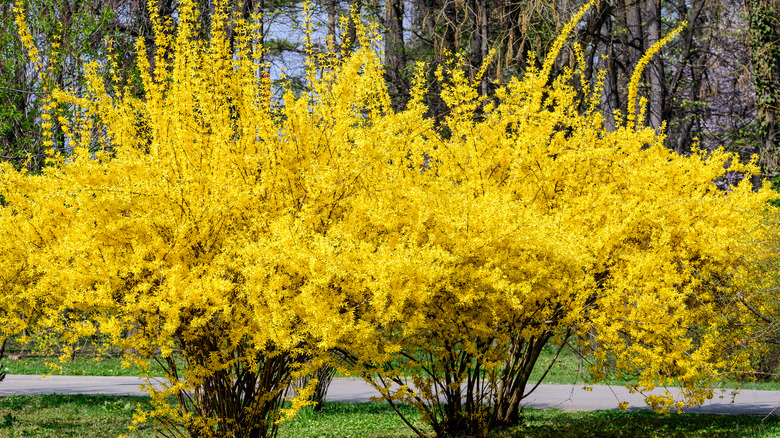 Cristina Ionescu/Shutterstock
If you're looking to add color to your garden, a forsythia hedge (forsythia x intermedia) blooms delicate yellow flowers in spring. It grows up to 10 feet tall and 12 feet wide per Arbor Day Foundation. It's perfect for mixing colorful foliage in the yard. Planting forsythia next to an evergreen hedge will bloom yellow and green colors together until it turns entirely yellow. Forsythia will need acidic soil in an area that receives full sun to partial shade during the day; best grown in USDA zones 5 to 8.
4. Camellia
Rose Makin/Shutterstock
Another great colorful hedge to incorporate into your garden is a camellia hedge (Camellia japonica) due to its multi-colored foliage that blooms from winter to spring. The flowers grow from red to white to pink; the barrier can grow up to 15 feet tall and 12 feet wide, states Burke's Backyard. The camellia hedge grows best in slightly acidic soil and an entire sunny area to bloom its attractive flowers. They'll thrive in USDA zones 7 to 10, transforming the appearance of any yard.
5. Common purple lilac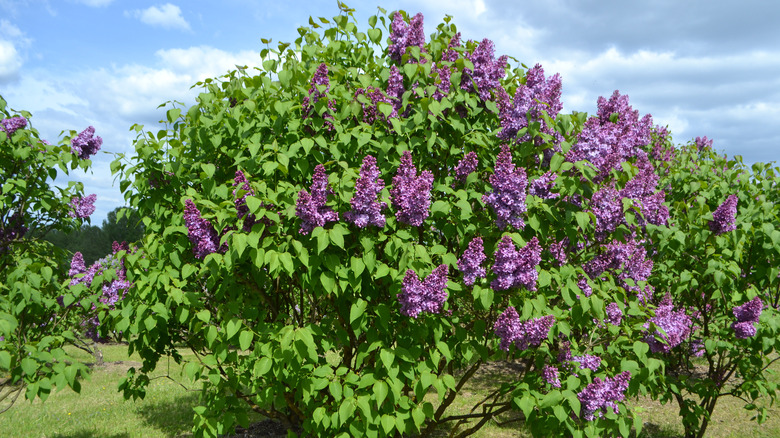 Edita Medeina/Shutterstock
Fill your garden with hues of purple with a common purple lilac hedge (Syringa vulgaris) that grows beautiful clusters of purple flowers in USDA zones 3 to 8 via Monrovia. Sweetly fragrant flowers bloom in spring, waiting to be enjoyed by folks that pass them. Plant them along the entrance of your home or at the edge of the yard that meets the sidewalk. This hedge will need full sunlight, partial shade, and fertile well-draining soil to grow to its mature height of 12 feet and 10 feet wide.
6. Hedge cotoneaster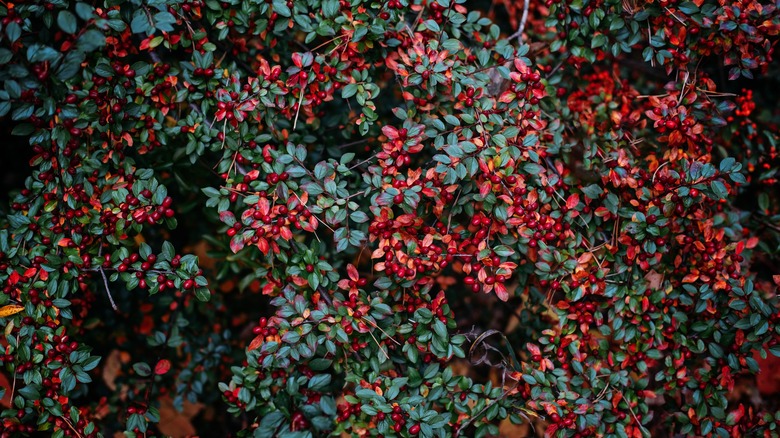 Iryna Imago/Shutterstock
The perfect autumn hedge to grow in your garden is the hedge cotoneaster (Cotoneaster lucida) since it grows green leaves that change to red and yellow and bloom in early fall. The Morton Arboretum claims hedge cotoneaster grows up to 10 feet tall, providing privacy to your home. It can be grown in USDA zones 4 to 7 and needs alkaline, moist soil in an area where it'll get full sun to partial shade. You can grow cotoneaster in your backyard in place or along the fence to serve as an extra barrier.
7. Green giant arborvitae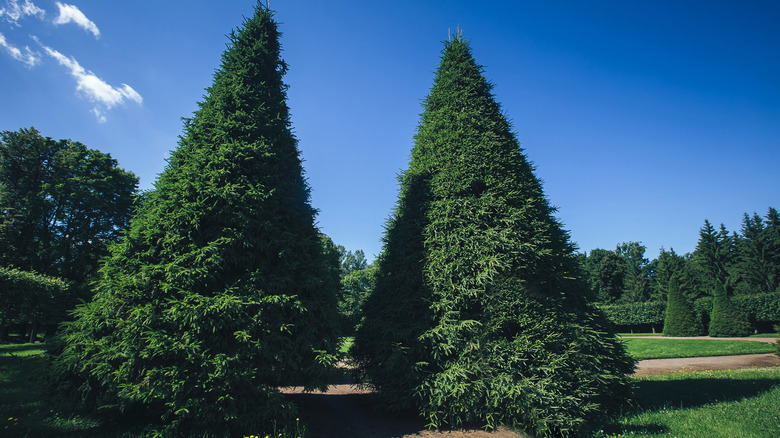 e-leet/Shutterstock
Green giant arborvitae (Thuja standishii x plicata 'Green Giant') is an evergreen tree that grows 3 feet yearly. Plant multiple close together, and create a tall and wide hedge with pointy tips to give their habit some character. Arborvitaes grow up to 60 feet tall and 20 feet wide, states the Arbor Day Foundation, so you'll have a lot of privacy around your home. They can tolerate most well-drained soils in USDA zones 3 to 7 and should get full to partial sun.
8. Leyland cypress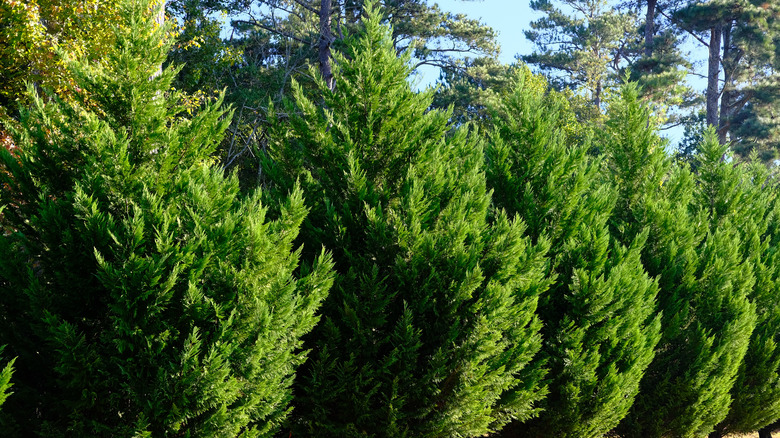 Darryl Brooks/Shutterstock
Another tree hedge ideal for the garden is the Leyland cypress (Cupressus x leylandii) which has striking green foliage that grows every season. The Leyland can grow up to 70 feet tall over a few years, so if you live on a ranch or don't have neighbors too close, this tree can protect your home from outsiders and noise. Plant multiple to grow an excellent hedge if you live in USDA zones 6 to 10, via Plant Me Green. Leylands enjoy the full sun and can be planted in almost any soil as long as it's well-drained.
9. Cherry laurel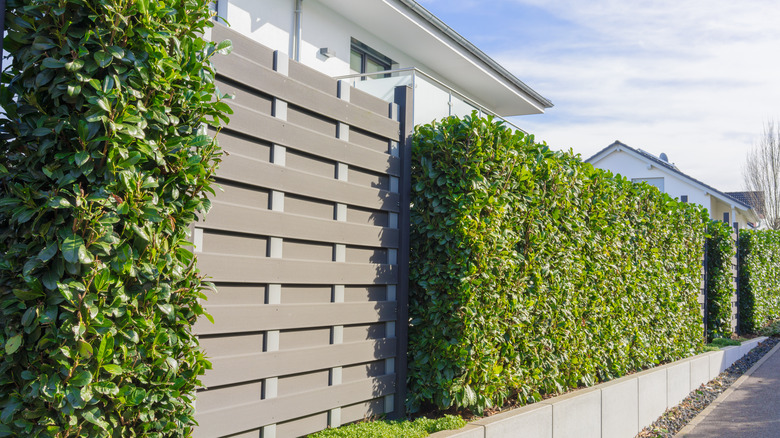 ThomBal/Shutterstock
A cherry laurel hedge (Prunus laurocerasus) grows up to 20 feet tall, which might not create the highest barrier, but can still be used to separate the yard from the rest of the neighborhood. Plant them into a walkway leading to the front door. According to North Carolina Extension Gardener Plant Toolbox, cherry laurels bloom in the spring with fragrant white flowers. However, they are poisonous, so if you have animals, they shouldn't go near the hedge. Cherry laurels can grow in USDA zones 6 to 8 and need organic, moist soil in a sunny to partial shade area.
10. Diablo ninebark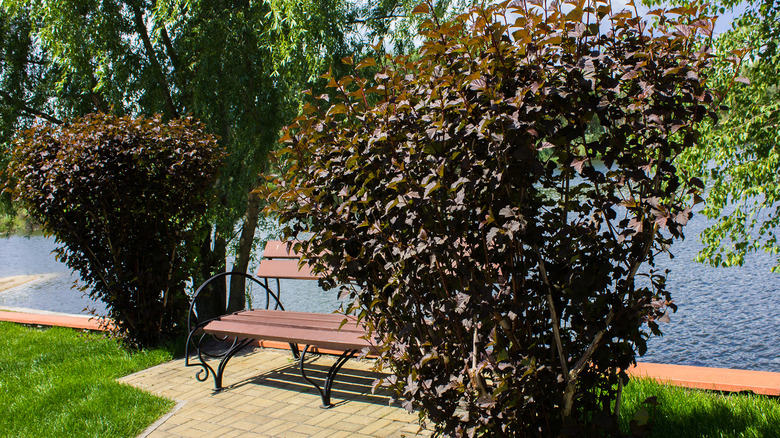 Sokor Space/Shutterstock
Instead of planting hedges with bright-colored foliage, opt for a moodier tone, such as the diablo ninebark (Physocarpus opulifolius 'Monlo') with deep purple leaves and small clusters of white flowers that bloom in the spring and summer, per Meadows Farms. It can grow up to 8 feet tall and 8 feet wide in USDA zone 2b. Plant it around evergreen bushes for the purple to pop and stand out. It can tolerate any soil but plant it in an area where it'll get full sun and partial shade.
11. Lavender rhododendron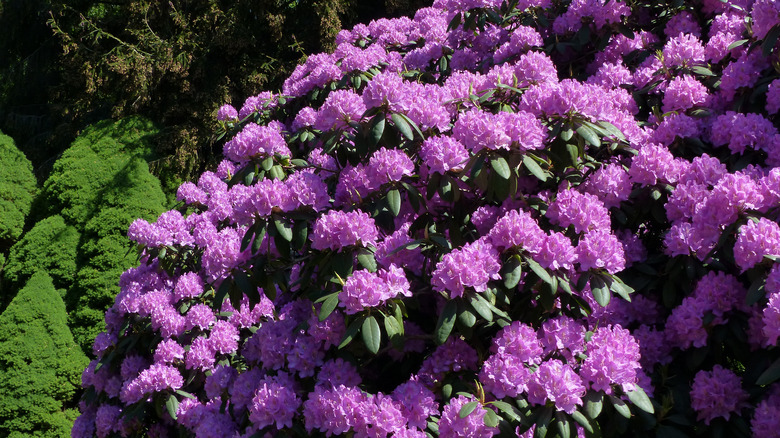 guentermanaus/Shutterstock
The lavender rhododendron shrub (Rhododendron catawbiense) is another attractive shrub with glossy green foliage and purple flowers blooming in the spring. This shrub grows up to 10 feet and 6 feet wide, via Planting Tree and adds the perfect shade of purple. Plant multiple shrubs next to arborvitaes to make the purple a focal point. They can tolerate most soils and need full to partial sunlight in USDA zone 4 to 8.
12. Red twig dogwood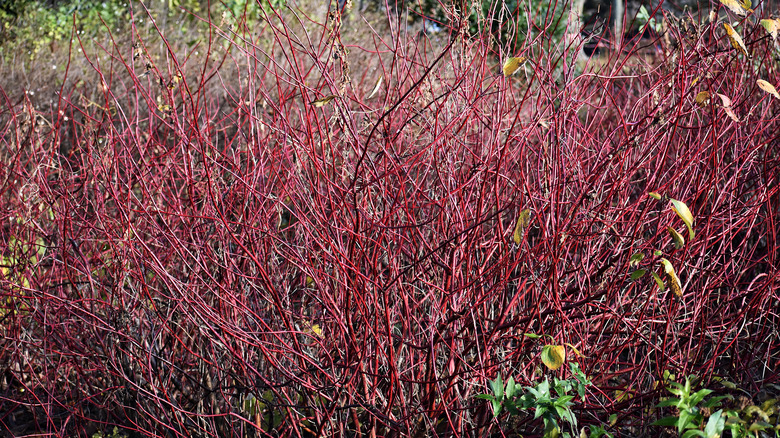 Gabriela Beres/Shutterstock
For a vibrant winter garden, the red twig dogwood (Cornus alba 'Sibirica') grows up to 9 feet tall and 5 feet wide, claims Monrovia. In addition, it grows noteworthy pure red branches that bloom yellow-white flowers in the summer. Plant the dogwood along the yard for it to glow in scarlet during the colder, gloomier months. It can be grown in USDA zones 2 to 8, planted in full to a partially sunny areas, and in moist, rich soils.
13. Crimson bottlebrush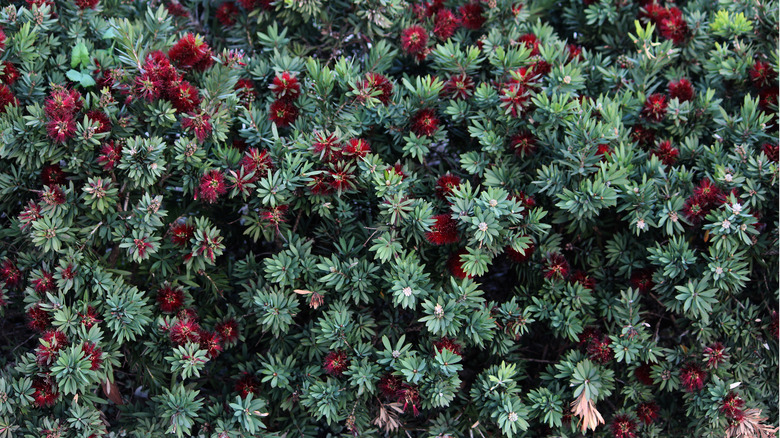 Rose Makin/Shutterstock
The crimson bottlebrush (Callistemon citrinus) grows as a fascinating 5 feet tall shrub with bright cylindrical flowers that bloom seasonally, via the Missouri Botanical Garden. Plant a few shrubs next to each other to make a small hedge that boasts color in the garden. Or leave space between the shrubs to plant trees or pair them with camellia hedges for more color. They need full sun and fertile, moist, well-draining soil to grow to their mature height. For the best weather conditions, crimson bottlebrushes can be grown in USDA zone 9 to 10.
14. Flame amur maple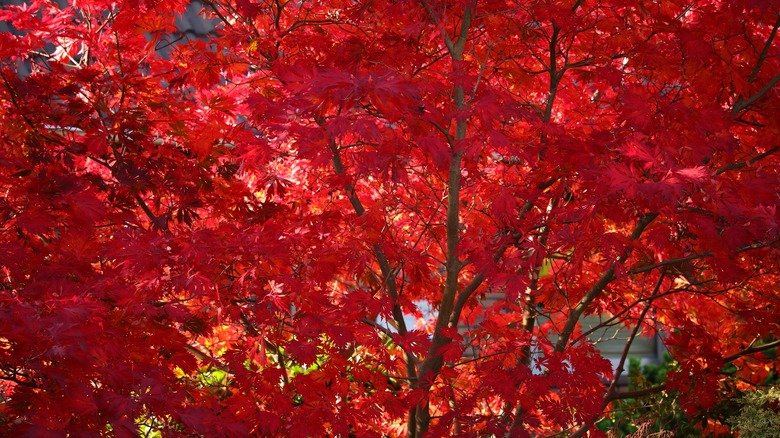 Ole Schoener/Shutterstock
The flame amur maple tree (Acer tataricum ginnala 'Flame') is the epitome of what an autumn tree is like, where the dark green leaves last throughout the months until they turn a bright red in the autumn months. You can plant multiple trees next to each other to create a hedge; the trees grow up to 25 feet tall and wide, claims Chew Valley Trees. They're best grown in USDA zones 2 to 8 with full sunlight and planted in moist, well-draining soil.
15. Green sport western red cedar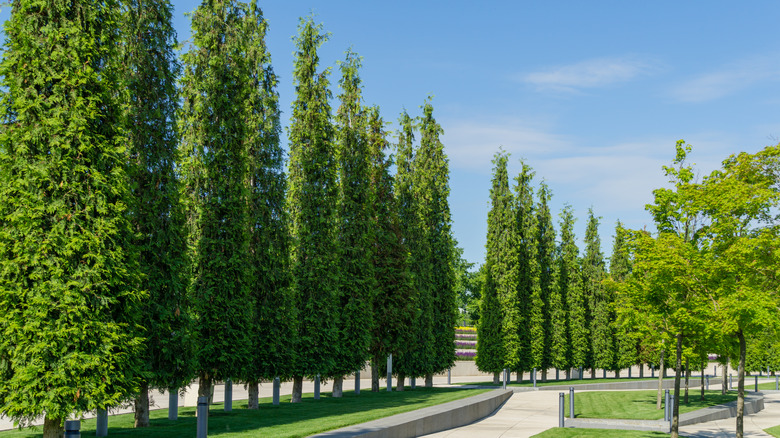 Marinodenisenko/Shutterstock
Another eye-catching evergreen tree to grow into a hedge in your garden is a green sport western red cedar tree (Thuja plicata 'Green Sport') has a cone-shaped figure with multiple branches and green foliage. Monrovia claims its maturity height can reach up to 70 feet tall and 20 feet wide after 10 years. It'll give the best shade in the backyard or make a great hedge in the front yard. In addition, plant it in rich, moist soil and full to partial sunlight in USDA zones 5 to 9 to reach its potential.