Which Was The Best Front Porch Trend Of 2022? - House Digest Survey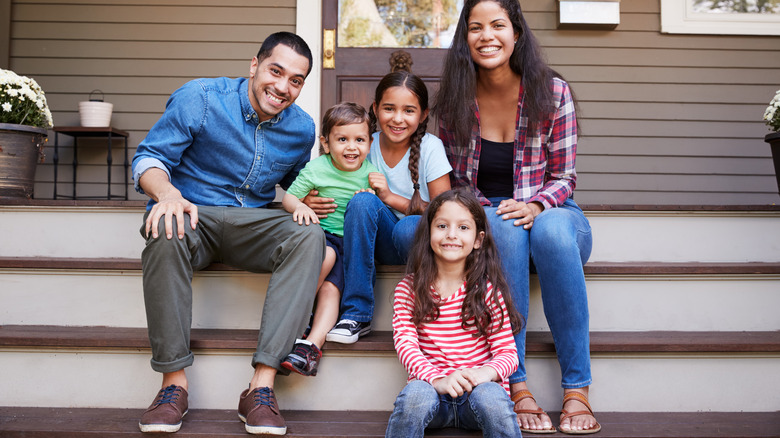 Monkey Business Images/Shutterstock
Utilizing your front porch in terms of style and functionality can determine the whole mood of your home. The colors, textures, lighting, and types of seating you assemble can make your residence feel warm and inviting, modern and clean, or rustic and charming. According to Plank and Pillow, the design of a front porch can be elevated with a fabulous front door, creative flooring, or a unique ceiling.
However, it's difficult to figure out which design method is best suited for your home. So, House Digest recently asked readers which porch trend from 2022 is their favorite. We gave them six options: woven décor, artistic greenery, black and white, natural wood, maximalist décor, and lots of seating. We'll break down which option received the most votes and how we believe it will contribute to the overall design of your front porch. By the end, we hope you're able to generate some new and exciting ideas to show off to the neighborhood.
Cozy and versatile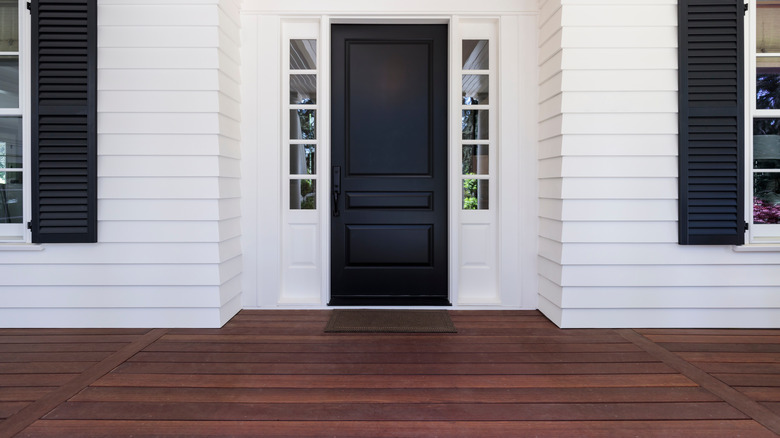 David Papazian/Shutterstock
Out of 606 respondents, an astounding 40.59% (246 people) chose natural wood as their favorite porch trend of 2022, according to our survey. Adding wood accents to your front porch can help create a warm and comfy vibe (via Nearly Natural). A trendy and simple way of adding a touch of natural wood to your front porch is by introducing a few olive trees. Not only will it help create a cozy environment, but it can also help perpetuate entirely different design aesthetics, such as modern farmhouse or Mediterranean. 
If you're building up a front porch from scratch, using natural wood is also a lower-cost option and will help you stay on budget, according to Think Wood. Natural wood also has an effortlessly beautiful appearance, and every characteristic of it, down to the smell, will make your front porch feel inviting. Additionally, if you end up craving a new style for your front porch, the appearance of natural wood can easily be changed by sanding it down and staining it a different color. 
A creative outlet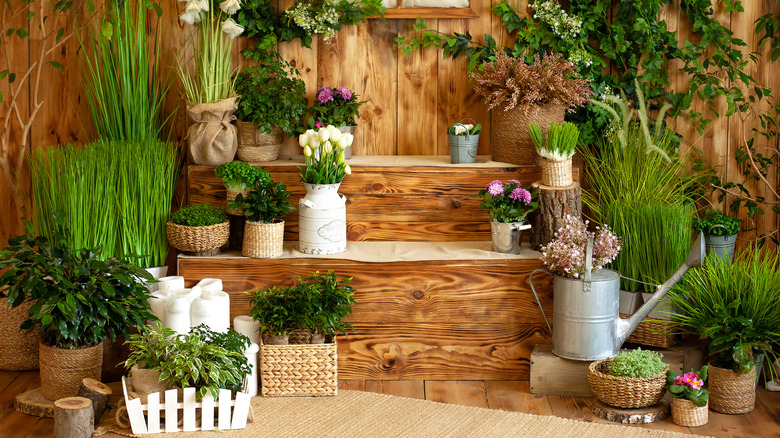 stock_studio/Shutterstock
Next, 18.32% (111 people) of respondents chose artistic greenery as their favorite 2022 porch trend. Introducing artistic greenery to your front porch gives homeowners a chance to show off their creative designs to the neighborhood. According to Stacy Ling, plants are a design necessity for any outdoor space, such as the front porch. She creates beautiful greenery designs by visiting the local thrift store to find unique décor items. For example, she purchased a vintage baby stroller and used it to create an absolutely beautiful front porch planter.
You can also mix together design elements to create a stunning visual, such as light colors and wood. According to Love Grows Wild, you can do this by introducing a wooden planter that has a few green vines and flowers planted inside. You can add various decorative elements on top to create an entirely eccentric design. 
The following are the other options from most to least amount of votes: lots of seating with 88 votes (14.52%), black and white with 70 votes (11.55%), woven décor with 62 votes (10.23%), and maximalist décor with 29 votes (4.79%).