20 Chic Guest Bedrooms That Will Make You Want To Use Wallpaper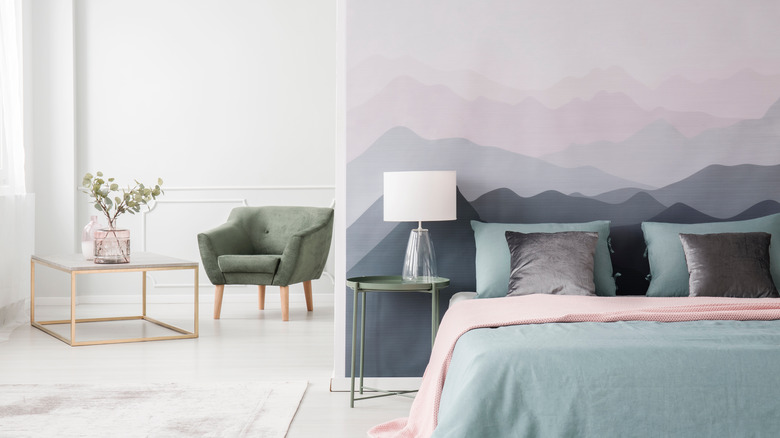 Ground Picture/Shutterstock
Once you've settled on a design aesthetic for your own bedroom, it's time to move on to create a haven for your guest room. While this project might be at the bottom of your to-do list, making friends and family feel at home when they visit can be a motivator for completing it.
For many of us, hotels are major inspirations for home design. Several top luxury resorts create eye-popping designs by featuring comfortable rooms that are also inspiring to look at, which brings us to wallpaper. Vogue reported that Pinterest even saw a 41% jump for the search term in 2021 from the previous year, so this trend isn't slowing down anytime soon.
Interior designer Caitlin Wilson has a few tips to help select wallpaper for any room, including a guest bedroom. If your room is smaller, the designer says to forgo using wallpaper in every area. Wilson also suggests choosing the wallpaper before purchasing anything else, including furniture!
If you're looking to create a comfortable guest room with these tips in mind, keep scrolling to see 20 chic guest bedrooms that will inspire you to use wallpaper as the focal point in your design.
1. Make it bloom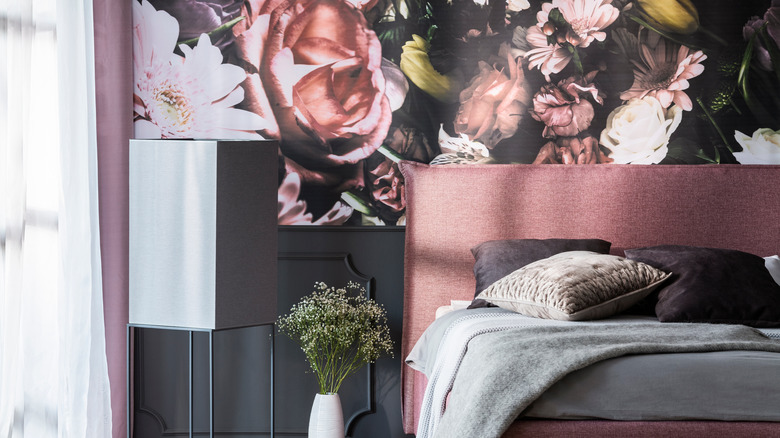 Ground Picture/Shutterstock
A guest room is a perfect spot to play around with if you're apprehensive about going too wild in the main bedroom with your design. If you love flowers (and who doesn't), celebrate that with wallpaper that showcases massive blooms in colorful hues in an array of pinks.
2. Flowers in focus
Pixel-Shot/Shutterstock
This otherwise neutral space features wallpaper with massive yellow flowers as the focal point. You just might feel a spark of joy every time you enter the room.
3. Pretty peacocks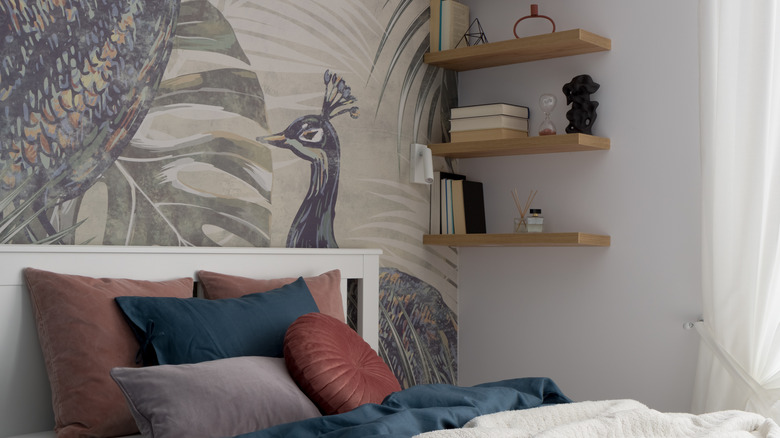 Dariusz Jarzabek/Shutterstock
Peacocks are some of the most beautiful species of birds on Earth, so make it the focus by placing this wallpaper right behind the bed. There's lots of interest brought to the room with this spectacular option.
4. Precious palms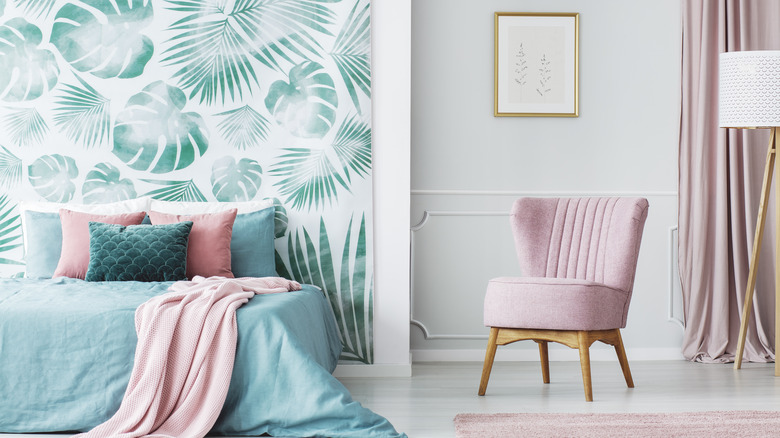 Ground Picture/Shutterstock
If palm trees remind you of being on vacation, think about adding a little slice of paradise to your guest room. The wallpaper ties together the teal bedding and pink accents in the space, including a throw blanket, chair, and drapery.
5. Into the forest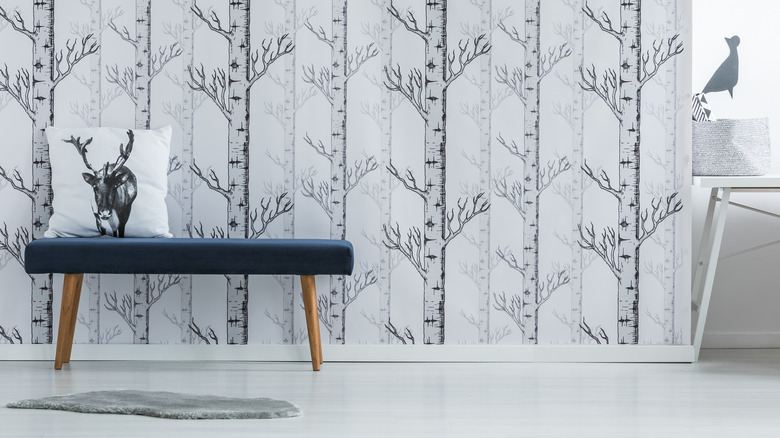 Ground Picture/Shutterstock
If nature beckons you, consider installing a woodsy wallpaper as a reminder of your favorite outdoor getaway. And if you love majestic creatures like deer, think about adding them into the space with pillows.
6. Delicate florals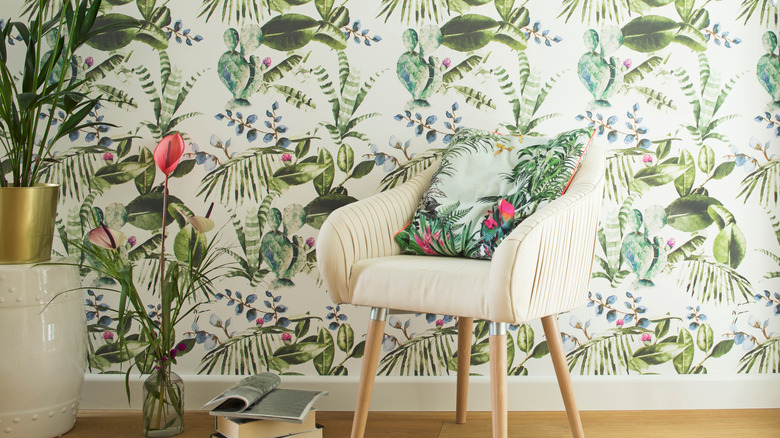 Followtheflow/Shutterstock
If large blooms aren't your thing, there are plenty of other options. An intricate floral pattern can showcase the flowers you love more delicately on the wall. To make the room seem like a pro was involved, get a pillow in the same design and place it on a neutral-hued chair to tie it all together.
7. Surrounded by mountains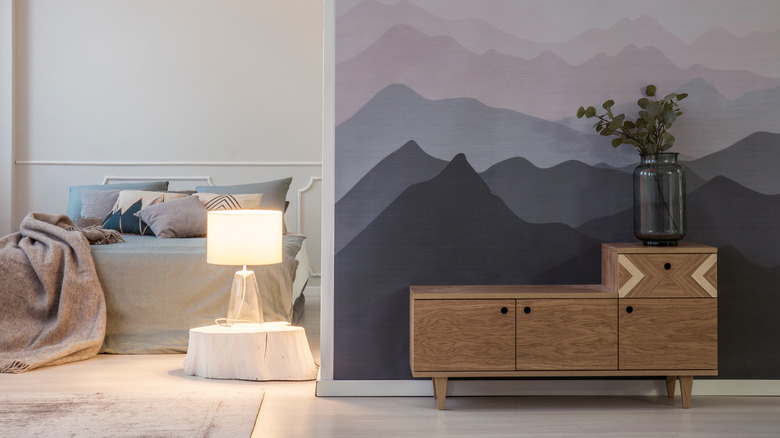 Ground Picture/Shutterstock
Bring the mountains to your guests by opting for a wallpaper showcasing dynamic peaks. You may want to stare at this design all evening, which shows dark, light gray, and pink colors to mimic a beautiful sunset.
8. A purple pattern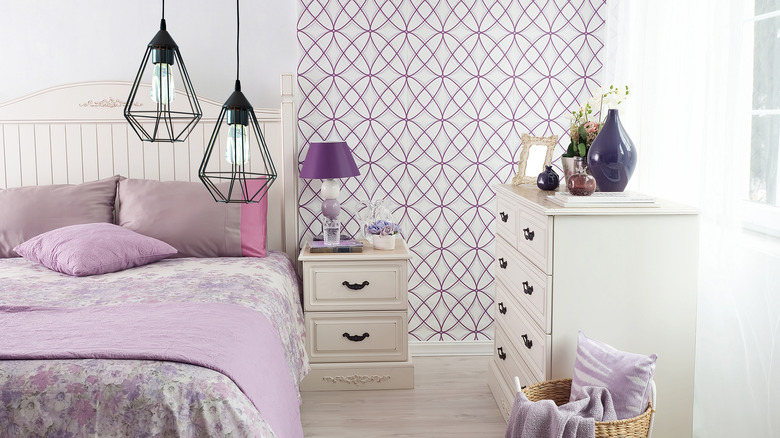 Ds design studio/Shutterstock
If you have a busy wallpaper like the one pictured, choose one accent wall and proudly display it there instead of covering every wall. Then, bring in bedding, a lamp, and flowers in that color to give this guest room a cohesive feel.
9. Go artsy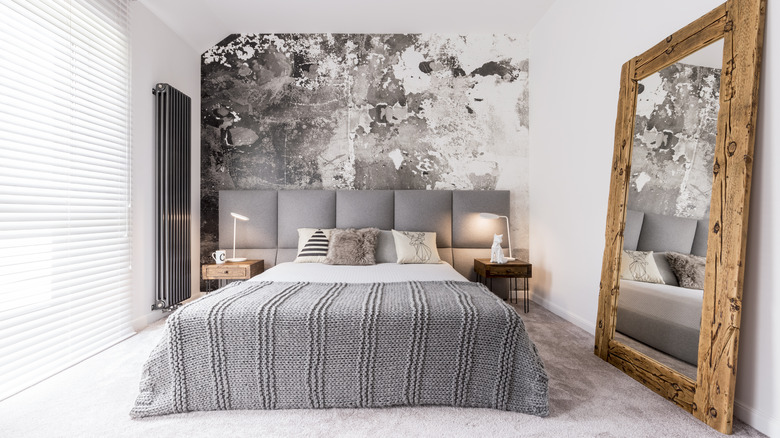 Ground Picture/Shutterstock
If you love contemporary art, use wallpaper that looks like a painting and feature it behind your bed. This becomes the focal point of the room.
10. A touch of gold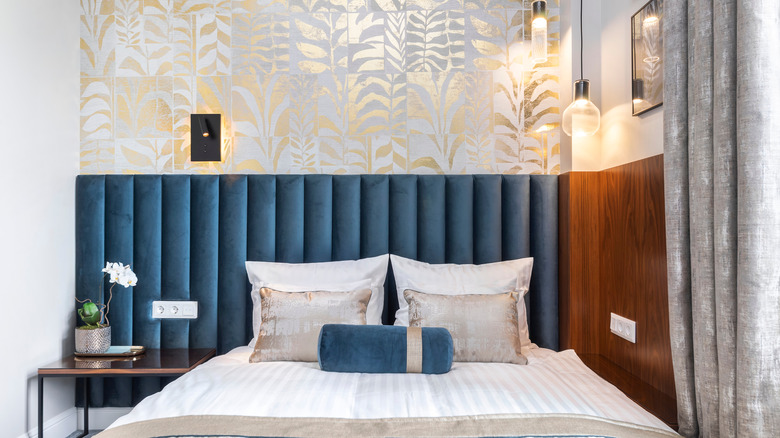 Tamas Gabor/Shutterstock
Your guests will feel extra special while staying in a space with the Midas touch and wallpaper featuring gilded leaves. The room looks regal with the blue velvet headboard, elegant lighting, and chic drapery.
11. Black patterned wallpaper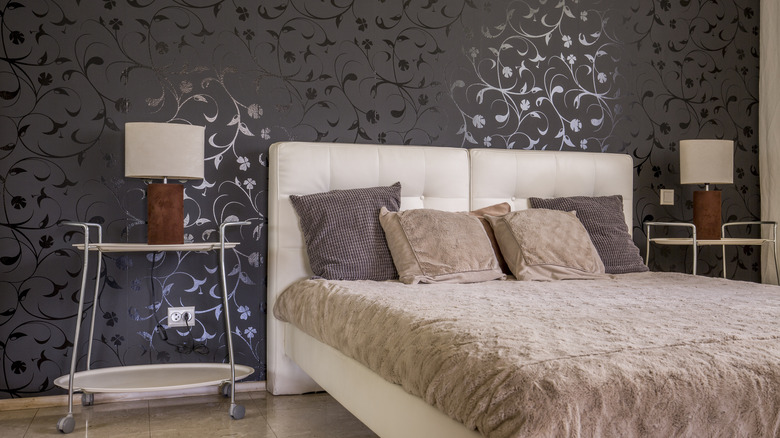 Ground Picture/Shutterstock
Just as black paint has made a comeback and can look really sophisticated in a room, wallpaper with shiny black flowers can look equally chic and the perfect way to use it in a guest bedroom.
12. Bring back a 70s pattern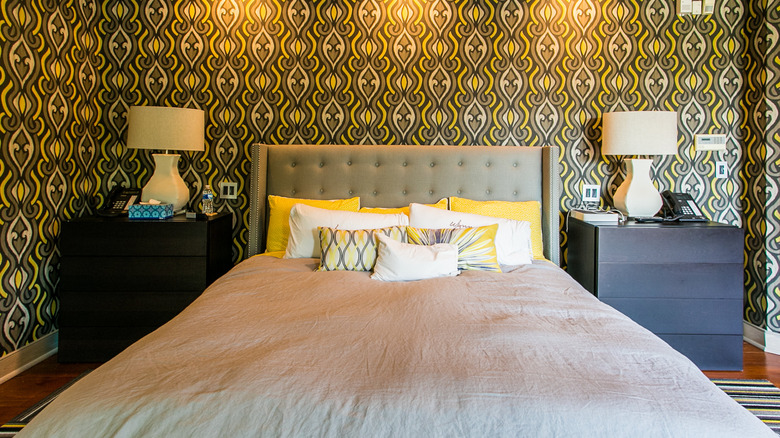 Karen Culp/Shutterstock
Look to the 70s and get inspired by covering your walls in an option resembling what was popular during that era. This room features white bedding with yellow pillows and slate gray side tables to match the wallpaper.
13. Simple stripes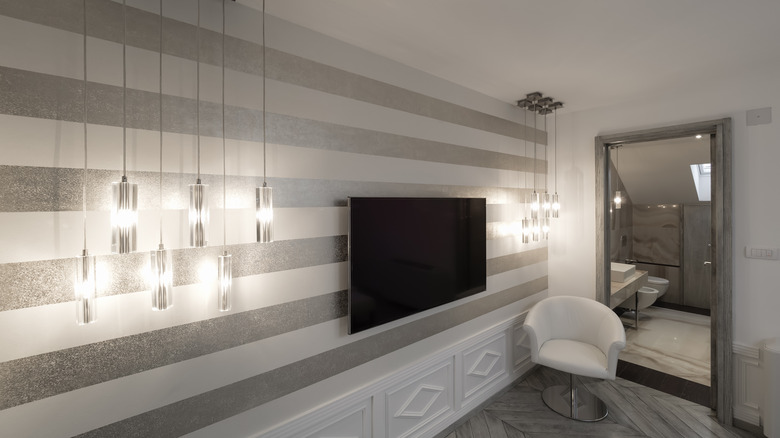 Basileus/Shutterstock
Stripes are a simple way to add interest to an otherwise basic room. You will love this wallpaper featuring gray and white colors that look nice with ambient lighting and a flatscreen TV that visitors will appreciate.
14. A royal-inspired pattern
Ground Picture/Shutterstock
Make visitors feel like a queen and king with wallpaper that a royal would approve of. The dark gray background and the elegant white pattern would look beautiful in just about any guest room.
15. Neutral tones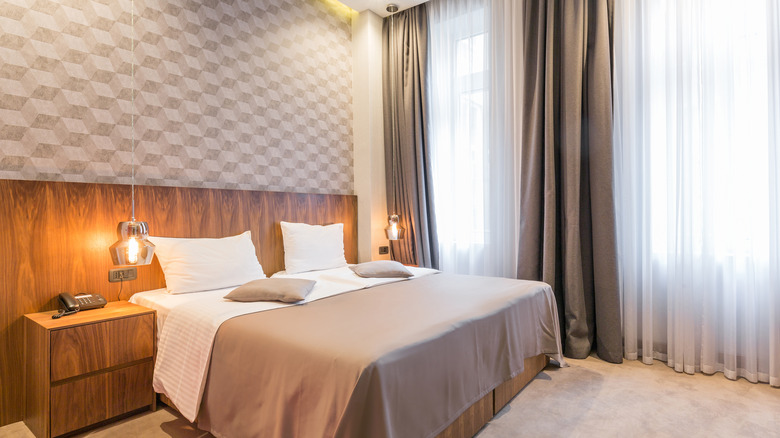 Edvard Nalbantjan/Shutterstock
A large guest room with tan bedding and drapes has exquisitely patterned wallpaper, showing that a neutral palette can look great too.
16. Artsy retreat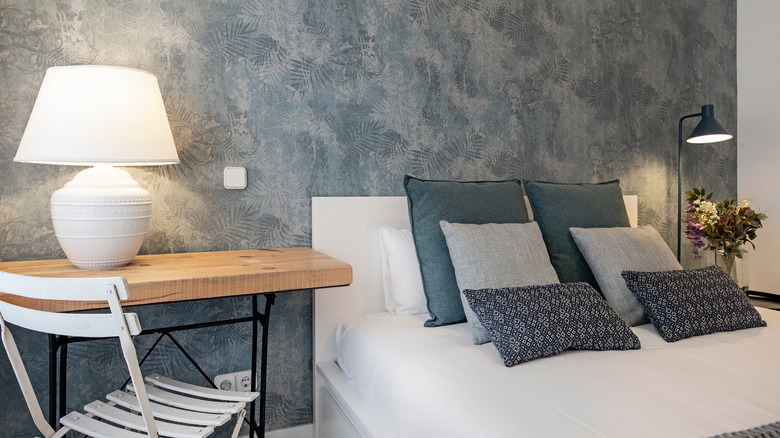 Toyakisphoto/Shutterstock
This oasis with artistic gray wallpaper would thrill any creative. It even has a workstation, lighting ideal for reading, and a tidy bed with beautiful pillows.
17. Bold choices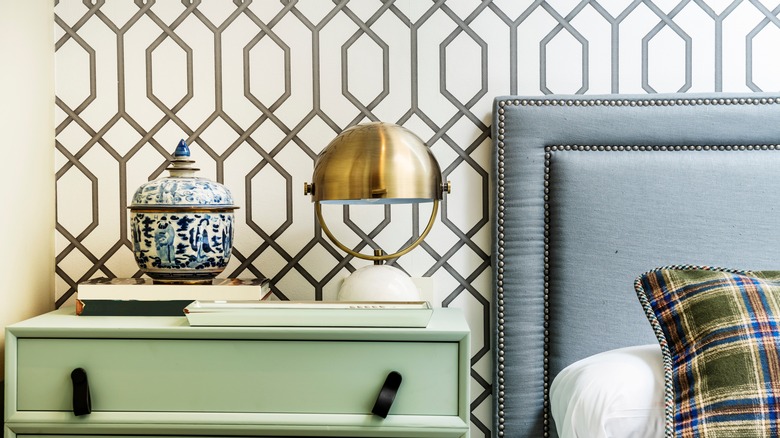 Toyakisphoto/Shutterstock
A bold wallpaper in a unique pattern is a strong statement, giving family and friends a show-stopping room to stay in when visiting.
18. Perfect pattern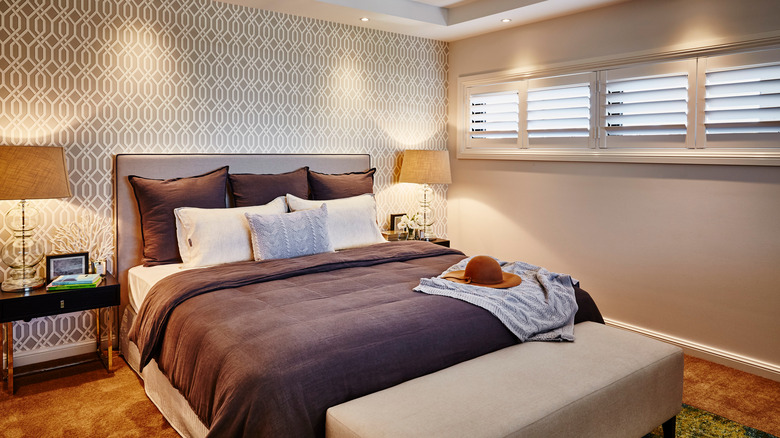 PhotoMavenStock/Shutterstock
A busy patterned wallpaper gives this guest room a ton of visual interest with muted tones like brown, tan, and white.
19. Worldly view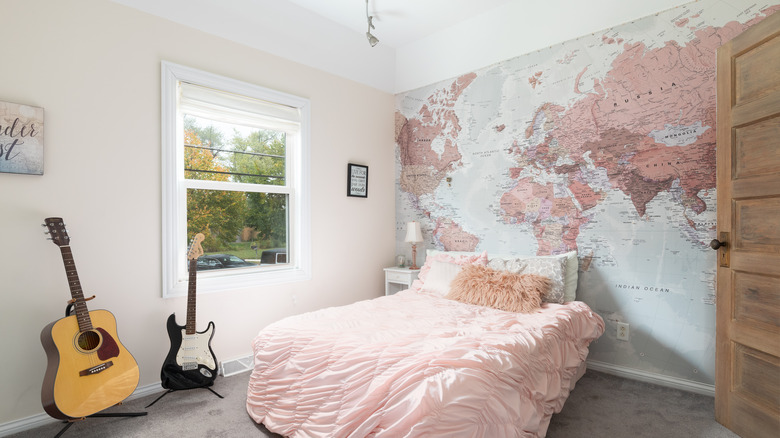 Hendrickson Photography/Shutterstock
To inspire your guests to travel, display a world map wallpaper to get them thinking about where they want to go on their next trip. The pink palette is soft and inviting.
20. An elegant design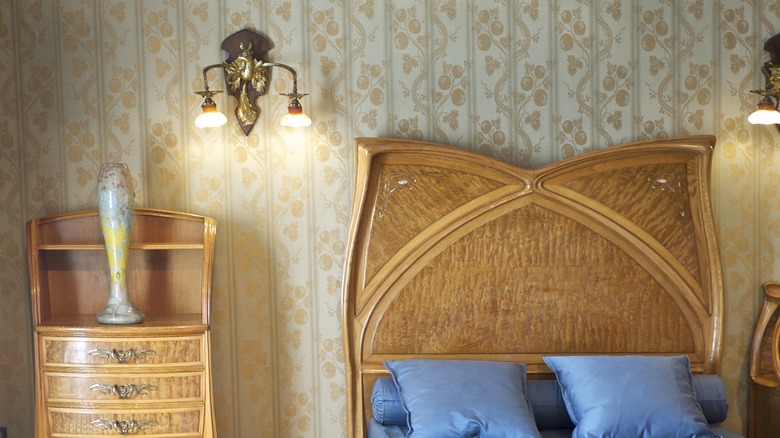 Heritage Images/Getty Images
A neutral wallpaper in an ornate pattern can make your friends feel like they are at a sophisticated retreat, making it a luxurious escape from the mundane.