The Best Way To Put A Deadbolt Lock On Your Door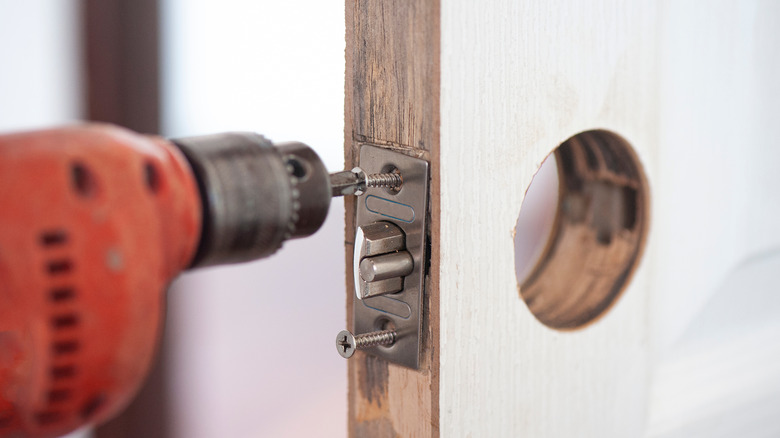 arhendrix/Shutterstock
There are many reasons why you should have a deadbolt lock on your door. For one, according to Clera Windows+Doors, these locks offer more protection than standard models. They're made with a steel bolt or two that extends into the door frame's strike plate and door jam. Because of this bolt, the door is almost impossible to pick as well. Around 60% of home burglaries happen with forced entry, but with a deadbolt, your chances are lowered. Since your home is safer, your homeowner's insurance may be lowered as well since you're considered a less risky client.
In addition to these benefits, there are many different designs to choose from. As per Schlage, the most popular type is a single-cylinder model. Like with any simple door lock, these contain a keyhole on the outside and a thumb turn on the inside. Double cylinder deadbolts, however, contain a keyhole on both the interior and exterior for added security and exclude a thumb turn. Then, you have electronic deadbolts. These models contain a touchscreen or keypad with a unique code to enter. Similarly, there are also smart lock models. To use these, you can connect the locks to your wifi or home hub to lock your doors.
While it's common for many homeowners and renters to have a deadbolt lock, not everyone knows how to install one. However, before doing so, you must uninstall the current lock.
Remove the old and prep for the new
Katerina Shi/Shutterstock
To remove an old lock, HGTV recommends having all the materials you'll need ready to go. These tools can include a flat-head screwdriver, a Phillips head screwdriver, and potentially paint that is the same shade as your door. You'll then want to begin by unscrewing the two screws located on the metal plate. There may also be screws holding the knob on itself as well. Once these are off, you can pull each side of the knob off of the door. Next, you'll have to remove the bolt and latch assembly. Usually, these are held on by two screws as well. Once these are unscrewed, the latch and bolt should slide out with ease. However, if the latch gets stuck, you can stick your screwdriver through one of the knob holes and gently force it out.
If you don't previously have a deadbolt, you'll need to start from scratch when prepping for one. Schlage recommends spacing the deadbolt at least 5 1/2 inches from the center of the hole to the center of the standard knob. In addition, the cross bore diameter for this new lock needs to be anywhere from 2 1⁄8 inches to 1 1/2 inches, whereas the latch bore should be 1 inch. The door jam itself needs to be 7⁄8 inches in diameter and at least 1 inch in depth. However, the exact measurements may vary depending on the lock itself.
The best method to install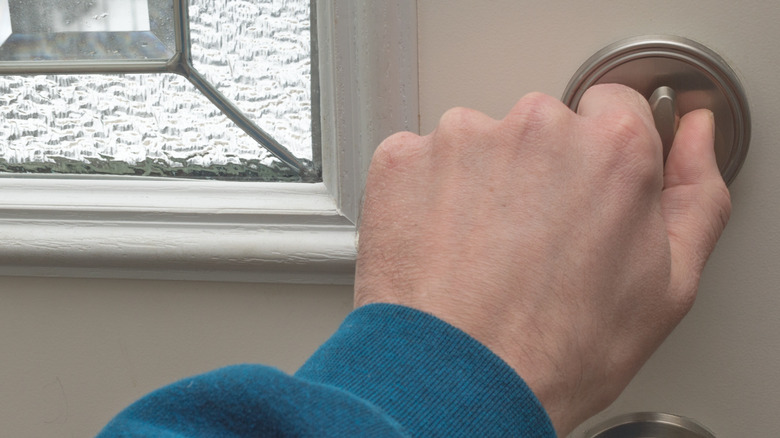 Randy Blackwell/Shutterstock
Once the old one is removed and you're prepped for a new one, you can then begin the installation process. Much like removing, to install a deadbolt, you can basically follow the steps in the opposite order. As per Home Depot, start by placing the latch in the prepped hole. If it doesn't fit properly, you may have to drill a bigger area. However, if it's just a slight misfit, you can take a chisel to scrape out some of the wood. Once the latch is in place, then you can slide the bolt into where it belongs. Pop-A-Lock warns that when doing so, the bolt must fully fit into the latch. Otherwise, it won't function properly when closing into the latch.
Of course, after this is done, you'll need to install the two knobs. Again, these knobs can vary depending on the design you purchase and may not be knobs at all as per Art of Lock Picking. Reattach the metal plate by installing the two screws, via Premium Hardware. Lastly, depending on the design and whether you have had a deadbolt previously, you may have to install a new hinge. According to Hinge Outlet, you'll need to take measurements and cut a hole big enough for the bolt. However, the hinge itself can be installed with just a few screws as well. Be sure to test the door by opening and closing it to ensure that all parts are properly installed.