What Type Of Kitchen Flooring Do Nearly 40% Of People Prefer? Exclusive Survey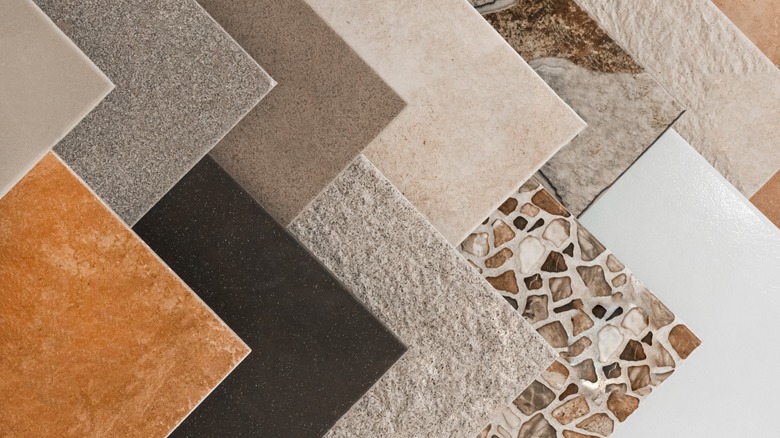 AYDO8/Shutterstock
Kitchens are often one of the first rooms homeowners tackle in a renovation. While many focus on counters and cabinets, you can't forget the importance of your kitchen floors. New kitchen floors can be a pretty big decision. On average, the price ranges from $3 to $22 a square foot, according to Kitchen and Bath Shop, with the biggest factors being the material and the size of the room. Each material has its pros and cons of being placed in the kitchen.
You want a durable material that can withstand heavy traffic and occasional spills. But you also want to choose something stylish that complements your home's design. It's no surprise that many people have a preferred look for their kitchen and, therefore, a preferred kitchen floor material. House Digest conducted a survey and found that almost 40% of people agreed on which flooring material should be in the kitchen.
Tile is a favorite for most kitchens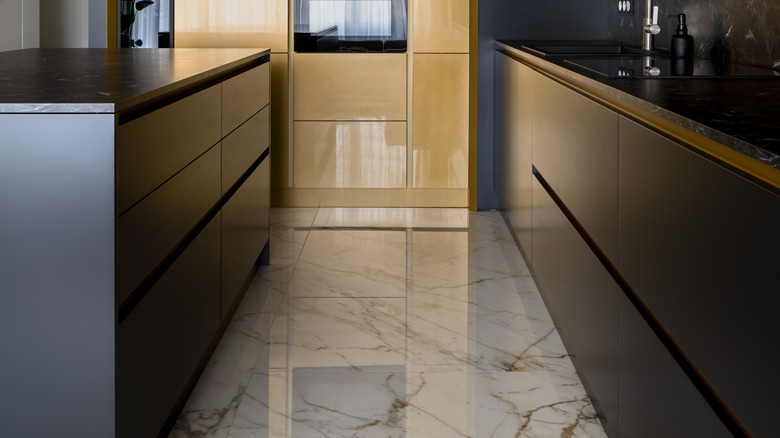 Dariusz Jarzabek/Shutterstock
Unsurprisingly, tile is the top choice for kitchen flooring materials. Of the 606 total responses to this exclusive survey, 230 said they prefer tile in the kitchen. That is 37.95% of the total votes. It isn't surprising that tile is preferred in the kitchen because it's one of the most common flooring materials and has a variety of options. Tiles across the board are waterproof and durable, which makes them ideal for a room as busy as the kitchen.
There are plenty of materials that tile can be made from. Ceramic is a favorite because it's easy to clean, low maintenance, and durable, according to Rubi. Various natural stones like slate, granite, marble, and travertine can also be made into flooring tiles. But natural materials often need to be resealed to maintain their appearance.
Besides durable quality, tile is also a favorite because it can add color and pattern to a room. Geometric-shaped tiles are trending up, with diamonds, hexagons, and triangles adding a visually unique touch as opposed to the classic choices like squares and rectangles, says Tilezz. Patterned tile can make your floors a bold statement that stands out from the rest of your home.
Continue hardwood throughout the home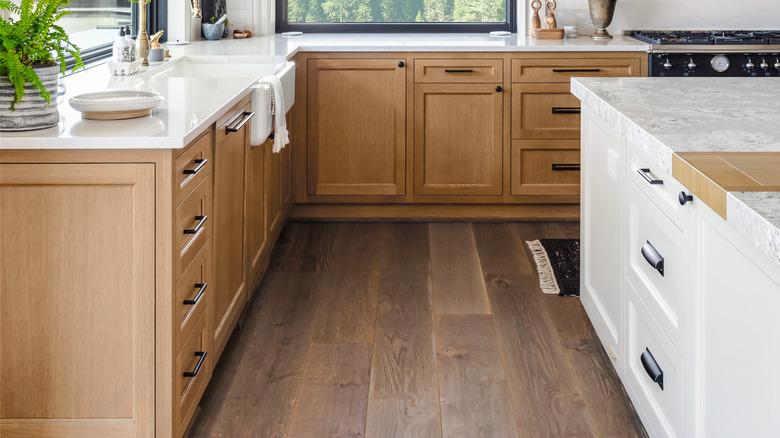 Justin_Krug/Shutterstock
If the rest of the home has hardwood flooring, many homeowners opt to continue it through into the kitchen. It's no wonder that hardwood flooring was a close second for preferred flooring, with 195 of the 606 total respondents agreeing or about 32.18% of the vote. Using hardwood flooring in your kitchen can add cohesion to the rest of your home, but you have to proceed with caution. Hardwood floors aren't waterproof, so you'll have to clean up any spills quickly to avoid damaging the planks, says The Flooring Girl. You may also need to refinish the hardwood in order to maintain its appearance. Or opt for wood look tiles or planks to get the look of hardwood with the benefits of tile.
After hardwood, 83 of the total 606 respondents, 13.70%, prefer laminate flooring. Vinyl had 57 votes, 9.41% of the total votes. Linoleum received 23 votes, 3.80%, and cork was least preferred with 18 votes, 2.97%.