Why You Can't Go Wrong Buying Holiday Decor At Home Goods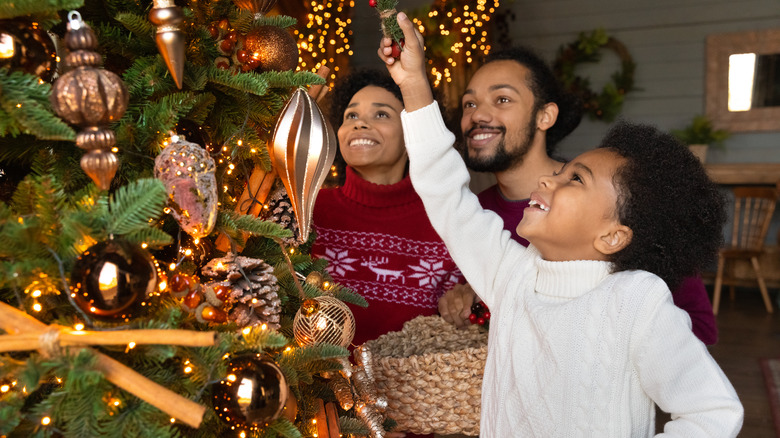 fizkes/Shutterstock
If you're an insatiable shopper looking for ways to dress your home for a new season or just to express your style, then you're probably no stranger to HomeGoods. The thrill of the hunt and anticipation of a satisfying surprise are major draws of the popular home décor store. "It's the excitement of scarcity," notes Barbara Kahn, a marketing professor at the Wharton School of the University of Pennsylvania, via Philly Mag. "Their whole business model is predicated on that." According to a HomeGoods employee, even staff isn't aware of the incoming inventory. "We don't know what's inside the trucks until we open them up!" she revealed.
The retailer offers a wealth of discounted riches, especially for those who enjoy a sense of serendipity as they peruse the aisles, notes Real Simple. However, there are products you should specifically seek out. For example, seasonal and holiday décor is at the top of the list. "My first stop at HomeGoods is the seasonal or holiday displays because they're typically full of fun, fresh, and out-of-the-box finds," said interior stylist Jennie Reimold, via Real Simple.
When it comes to holiday decorating, everyone has their own unique tastes. Some prefer the glitziest, most dazzling displays, while others are enamored with traditional décor. Then there are those who prefer a natural theme. HomeGoods caters to varied styles of merry-making, and you're bound to find something that captures your attention.
When is the best time to shop?
In addition to in-person shopping at HomeGoods, it's now easier than ever to view products via the retailer's online store and app. "It's basically a virtual community where you can filter by your zip code to see what other shoppers have found at the store through photos," Reimold said in House Beautiful. "Recently, I hopped on the app and was interested to see shoppers in my area posting pictures of fun wooden Halloween signs and ceramic pumpkins, which got me excited for the upcoming fall season!" Of course, you may still want to want to take a look at pieces in person or verify their availability before leaving the house. And, while you're there, see what other treasures you can find. 
Driven by Decor says it's best to shop at HomeGoods on weekdays because individual locations aren't as busy. Plus, when you're stooping to check out the bottom shelves or rearranging objects for a better look, you'll appreciate the extra elbow room. According to Good Housekeeping, it's a good idea to shift items on the shelves to make sure you don't miss anything. This is certainly true in the holiday aisles, where stacked boxes of ornaments or decorated table trees can obstruct objects behind them. Additionally, Reimold claims new product shipments are placed on the floor on weekday evenings, which means any Tuesday through Friday morning is an ideal time to visit.
What gifts are ideal for your home?
It's no secret you can expect to find plenty of practical holiday décor at HomeGoods, such as dishtowels, tree stands, stocking holders, throw pillows, and blankets, to name a few. Inspiration is abundant for how to use the items, too. For example, boxed sets of mini ornaments are a beautiful and affordable way to add sparkle to garlands and wreaths. Plus, they look oh-so-pretty scattered in a bowl or as a perfect mantle focal point or dining table centerpiece.
"I love hunting through the seasonal items and have found inspiration for many of my tablescapes and holiday trees!" Reimold shared via Real Simple. Additionally, accent pillows and throw blankets embellish children's beds, guest rooms, and the living room sofa with a touch of seasonal magic. But these items aren't always in locations that you would expect. In other words, the perfect pillow for your living room might be near the couches instead of in the pillow aisle.
To that end, designer Beth Diana Smith has a surefire method (via House Beautiful). "My shopping strategy is to look around the perimeter of the store, then tackle the center aisles in order of my must-visit sections. I hit the decorative accessories last because this is where I spend the most time." Indeed, it's smart to have a plan, but at HomeGoods, it's just as good to go with the flow.