Fun Tablescape Ideas For Every Occasion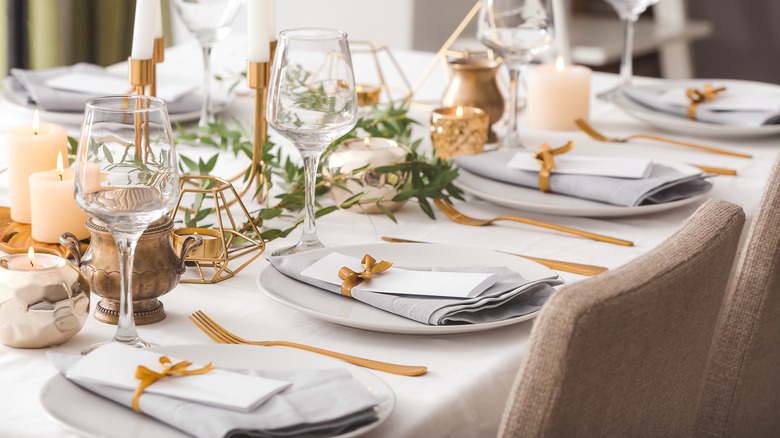 Pixel-Shot/Shutterstock
When planning to host an event, your mind might be focused on the guest list, menu, and even your music playlist. However, one big part of setting the scene shouldn't be overlooked — your tablescape. Whether you are hosting a super formal dinner party or a casual shindig, a thoughtful tablescape has the potential to up your event's vibe.
Tablescaping provides a gathering space and focal point for your event. When imagining yours and bringing it to life, think about the mood you are trying to create. Everything from your event's theme to the colors in season can come into play. You'll also want to consider the surroundings of your table and how your tablescape can complement the decor of the space. As Nkem Oghedo, the founder of Adá Supper Club, tells Yahoo!, "Your tablescape is another way of telling a story about the current event or menu." So, think of your tablescape as a tool to enhance your event and give it an extra injection of detail. It should be cohesive with the other party decor and further enhance your vibe. Using these tablescape ideas, you can create a stellar surface that your guests will be thrilled to gather around.
Tablescape components to get started planning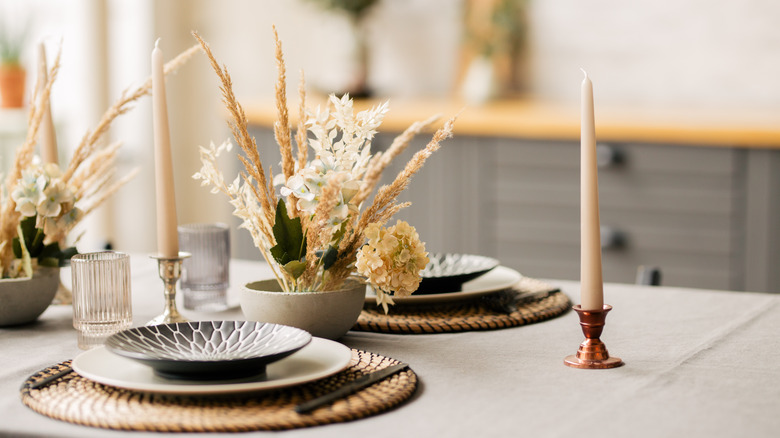 Rabukhin Artsiom/Shutterstock
It's important that you keep in mind the components needed to create a complete tablescape. Selecting these items carefully can create a cohesive and thoughtful look that wows your event attendees. Start by selecting your color scheme and the vibe of your event. You might be looking to style your table in sophisticated shimmery tones and high-end dinnerware. Or, maybe you're going for a laid-back vibe with neutral colors and fuss-free paper linens. Everything from your centerpieces to your silverware should have the same formality, so you create a cohesive look.
Then, use this advice from Ultimate Academy to create a stunning tablescape. It recommends using multiple shapes and textures to add interest. However, use repeated colors and patterns throughout dishware and textiles to pull your tablescape look together. A variety of heights adds visual appeal. Use tall slim vases to create height above diners' sight lines or dangle part of your tablescape decor from the overhead lighting to draw the eye upwards. The biggest key is being creative and designing a tablescape that reflects your style, taste, and your desire for your guests to have an amazing time.
Things to keep in mind when designing a tablescape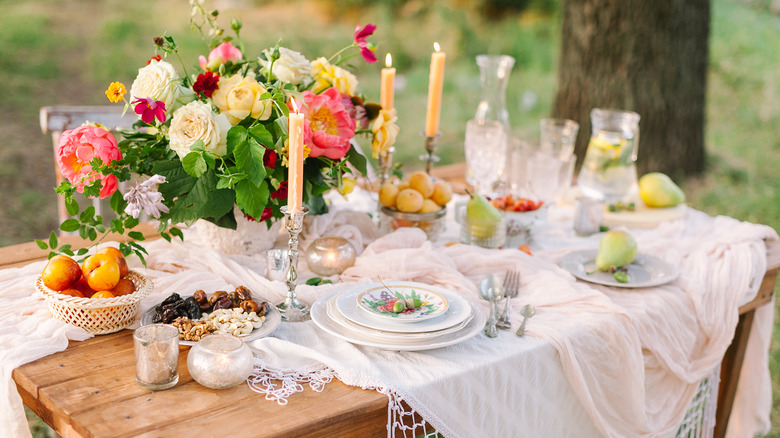 Melnikof/Shutterstock
There are a few things to keep in mind when designing your tablescape. First, remember that the ultimate priority is maintaining the functionality of your dining area. Don't overdo your tablescape. Diners don't want to navigate through your decor to pass dishes or feel uncomfortably overcrowded as they try to eat. Also, remember that the whole point of your event is to gather and socialize. Avoid placing items like floral arrangements at eye level where they'll be in the way of guests trying to chat across the table.
Keep your guests and their preferences in mind when designing your tablescape. If you have a friend with terrible allergies, it might be best to go with faux foliage for the day. Use special mementos or heirlooms to design a tablescape when entertaining family. And, if you'll have little ones present, ensure your easy-to-reach tablescape components can stand up to busy hands.
Consider the rule of threes, as Nina Hendrick explains. She tries to stick with sets of three items like candlesticks or vases as well as a trio of colors when designing a tablescape. Then, do a mock setup of your setting well before your event to test the layout and get it just right. This gives you plenty of time to swap items or purchase more if needed. Make sure to take photos from a few angles once you're happy with your finished product. That way, you can easily recreate the look without stressing during event prep.
The neutral tablescape that works for any occasion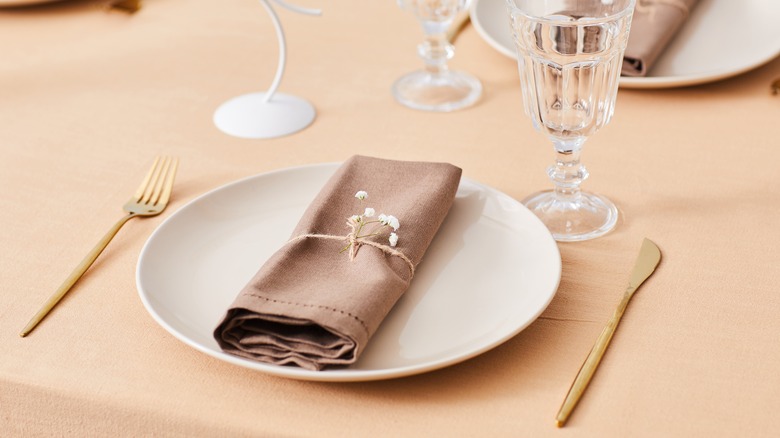 SeventyFour/Shutterstock
One helpful idea is having a go-to tablescape that you can easily set up for any event. If you create a tablescape out of neutral components, it will seamlessly integrate into each theme. Plus, you can add pops of color or decorative details to customize it to every event.
First, you'll need to find the best neutral color scheme to blend with your home's decor. As Glidden points out, neutral tones can run the gamut between cool grays and warm beiges. They also have undertones of other colors like red, green, and blue. Take a look at your space and determine what shades make sense for your current decor. If your dining room has cool tones and violet decor, you might want to design a tablescape with components in gray with purple undertones. However, if your space is full of warm browns and sepia touches, create a go-to tablescape with beiges and orange undertones to fit the vibe.
When choosing your tablescape components like dinnerware, cutlery, and linens, think about the formality and style of your current space. If you have a more formal aesthetic, look for dinnerware with sophisticated touches that align with it. Neutral-colored napkins in fabrics like cotton sateen will add a posh shine and get plenty of use. However, if your home has a casual feel, look for low-fuss plates in unbreakable materials and napkins in natural fabrics like linen to fit your laid-back vibe. Either way, keep a coordinating tablecloth or runner and simple centerpieces on hand. Then, use these components to design a go-to tablescape that you can set up for spur-of-the-moment events or last-minute visitors.
Pretty and pastel Easter table setting
New Africa/Shutterstock
An Easter celebration is an awesome time to set your table with pretty pastels and springy flowers. If you want to create a table setting full of color and cheer, use the full rainbow of Easter hues. However, if you want a subtler look, try using a few complementary colors. Use the Canva color wheel as a foolproof way to determine your color scheme. Purples and lavenders play perfectly off a table of greenery, and peach looks stunning with robin's egg blue. Or, if you set your table with traditional navy and white china, add yellow forsythia blooms to complement the color scheme. 
Arrange floral accents in fun and unique ways that fit your style and add to your tablescape. A long, shallow tray of cut tulips provides a simple pop of color while a giant spray of wildflowers adds whimsy. If you want a more modern look, plant succulents in small pastel containers and line them down the center of the table. Or, add a vase or two of stems and dangle Easter ornaments for a festive touch.
When it comes to major holidays, allow the traditions to take center stage. Chocolate bunnies make adorable — and edible — place-setting decorations. Instead of place cards, use eggs to mark each guest's seat. Follow the simple instructions from Ornament Shop and carefully use a wax crayon or birthday candle to write each person's name on a hard-boiled egg. Then, place the egg in dye to color the shell, while the wax keeps the writing white. Set a personalized egg at each place setting for a thoughtful surprise.
Make mom proud with a pretty Mother's Day tablescape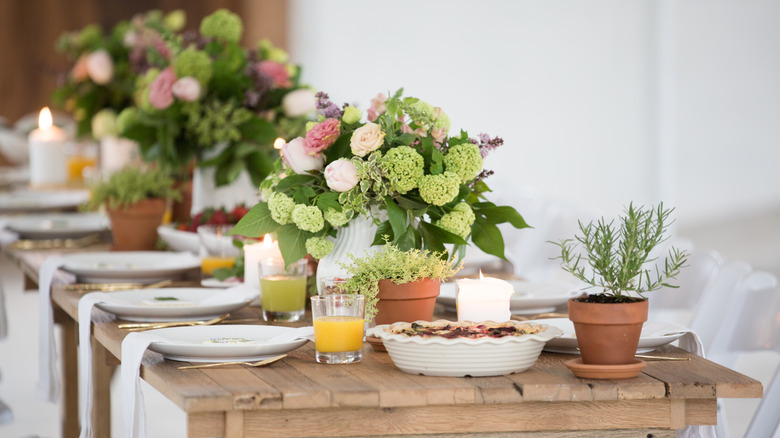 Yetta Reid/Shutterstock
Mother's Day is the perfect occasion to host a brunch, lunch, or dinner to celebrate the special women in your life. Take time to create a personalized tablescape that pays homage to mom's favorites. First, come up with your color scheme. According to InVideo, pastel hues' lack of black color allows them to convey emotions like love and affection. So, start with your mom's favorite shade and build a pastel color palette around it. You can use a mix of flowers in shades of pinks and purples with complementary greenery. Or, style a centerpiece in pretty monochromatic shades of pastel blue and white.
To create a touching tablescape, use personal items as part of the decor. Small framed family photos make adorable accents. Or go beyond the table and create an immersive experience. Celebrity party planner Bryan Rafanelli tells The Daily Mail that he strategically places family photos all over the home for the holiday. You can also place bouquets of flowers matching your centerpiece around the room to add to the celebratory vibe.
Make your Mother's Day tablescape pop by using gifts as part of the decor. Small potted herbs and handwritten note cards add a personal touch to place settings. Or, set the table with personalized wine glasses for each guest of honor to keep and enjoy long after their Mother's Day mimosas are gone.
A patriotic tablescape for the Fourth of July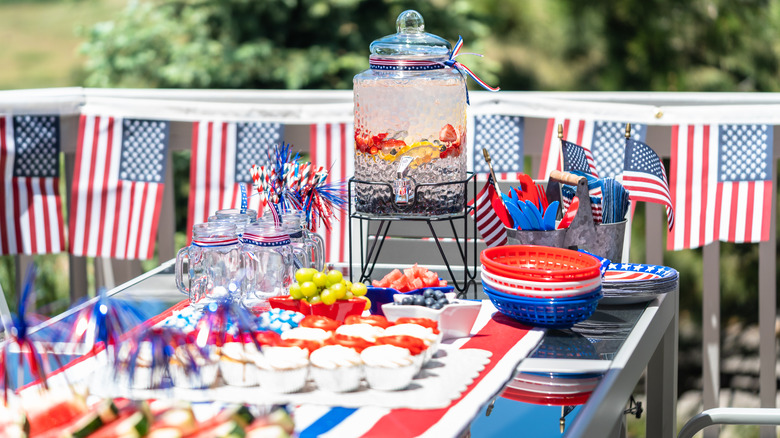 Arina P Habich/Shutterstock
Tablescapes aren't just reserved for indoor, sit-down meals. Take your outdoor party to the next level with stellar table decor. And what better occasion to show your festive spirit than the Fourth of July? Deck out your Independence Day table in red, white, and blue dishes, napkins, food, and drink. Keep the weather in mind and invest in clips for your tablecloth or runner to ensure everything stays put. Then poke mini flags into a row of small pots filled with red and white flowers for a cute outdoorsy centerpiece. Or make your own swirling pinwheels with this tutorial from Polka Dot Chair, and turn them into festive centerpieces. Fill mason jars with pebbles or sand and add a few of your DIY pinwheels for adorable table decor.
If you are serving your Fourth of July meal buffet style, use the menu as an opportunity to enhance the color scheme. Serve appetizers with red, white, and blue picks. Fill a drink container with a signature cocktail or lemonade, and add strawberries and blueberries for patriotic color. And use a tray of American-themed cupcakes or cookies to enhance the theme further.
Warm and welcoming autumn table decor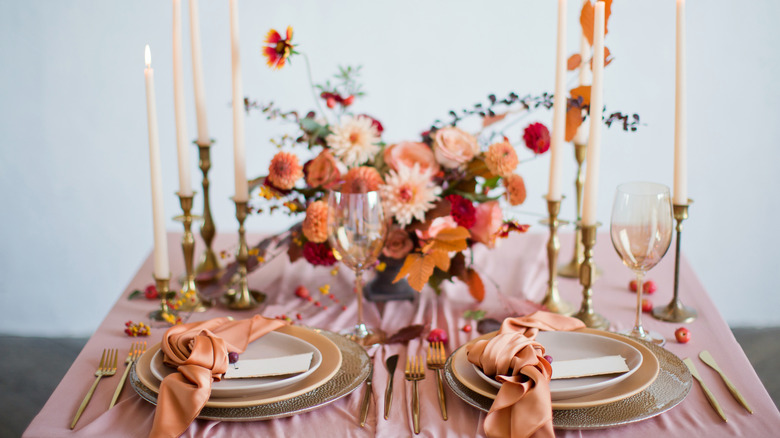 Aprilante/Shutterstock
Setting the table for autumn events doesn't have to revolve around a specific holiday. Instead, design a tablescape that welcomes the change of the seasons. Venngage points out that the transformation of the leaves inspires the warm colors of fall. Hues like red, orange, yellow, and brown combine to create a comforting vibe. However, you can also add rosy pinks and soft greens to make your tablescape reflect your style and decor. Use a combination of two or three of these colors to create your look.
One of the best things about the fall season is the unique blooms and foliage that end the season. So, why not make them the center of your tablescape? A stunning fall flower arrangement or several small ones can make a beautiful, earthy statement. To create the perfect arrangement, stick to flowers in three analogous colors (you can use the Canva color wheel to determine combinations). Then, remove the leaves from the stems that will rest below the water line as you arrange them in your container. Arrange them with your choice of foilage, being careful not to lump like-colors too closely together. The end result will be a shop-worthy bouquet.
Customizable table decor for Halloween celebrations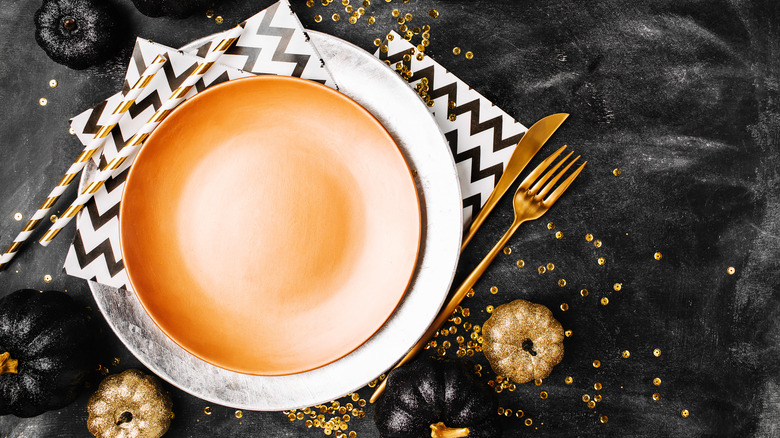 Igisheva Maria/Shutterstock
Halloween is a unique occasion where you can combine various styles for a festive look. You can also think outside the orange and black box and customize your tablescape to your liking. Start with solid dishware and add fun napkins to create a theme. Use a bold chevron, checkerboard print, or polka dots for a playful vibe. Or, use black and white plaid or pinstriped textiles for a more subtle style. If you want to add more pops of color, vibrant purples contrast beautifully with an orange and black color scheme.
Then, create a unique centerpiece with the abundance of pumpkins in season. Select various shapes and sizes and line them down the center of the table, starting with the largest in the center and working your way outwards. You can keep your pumpkins natural or paint them in any hues you wish. Home Stories A to Z says to avoid spray painting pumpkins and use acrylic or chalk paint instead. Apply the first coat with a brush, allow to dry, then tap the second coat on with a paper towel for a natural finish. You can create a monochromatic and metallic collection for your table or paint pumpkins in black and white for a dramatic look.
A rustic and chic Thansgiving tablescape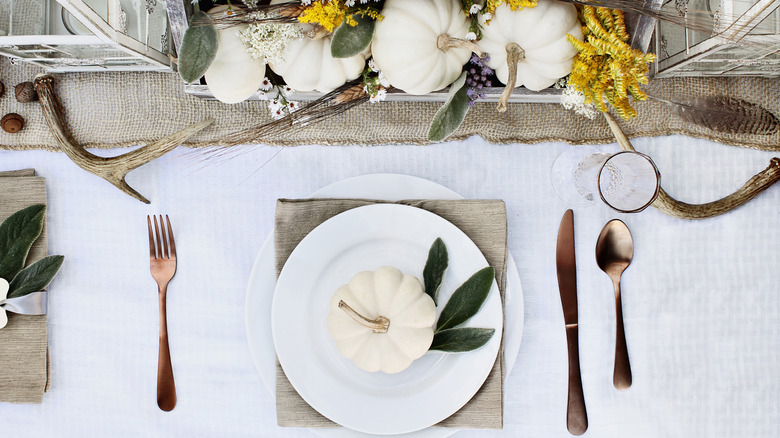 Stephanie Frey/Shutterstock
If you're hosting Thanksgiving, create a table designed for gathering. With rustic and warm touches, your tablescape will be ready to welcome friends and family. Event planner Meghan Murray tells Modern Glam, "Start with what you already own. Maybe those white plates you've had for years would work perfectly (again) with the addition of a charger. From there, build on the foundation for your Thanksgiving table setting." She recommends adding things like place cards and linens to add dimension, and is a big fan of using pumpkins as decorative touches. Murray also adds, "One tip that I follow year after year is setting my table the day before. This allows more time to enjoy the day."
When adding natural elements to your Thanksgiving table, consider items that will segway into the Christmas season. Pine cones and cotton stems are perfect for both holidays, and eucalyptus leaf sprays look stylish year-round. Switch out your rustic Thanksgiving linens and pumpkins for red napkins and bottlebrush trees, and your table will instantly be ready for Christmas.
Posh and glam Christmas table decor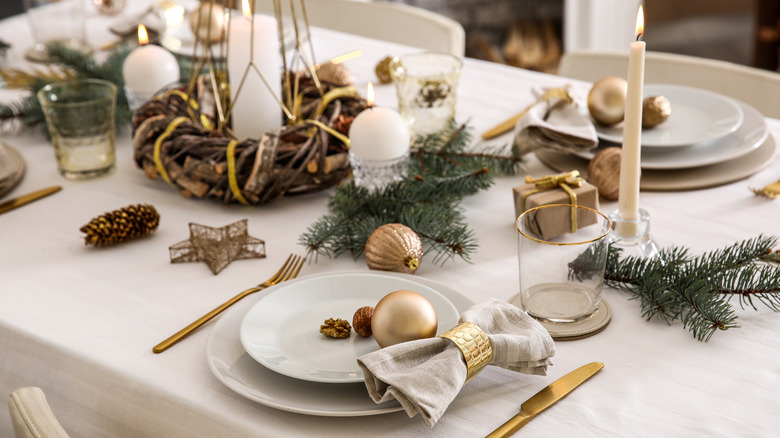 Pixel-Shot/Shutterstock
Add shimmer and shine in unexpected ways to create a sophisticated Christmas tablescape. Start with crisp white dishes and table linens and add splashes of sparkling silver, gold, or a combination of the two. You might need to get crafty if you want to create a posh look on a DIY budget. DIY Nuts recommends taking unused items and spray painting them to make them shine. Purchase high-quality, metallic spray paint and create your own items for your tablescape. For example, you can take a basic wooden centerpiece box to a new level of sophistication with some spray paint, and transform clean yogurt containers into tea light holders.
Earthy wood tones and winter greenery create a beautiful juxtaposition against shimmering accents. Add a grapevine wreath or wooden chargers to your table for texture and interest. Evergreen sprays are a perfect tablescape addition as well. Ballard Designs suggests cutting the stems and soaking them in water overnight. Then use an anti-desiccant spray to seal them so they can retain moisture and be a fresh part of your table decor for as long as possible.
Festive kid-friendly party table
New Africa/Shutterstock
When designing a tablescape for children, bright colors are typically a big win. Abandon the three-color rule and go all in with your kiddo's favorite rainbow shades. You can even order a colorfully decorated cake that can double as your centerpiece. Then, choose durable or disposable dishware that's kid-friendly and still cute. To add even more brightness to your tablescape, strategically place colorful glass jars of candy along the center of the table. Then, at the end of the party, each guest can fill a cellophane bag with an assortment to take home as a favor.
This is an awesome opportunity to get young hosts involved in the party prep process. The Inspired Treehouse provides DIY ideas to welcome guests that kids will love. Help your child make simple and colorful place cards to put at each seat. They can also make a simple floral centerpiece out of tissue paper. Keep the crafting going as guests arrive. Use kraft paper as your table runner and scatter crayons or markers on the table. Welcome guests to write notes or draw doodles for the birthday boy or girl. Little hands will stay occupied, and you'll be left with an adorable memento from the occasion.
Fun sports-themed table ideas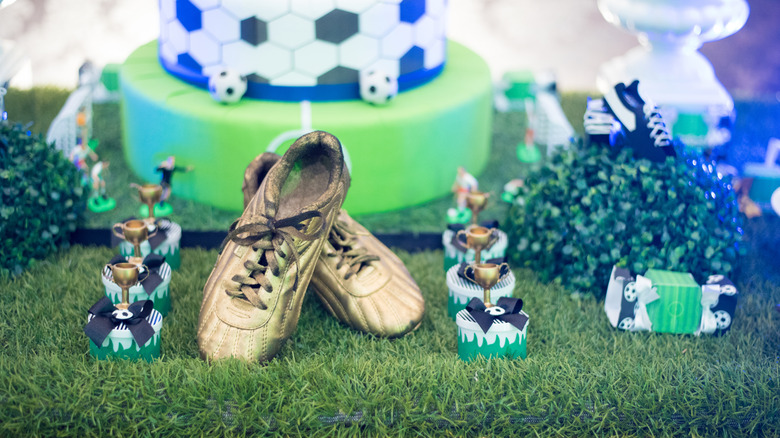 Mateus Andre/Shutterstock
If you are throwing a party for a sports lover or having friends over for the big game, make your tablescape show your super fandom. Develop your color scheme around your favorite team and get personal with the decor. If the guest of honor plays the sport, set special equipment, trophies, or metals out as part of the tablescape. Add sports-patterned plates and napkins to round out the look. SignUpGenius has some fun ideas for football parties that could be applied to other sports as well. Use painting stripes on mason jars to look like ref's jerseys and leave plenty of space around the table so everyone can grab snacks.
Get creative when thinking about items to add textures to your table. Astroturf makes a unique table cloth or runner for parties revolving around field sports. Use jerseys or team blankets to create a backdrop behind the tablescape. And small items like golf teas or fishing lures are perfect container fillers for on-theme centerpieces.