House Digest Survey: What's The Best Way To Light Up Your Yard At Night?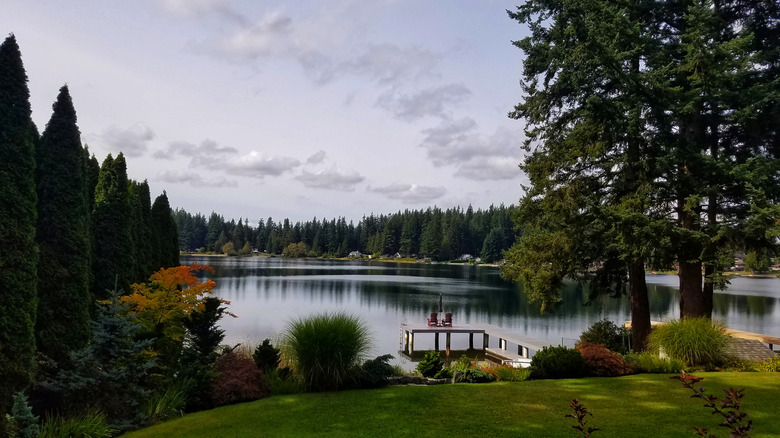 VidaHawaii/Shutterstock
There are so many design elements that go into creating the perfect visual for your yard. From color to texture and scale, there is a lot to think about as you try to pull in all the perfect pieces. One design element we believe is necessary to create harmony is lighting, which is especially important outdoors during those dark and cozy nights. According to AJ's Landscaping Services, outdoor lighting can help create a certain mood, light up pathways, deter thieves, increase your property value, and it can shine a spotlight on your fabulous outdoor decor. 
With several outdoor lighting options to choose from, it can be difficult to know where to start. So House Digest has conducted a survey asking participants their favorite way to light up their yards at night. We gave them six options: string lights, lanterns, torches, flood lights, path lights, and spot lighting. We'll reveal which option received the most votes and why it may be the perfect addition to your yard.
Create a safe and elegant path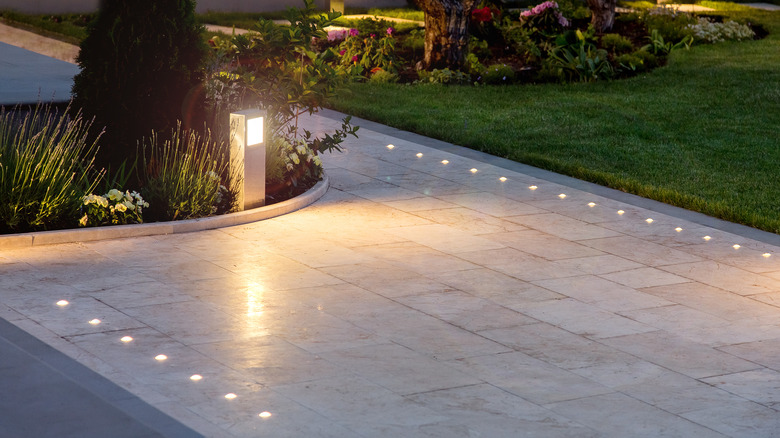 Bespaliy/Shutterstock
Out of 606 respondents, 26.24% (159 people) favored brightening up their yards with path lights, according to our survey. This is a great option for homeowners who have walkways installed throughout their yards, according to Rensen House of Lights. Walkways are a great way to add interest to your exterior design — but they can fall flat without the proper lighting. Path lighting can help not only accentuate your walkways throughout the night but also your plants and other stylish exterior features. Path lighting can also help avoid certain safety risks, such as tripping over a vine or small animal.
According to 1StopLighting, there are also different types of path lights for various needs. For example, step lighting is used to brighten up any staircases you may have in your yard. They can be installed into step risers, underneath railings, or on vertical posts. If you'd like to avoid installing several small lights, it's advised to instead use one or more lampposts, depending on how long your path is.
A plethora of design options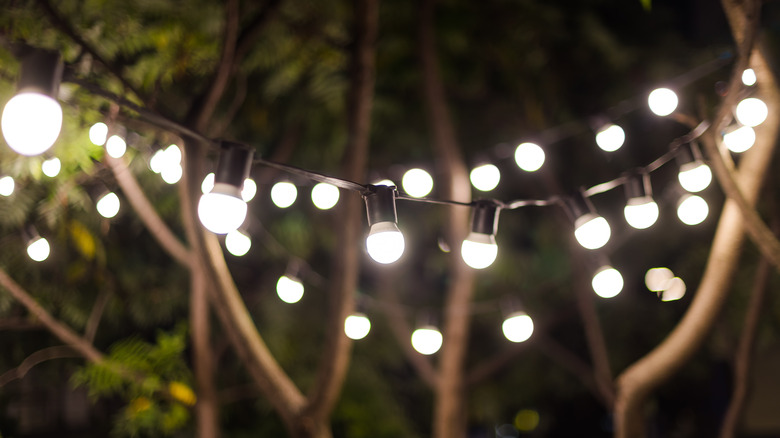 IMG Stock Studio/Shutterstock
24.09% (146 people) of respondents favored using string lights as a way to illuminate their yards. Similar to path lights, string lights are also used to brighten up outdoor spaces to improve functionality during the night, according to Georgia LightScapes. People tend to use string lights on their patios to better enjoy their time with guests while having dinner or playing board games. There's also an option to add a dimming switch, which can help create whatever ambiance you want to submerge yourself in.
Luckily there are several types of string lights to accommodate different design aesthetics, such as solar LED lantern string lights, vintage string lights, fairy string lights, twinkle star LED string lights, jar string lights, and more, notes Parker Lighting, Inc. The following are the other options from most to least amount of votes: flood light with 120 votes (19.80%), lanterns with 80 votes (13.20%), spot lighting with 51 votes (8.42%), and torches with 50 votes (8.25%).