Renovation Island Star Sarah Baeumler's Tips For Outdoor Holiday Decoration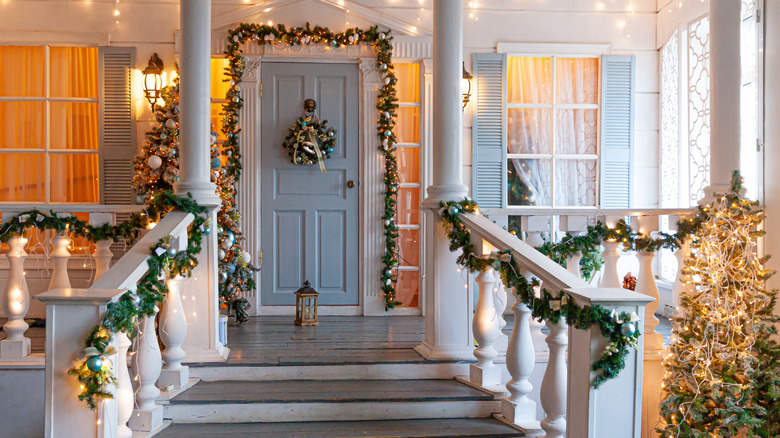 Julia Zavalishina/Shutterstock
We made it through October and have said goodbye to the ghouls and goblins of Halloween. Now, it's time to pack up the skeletons and sweep up the cobwebs because the holiday season is right around the corner. Don't forget to dust the storage boxes and hang a wreath or two.
Are you someone who continues the fall decorations into November or instead brings out the Christmas embellishments early? Most folks wait until after Thanksgiving to start decorating for Christmas, but others will start as early as the first week of November, per Real Homes. Regardless of how you go about things, it can be a challenge to decorate your yard without damaging the lawn.
Of course, there are various ways to dress up the front porch without overwhelming the space. The Pioneer Woman enjoys DIYing a few outdoor décor pieces for the season, saying your front yard should be decorated just as equally as the inside of the house. From wooden lanterns to floral planters to a DIY autumn sign, the choices are endless. We know it can be complicated to set up outdoor decorations, which is why we followed "Renovation Island" star Sarah Baeumler's tips to make the process smoother.
Create a cozy, warm welcome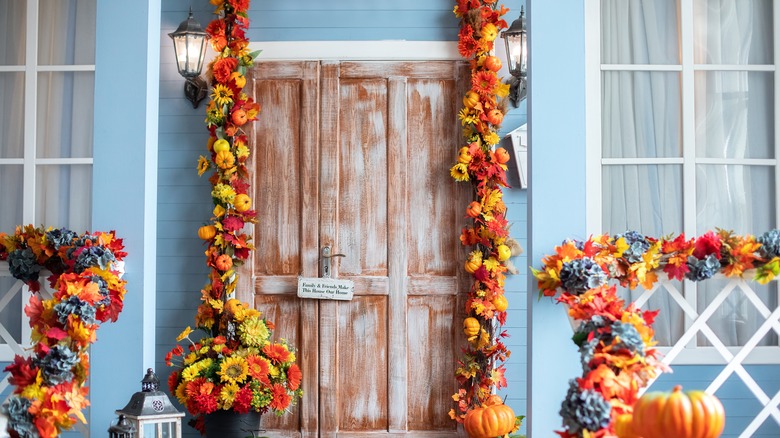 stock_studio/Shutterstock
When decorating your front porch and yard, consider what you want guests and passersby to see; after all, you're bound to overwhelm them if too many pieces are cluttered and in disarray. On the other hand, too few trimmings can make the space look empty.
As such, Baeumler suggests creating a warm welcome by using what's already inside, such as the holiday colors, and taking them outside (via Our Family World). Fill the walkway with some pumpkins, green plants or small trees, some pinecones, and a small seasonal sign to make it feel warm and homey. And, don't forget to stop by HomeGoods to check out more
holiday décor; you can never go wrong with their options.
If you enjoy creating your own holiday accessories, DIYS has more than 50 different ideas to try out. Some examples include a custom wreath for the front door, rope-wrapped baskets to hold plants or leaves, and twine-wrapped bottles for extra color and texture. Additionally, tailor the overall look to the color scheme inside your house to make the outside and inside flow. Ultimately, every guest is bound to compliment the entire space. And who knows? Maybe it will inspire them to decorate their house as well.
Clean any decorations in storage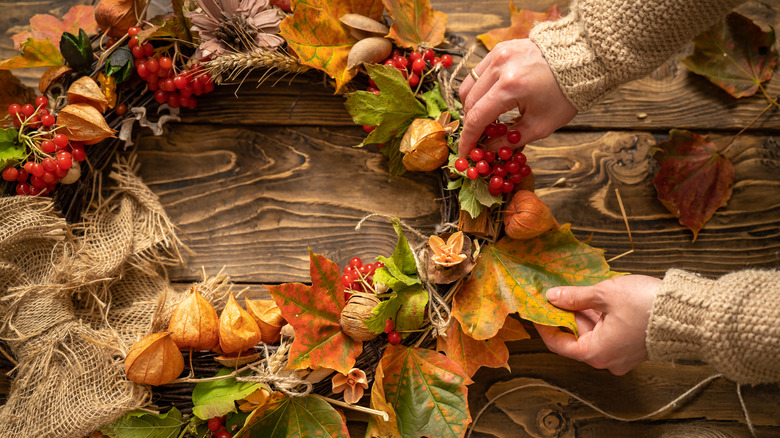 Alexander_Safonov/Shutterstock
Storing holiday decorations all year in the attic, garage, or basement can age these items and coat them with excess dust, dirt, and moisture. While keeping them in storage can prevent everything from breaking, they will still need some polishing to look as good as new. For example, Baeumler recommends OxiClean's stain-removal powder to help get rid of any grime, dirt, and dust (via Our Family World). Additionally, use this product to clean and brighten decorations in order to keep them in pristine condition.
It's simple to use OxiClean's stain remover. First, remove any existing stains with a wet cloth, according to OxiClean. Then, fill a small measuring cup with the solution and, using a clean towel, dip it into the solution before dabbing any stains on the decorations until they're gone. Finish by rinsing the holiday decorations with a damp, wet towel and letting them dry. Follow these steps every time you bring out or put away the decorations; they'll last you for years.