Is The Blueland Cleaning Subscription Box Worth The Money?
Cleaning subscription boxes have soared in popularity recently for many reasons. If your kitchen cupboards are crammed full of cleaning supplies, you may be looking for ways to downsize your inventory or you may just be tired of always seeming to run out of dishwashing tablets. Plus, while sometimes you need to bring in the hard stuff, it makes sense to look for cleaning products with less harsh chemicals, as this small change can benefit the environment says Compact Appliance. Blueland is one of the leaders of the sustainable cleaning subscription market, alongside Grove Collaborative, Dropps, and Branch Basics. But with so many options available, it can be hard to know if it's truly worth it. 
By comparing plenty of reviews, watching the products work in action, and a deep dive into what makes Blueland unique, we're here to guide you on your cleaning subscription box journey. First, it's important to understand that idea behind Blueland is to save money, space, and the planet (via Blueland). The subscription settings for the standard cleaning kit offer refills every three months for under $25, and you can delay the refill at any time if you don't need one. Because the cleaning products ship as dissolvable tablets, it's easy to store these cleaners in bulk. Keep in mind, they are shipped as dry solids in compostable and recyclable materials, so their products reduce waste. 
Does it really work?
First, let's talk about the bottles. The three main cleaners and bottles that are available in the basic starter kit are multi-surface, bathroom, and glass and mirror (via Blueland). These bottles are actually made from a lightweight, BPA-free plastic called tritan. There are trademarked as Forever Bottles, but many reviewers have had their bottles break, like YouTube user Strolling Through Life, whose forever bottle snapped off at the fill line. Keep in mind, if these bottles really can't last forever, then their plastic is still detrimental and will likely end up in a landfill. The other product dispensers are made from tin, silicone, and glass (per Blueland).
But can the cleaners themselves really work? Well, it depends. When it comes to dishwashing tablets and dish soap powder, we are happy to recommend Blueland as an effective, affordable option that can cut through grease comparably to traditional brands, as noted in a review by Confessions of a Cleaning Lady, who also recommends the trio of everyday cleaners. One product some are still hesitant about are the laundry tablets, which don't seem to tackle stains. Some reviewers feel they do a mediocre job at cleaning, especially in cold water, as we saw in a review by YouTube user Tiffany McNerlin. 
Which subscription box has the best value?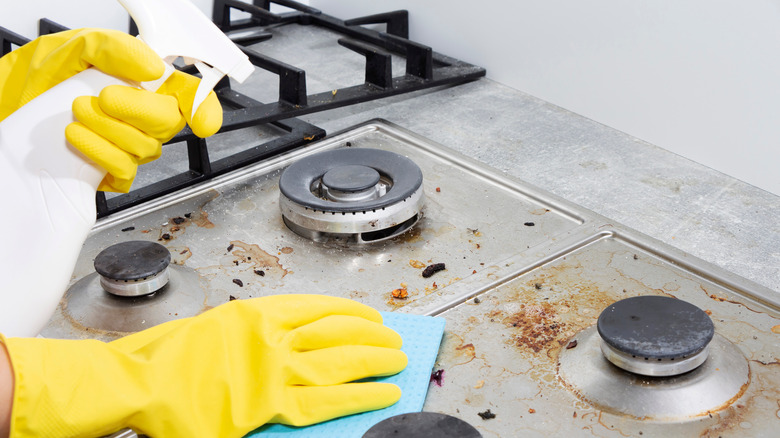 Mikhail Sedov/Shutterstock
Blueland offers its products in combo starter kits. For the best value, we recommend getting a starter kit, which comes in two main variations: the Clean Suite Kit or The Clean Essentials. To determine which is the best value for you, we are looking at the cost and what each kit includes to help you make the best choice. 
As of this moment, the Clean Suite Kit with a subscription is being offered at just $80, reduced from $126, and a recurring payment of $71.55 every three months for refills (per Blueland). The Suite includes three everyday cleaner Forever Bottles, a foaming hand soap dispenser bottle, two steel tins for tablets, a dish soap shaker, a dissolvable tablet per bottle, 60 laundry tablets and dishwashing tablets, and one pouch of dish soap. 
The Clean Essentials kit on their website, on the other hand, is currently available for just $35, marked down from $56, and has a recurring refill payment every three months of just $24.75. It also includes three everyday cleaning Forever Bottles, a glass hand soap dispenser, and a coordinating tablet for each bottle. If there is a product you really want to try but don't want to pay for the storage container, like the dish soap, just add a refill pack to your subscription order to save on cash.