HGTV's Jasmine Roth Shares How To Nail The Modern Look When Renovating Your Bathroom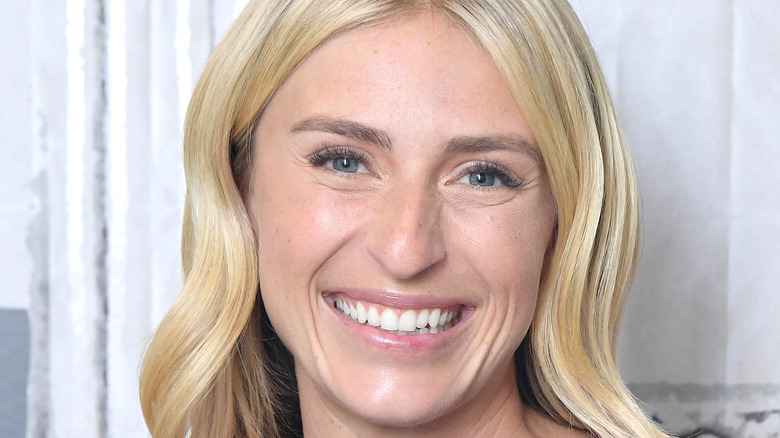 Michael Loccisano/Getty Images
Your bathroom should feel like an oasis; after all, it's the place you go to relax at the end of a long day. Many homeowners opt to update their bathroom, so it's a more aesthetic room to spend time in. Jasmine Roth is a master at transforming even the most wrecked homes. Roth hosts "Help! I Wrecked My House" on HGTV and has seen her fair share of homes in need of a refresh.
In a recent episode, she transforms a bathroom with a modern flare at her client's request, per Realtor.com. Modern interiors are known for their clean, straight lines, minimal clutter, and neutral colors, according to Love to Know. And these design features make a lot of sense in the bathroom, where most want a pristine place to get ready and relax. Of course, after seeing the modern makeover, Roth's client loved the renovation. Now anyone can use Roth's techniques in their own home.
Float your fixtures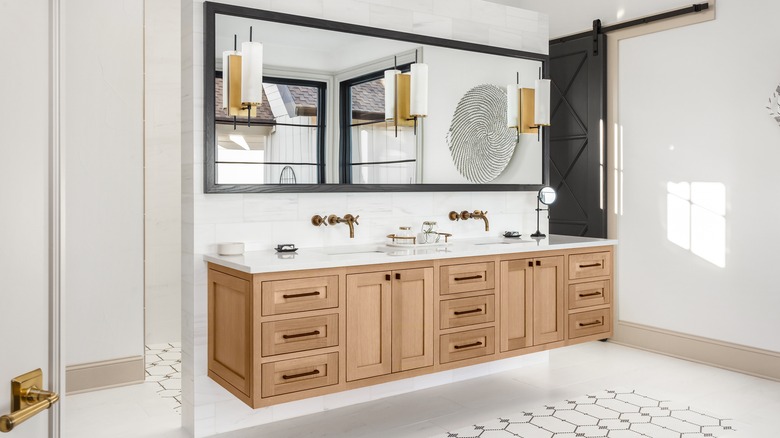 Justin_Krug/Shutterstock
Modern design feels innovative and sleek. So when Jasmine Roth learned her client was a lover of modern interiors, she knew she had to use floating features, per Realtor.com. Roth creates a floating vanity and toilet attached to a beautiful stone slab wall. The sleek design of both features perfectly evoked a clean and modern detail in the room.
Floating vanities are mounted to the wall and don't have feet, leaving a few inches or feet of room between the bottom of the fixture and the floor, says Reico. It gives the appearance of an open and airy space, which is the primary goal of modern style.
Floating toilets are similar in that they're mounted to the wall and can have space between the bottom of the fixture and the cabinet. But what makes them look so sleek and modern is that the hardware and plumbing usually in a tank is all behind the wall. This installation method can be costly compared to standard toilets, according to Consumer Reports, especially since it requires opening a wall to place all the equipment. But the sleek look it provides is worth the price to many.
Opt for a slab wall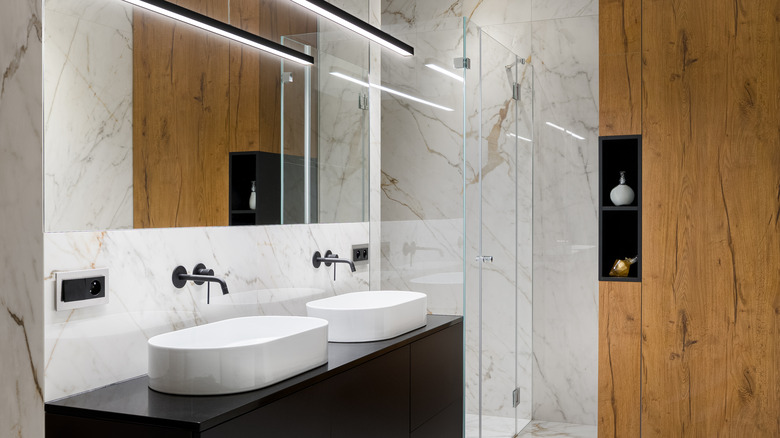 Dariusz Jarzabek/Shutterstock
The floating fixtures in Jasmine Roth's client's bathroom are attached to a slab wall, per Realtor.com, which is another feature giving the bathroom a sleek modern detail. Slab walls are becoming popular for kitchens and bathrooms instead of traditional tiling methods. Slabs of natural stone, similar to what would be used for a countertop, are installed on the wall or to enclose a shower. They're large enough to cover an area from floor to ceiling, so they appear seamless, says Imagine Remodeling. And with a variety of stone options, colors, and veining, you can create a customized look for your bathroom. It surely makes a statement in a modern bathroom.
Just as you would pick the right stone for a kitchen countertop, you have to consider the options when placing it in the bathroom. Because this space has a lot of water and moisture, you don't want to choose a stone that's too porous, such as marble, because that can lead to discoloration. Granite or quartz are the most similar to marble but are more durable. However, they can be heavy and expensive, warns Lamont Bros. Other great options for anyone looking for a slab with a lower budget are porcelain and acrylic.