15 Rattan Mirrors That Will Add Bohemian Flair To Your Space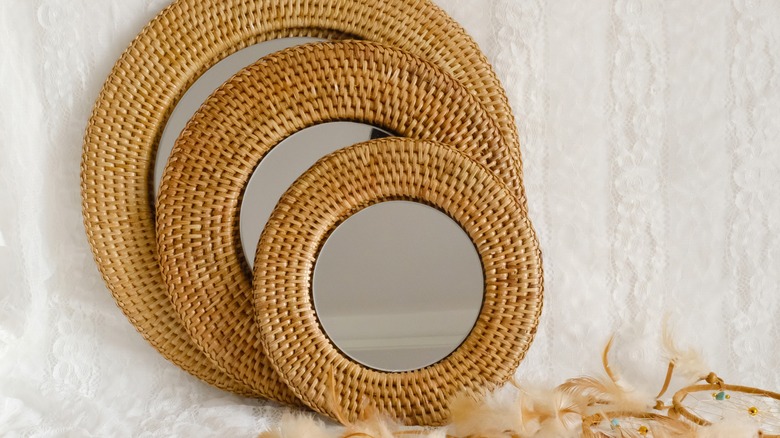 RITA133/Shutterstock
According to Asean Sourcing, rattan décor is well-known for its timeless and sophisticated design. The natural look of this beautifully textured wicker material can also complement various aesthetics, making it easy to incorporate into different types of homes. However, if you want to create a Bohemian vibe, that can also be accomplished with this popular look, per Rattan Imports. There are several different types of rattan décor, such as lamps, chairs, and mirrors.
Indeed, the mixture of rattan and reflective mirrors can create a stunning and elegant visual. Of course, there are several different shapes and sizes available, so we have created an irresistible list of 15 different rattan mirrors that no doubt will be hard to choose from. Whether it's for your entryway, living room, or bedroom, a rattan mirror is sure to add some much-needed texture and interest to your space. Without further ado, let's get started!
1. Woven layers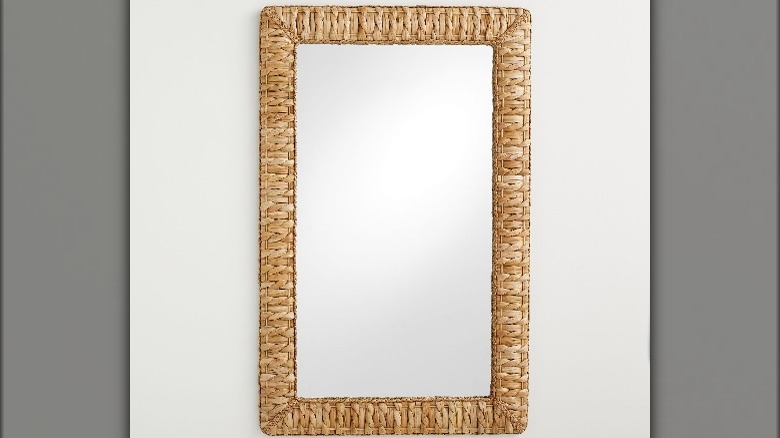 Pottery Barn
The woven-layered look of this rattan mirror from Pottery Barn offers a beautiful visual of texture to your home. Its simple shape and size also make it a neutral piece that won't distract from the designated focal points.
2. Combined patterns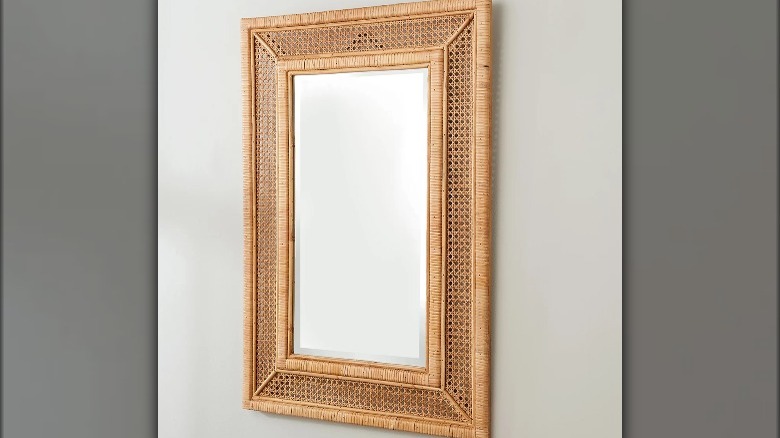 Shades of Light
This rattan mirror from Shades of Light has incorporated two types of patterns; a wrapped frame and woven center. This design tactic adds interest to the piece and is sure to introduce create a sense of stylish flare in your home.
3. Unique shapes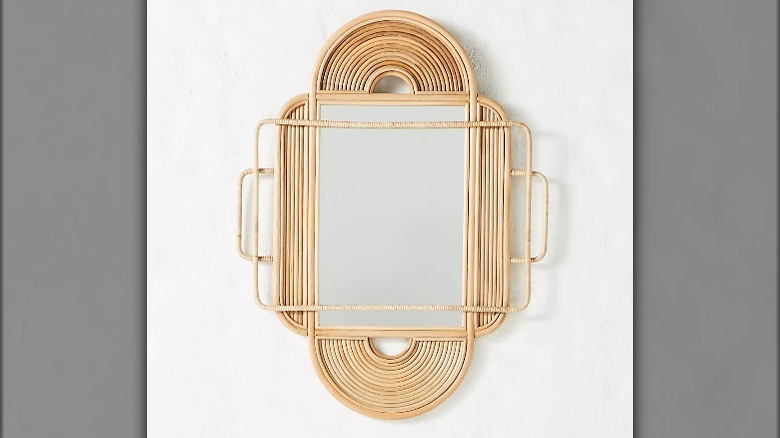 Anthropolgie
The unique shape of this rattan mirror from Anthropologie is exciting and playful. while the design is capable of dressing up any wall or creating a focal point in any space.
4. Smooth texture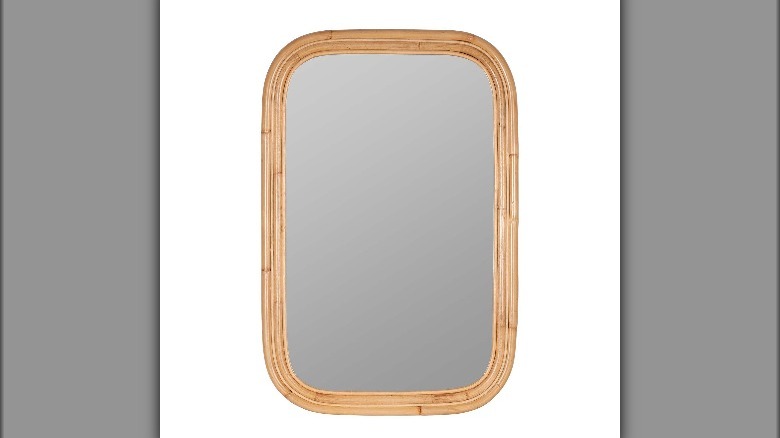 West Elm
For something less textured, this rattan mirror from West Elm would work best in a space focused on clean lines, such as the minimalist aesthetic.
5. Sharp edges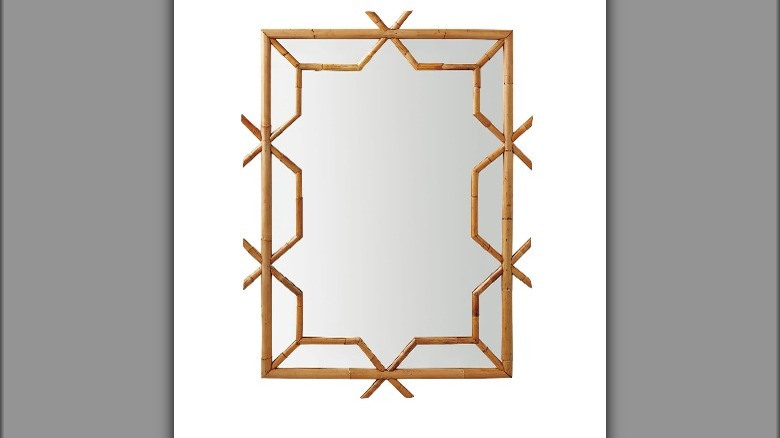 Serena and Lily
Serena & Lily used rattan to create a star-like shape by forming the material into sharp edges. This works well in a space with similar shapes because it would create a great sense of rhythm.
6. Circular shapes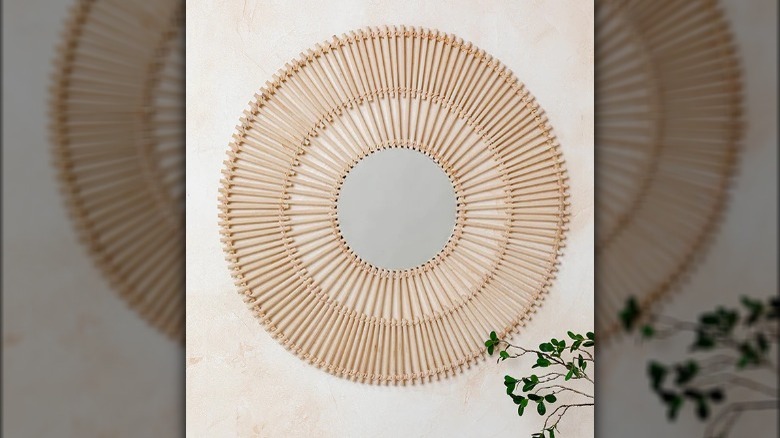 Cura Home
This circular Cura Home rattan mirror stems away from the traditional rectangular shape and emanates a light and airy feeling. This is because of the gaps in between the rattan that makes the décor piece seem more open.
7. Flower power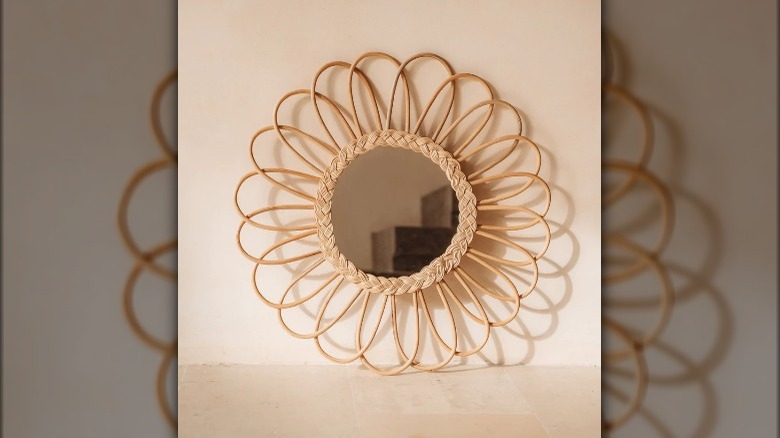 Hirsch and Timber Home
For a true Bohemian vibe, this flower-shaped rattan mirror from Hirsch & Timber will do the trick. We believe it will introduce a feeling of freshness into your home, as well as add a touch of femininity.
8. Minimal texture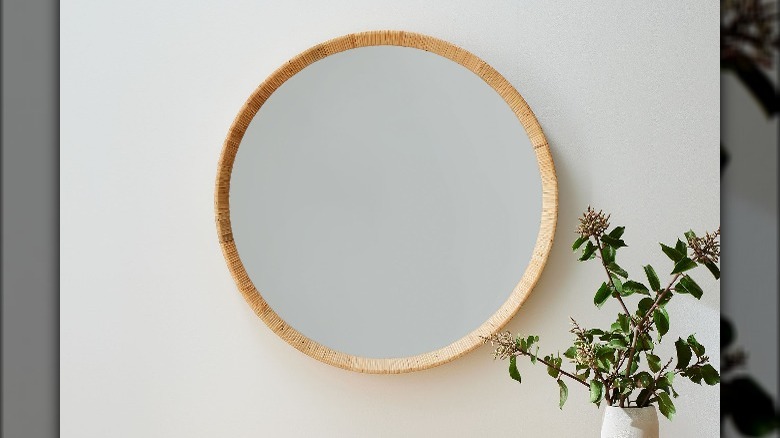 West Elm
This rattan mirror from West Elm has minimal texture, which is a great option for those who already have various textures in a certain space and want to avoid an overload.
9. Curvy frame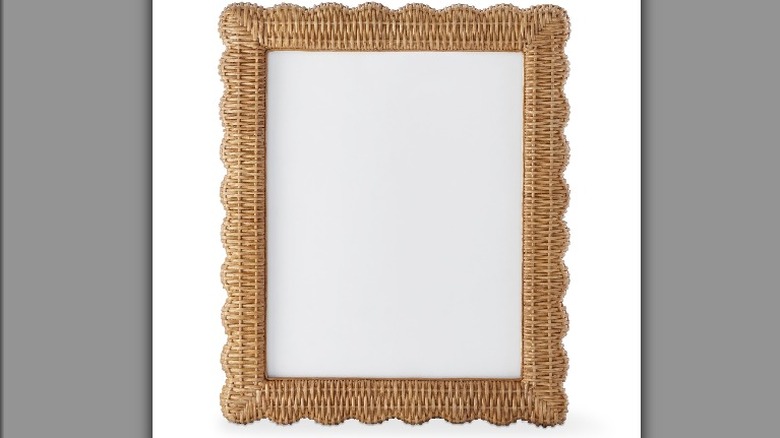 Willams Sonoma
We believe this curvy framed rattan mirror from Williams Sonoma could be a complementary addition to a traditionally designed home. This is because these styles of homes typically incorporate bendy décor, such as tables with cabriole legs.
10. Combination of materials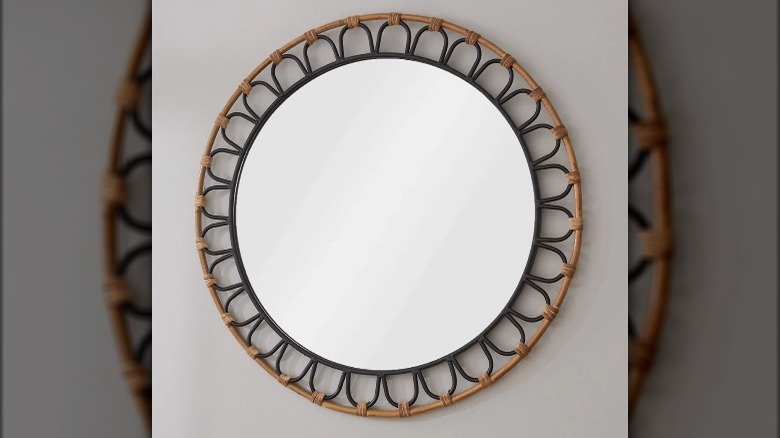 Shades of Light
Combining materials in décor is a full-proof way of creating interest. This mirror from Shades of Light blends both metal and rattan to create a fun pattern and some contrast.
11. Large rattan mirrors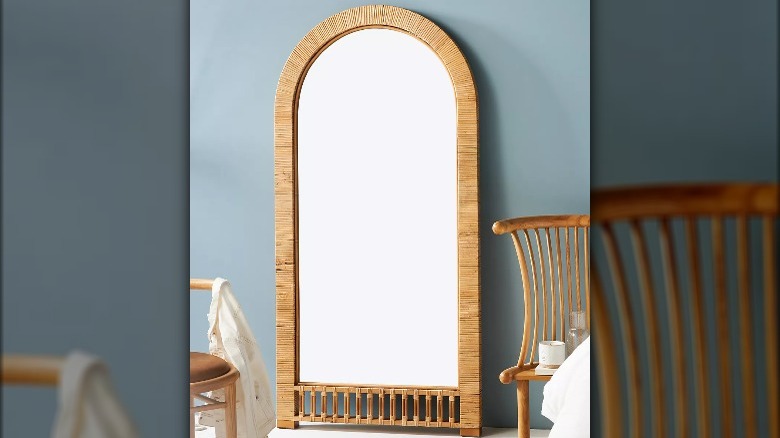 Anthropolgie
Aim big with this full-length mirror from Anthropologie. Larger rattan mirrors will have more of an impact in terms of texture, while also maintaining a sense of neutrality within the space.
12. Dark rattan
If you need something to add contrast to your space, then we advise choosing a dark-colored rattan mirror, such as this one from Modern Wicker.
13. Eclectic design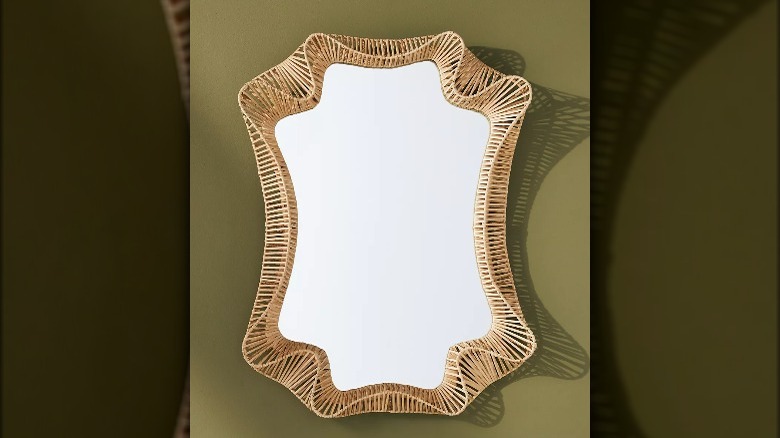 Anthropologie
Got a combination of Bohemian and eclectic designs in your home? Then this obscurely-shaped rattan mirror from Anthropologie is sure to fit right in.
14. Elegant wall mirror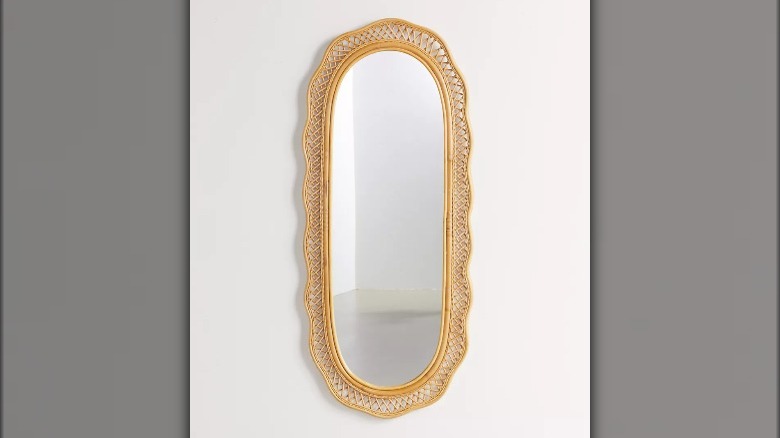 Urban Outfitters
This rattan wall mirror from Urban Outfitters, which is the definition of feminine elegance, is sure to elevate your bedroom or any other space in your home.
15. Multi-use décor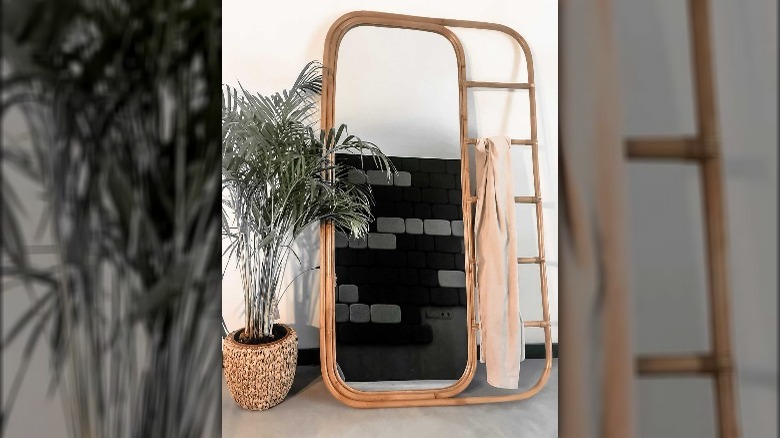 Monnarita
We love anything with multiple functionalities. As such, this full-length mirror from Monnarita allows you to check out your outfit for the day and hang your favorite sweater.