Home Depot Or Lowe's: Which Has Better Deals On Saws?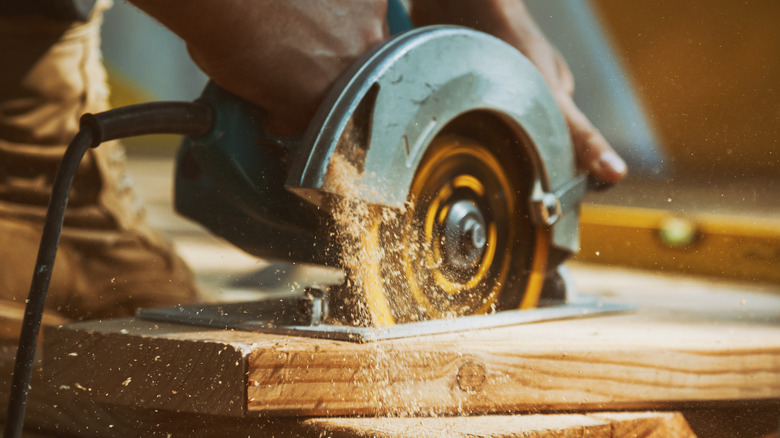 ungvar/Shutterstock
There are several types of saws, such as the hand saw, bow saw, crosscut saw, hacksaw, and more, according to Builderology. Saws also have various uses, such as creating furniture, trimming branches, and even sawing through hard materials, such as concrete. Since there is such a wide selection to choose from, the price of a saw can vary drastically. For example, a table saw — which is a crucial woodworking tool — can cost anywhere between $300 and $3,000, according to Woodworker Magic.
When purchasing tools and materials for a hobby or a project, the prices will also depend on which store you choose to go to for your purchase. Of course, we want to find quality products at the best prices. So, we've compared both Home Depot and Lowe's to see which hardware store offers the best deals on saws. Aside from the prices, we'll also be taking a look at product reviews and material quality to make the best decision.
A search for the best reviews
The Toidi/Shutterstock
As expected, Lowe's offers all kinds of saws at various price points to allow customers to choose a product that best suits their budget, according to their website. For example, the SKIL 15-Amp Corded Circular Saw is currently available for only about $60. It's described as a saw that can cut quickly at different angles, and it also comes with a 1-year warranty as well as a safety lock and guarded trigger to avoid accidents from occurring.
The rating for this product is also pretty decent; out of 552 reviews, this circular saw currently has a 4.6 star rating. Reviewers, such as one named John, said this saw is a great choice for those who love to DIY, and they also enjoyed that it was lightweight yet powerful. However, there were other products with less promising reviews, such as the Black and Decker 20-Volt Cordless Circular Saw, which has a 3.7 star rating out of 100 reviews and is priced the same. Reviewers, such as JayGardener, believed the battery life wasn't sufficient and the overall power was weak.
4-star quality and above
The low cost saws at Home Depot, on the other hand, are almost all rated at four stars and above, per their website. As we scrolled through their list of products, we noticed there are many more options available for under $100. Many of these saws seem to be quite popular, with over 1,000 reviews, such as the Ryobi 14-Amp Circular Saw that comes with a laser. This product is currently priced at about $80, and has a 4.5 star rating out of 1,089 reviews. Customers were satisfied with both the price and the performance of this product. This circular saw comes with a feature Ryobi calls the EXACTLINE Laser Alignment System, which allows users to create perfectly straight cuts. 
We also noticed that the Black and Decker 5-Amp Jig Saw is offered at both Home Depot and Lowe's. When sold through Home Depot, the product is listed for $37, yet at Lowe's, the same saw is priced at $44. Although this may seem like a small difference, it can quickly add up if you're purchasing multiple items. In conclusion, we believe Home Depot has the best deals on saws due to their vast inventory on highly reviewed, low cost products.