Should Your Kitchen Cabinets Be Lighter Than Your Walls?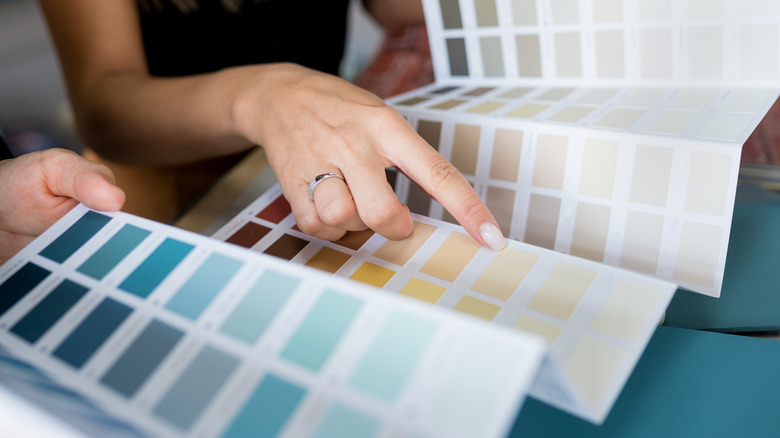 Tatiana Gordievskaia/Shutterstock
Creating a sense of harmony through color and design is one of the many stylish tactics to make your home feel complete. In particular, your kitchen incorporates different materials of various hues, such as the backsplash, countertop, flooring, and cabinetry — which should all be chosen carefully to ensure a mixture of complementary and contrasting colors and textures. However, we'd like to focus on the harmony between the cabinetry color and the walls.
The question is should your cabinets be the contrasting color or your walls? According to CADDetails, neutral colors, such as white, cream, and wood, are acceptable for cabinetry. But with so many different shades available, it's easy to choose the wrong one that dampens the aesthetic you visualized for your kitchen. If you're currently in the process of updating your kitchen or painting its walls and cabinets (or staining them), then stop and look at the appropriate shade variations.
Make sure to create contrast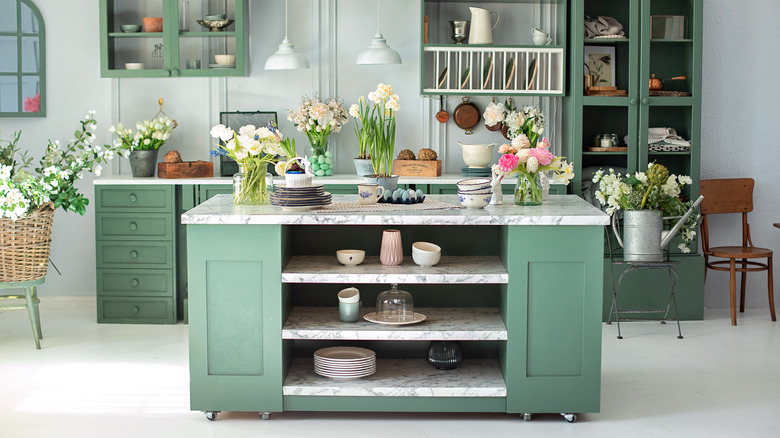 stock_studio/Shutterstock
According to Lick, your main objective when choosing different colors for your kitchen walls and cabinetry is to create contrast. So, in essence, it doesn't matter if your cabinets are darker and your walls are lighter, or vice versa, because you can create interest within the design of your kitchen just by creating enough contrast. However, the colors you choose and the difference you create rely on the type of aesthetic you want to implement.
If you're hoping to create a neutral, natural-looking design, Lick advises using warm beige, sage green, off-white, and dark gray colors. To create a balanced look with this color palette, we suggest painting the cabinets sage green and warm beige walls. We believe that making the cabinets a contrasting color will bring attention to any detailing you want to show off. The dark gray and off-white colors can be used as accents along the kitchen, either on the ceiling trim or the island base.
Or choose one color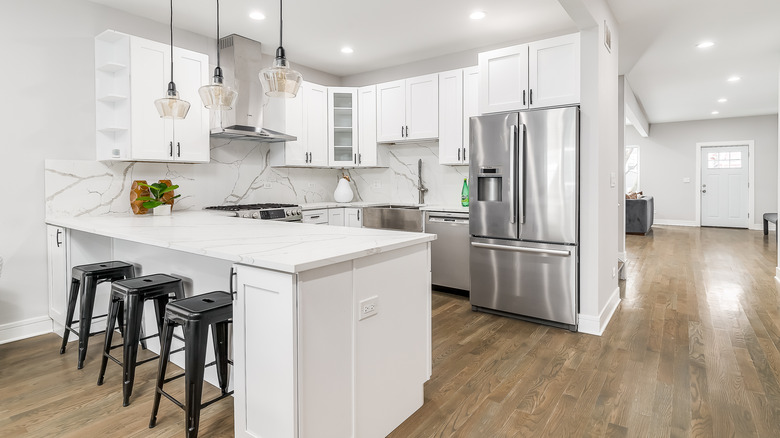 Hendrickson Photography/Shutterstock
A more straightforward method is to paint your kitchen cabinets and walls all the same color. According to Soul & Lane, using one color on your walls and cabinetry can create a cohesive and enticing design. However, you risk getting bored with your design quickly, so there are different ways to add contrast and depth to a space with one solid color. For example, you can create contrast by introducing dark or light appliances. An easier method is to place decorative and colorful bowls on open shelves.
If your walls and cabinets are going to be the same color, but you'd like your cabinets to have more interest, Soul & Lane also suggest incorporating texture. You can do this by installing a shiplap, an interesting backsplash, or by using a textured painting method. Also, don't forget about your countertop; if you cannot create contrast with your walls and cabinets, you can easily do this by selecting a darker or lighter countertop material.