House Digest Survey: What's The Best Type Of Wood For Kitchen Cabinets?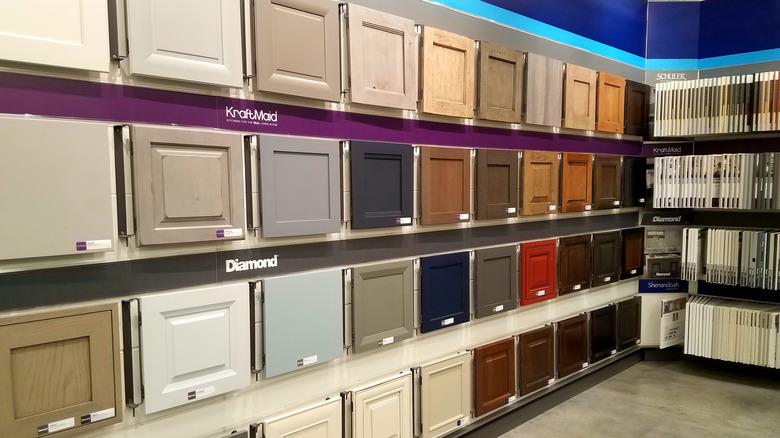 Khairil Azhar Junos/Shutterstock
Choosing the right type of wood for your kitchen cabinets includes thinking over a few considerations, according to W.Stephens Cabinetry & Design. This includes your budget, how durable you'd like them to be, how much graining you'd like to see throughout the wood, and the type of wood you'd like to introduce into your kitchen. Moreover, according to Kitchen Center, choosing the right type of cabinetry for your kitchen is crucial to elevating the overall design of the space.
Don't know where to start? House Digest has recently conducted a survey asking participants which type of wood they would prefer for their kitchen cabinets. We gave them six options: oak, maple, cherry, hickory, pine, and alder. As you can see, there are many types of wood to choose from that could either make or break your kitchen design. We'll reveal which type of wood received the most votes and what characteristics have led to its popularity.
Versatile beauty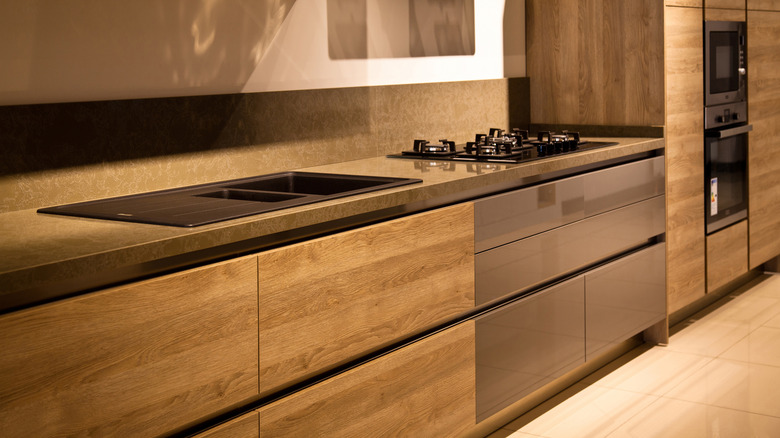 serdar_basak/Shutterstock
Out of 606 respondents, 35.31% (214 people) chose oak as the type of wood they would prefer for their kitchen cabinets, according to our survey. One of the reasons oak cabinetry is popular among homeowners is due to its durability, per Lawrence Construction, Inc. This type of material rarely needs to be replaced and can withstand daily kitchen activities for years. It's also known to be able to resist water damage better than other types of wooden cabinets.
Lawrence Construction also says that oak can complement many other colors, which is great for homeowners who only want to change their kitchen cabinetry and nothing else. This type of material is known to create a rustic and cozy aesthetic, but homeowners can also create a luxurious vibe in their kitchen by painting or staining their oak cabinets a dark color. If you'd like to be able to see the wood grain, it's advised to stain them with a darker pigment instead of paint.
And warm cherry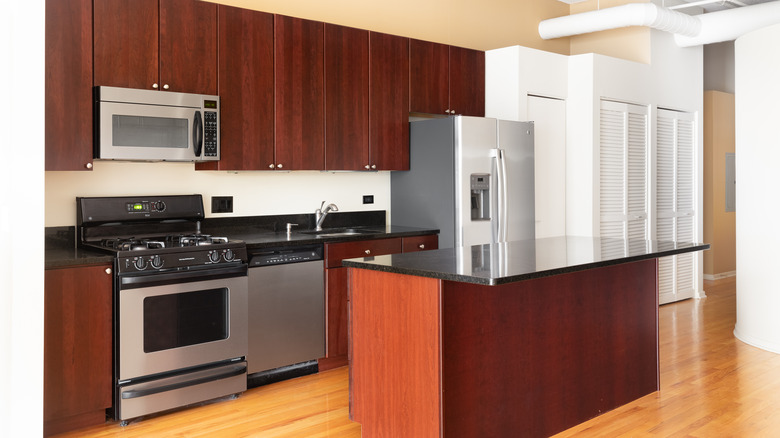 Hendrickson Photography/Shutterstock
Cherry came in second, with 22.94% (139 people) preferring this type of wood for their kitchen cabinets. Similar to oak cabinets, cherry wood is also durable and can last for a fair amount of time, according to Kirkplan Kitchen & Bath. However, it is vulnerable to scratching, but these types of marks can usually be hidden by applying a new coat of stain. Many homeowners also like this material because it can bring warmth and richness to your kitchen design, as well as interest due to its various wood grain patterns.
Kirkland Kitchens says cherry cabinetry is also a fairly affordable option for homeowners who want to purchase something a bit more luxurious without breaking the bank. However, the cost for this type of material can start at $5,000 and go up to $30,000 depending on how large your kitchen is, according to CostOwl.
The following are the other options from most to least amount of votes: maple with 137 votes (22.61%), pine with 60 votes (9.90%), hickory with 46 votes (7.59%), and alder with 10 votes (1.65%).