What Kind Of Bathtub Do People Want In Their Home The Most? - Exclusive Survey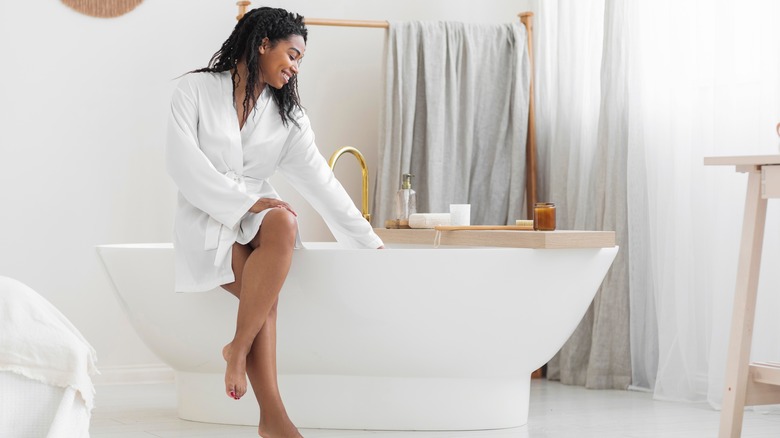 Prostock-studio/Shutterstock
Who doesn't love soaking up in their bathtub after a long week? According to Pentucket Medical, taking a bath is beneficial for the health of your heart, lungs, nervous system, and muscles and joints. It's also been proven that taking a bath can balance out your hormones, and is a great way to keep your skin, hair, and eyes hydrated. 
Nowadays, there are many styles, sizes, and colors of baths to choose from, notes Badeloft. moreover, bathtubs aren't just made of acrylic anymore, but also can be cast iron, copper, or stone resin. You may be convinced now more than ever to install a bathtub, but now you must determine what kind will work best with your bathroom. 
House Digest recently conducted a survey asking participants which is their favorite style of bathtub. We gave them six options: free-standing, walk-in, clawfoot, alcove, drop-in, and corner. We'll break down which options received the most votes and what benefits they can contribute to your bathroom.
A therapeutic experience
Out of 606 respondents, 28.55% (173 people) chose walk-in as their favorite bathtub style, according to our survey. This is an especially favorable type of tub for those with limited mobility, according to Age In Place. A walk-in tub typically has a threshold that is only a few inches high, which makes it easier for those who use walkers or wheelchairs to move in and out, especially compared to typical bathtubs, which have much higher edges that can be difficult to step over.
Age In Place also says walk-in bathtubs are twice as deep as typical bathtubs, which means you can fully submerge yourself in the warm and bubbly bath water. This type of tub can also be converted to include hydro-therapeutic technology, such as air and whirlpool jets. Those who suffer from arthritis, fibromyalgia, and other types of joint inflammation will truly benefit as the heated water loosens their tight muscles and releases endorphins — which can help relieve pain explains Cleveland Clinic.
Aesthetically pleasing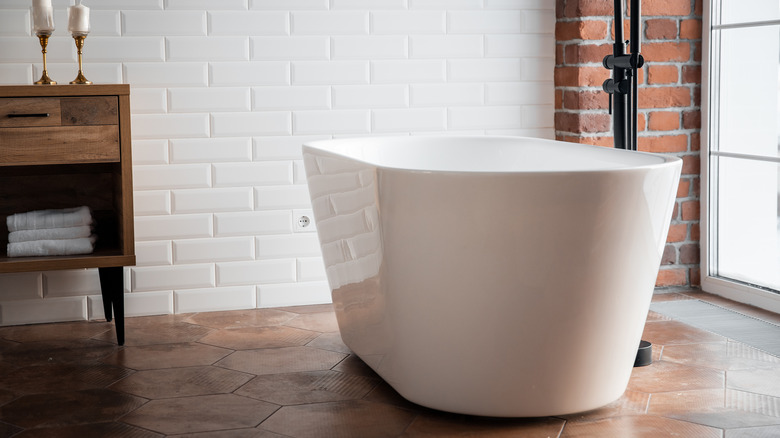 Parilov/Shutterstock
Second is the free-standing tub, with 21.95% (133 people) of respondents choosing this as their favorite bathtub style. According to Laurysen Kitchens, a free-standing tub is usually detached from the wall and can easily become a stylish centerpiece in any bathroom. Its popularity stems from the different styles and aesthetics it can be incorporated into, such as a traditional clawfoot tub or a modernized egg-shaped version. This type of tub is also sure to make your bathroom feel luxurious, especially since they are commonly used in spas.
However, the cost of this style of tub may be what pushes people away. According to Modernize, a freestanding tub can cost anywhere between $450 to $4,500 depending on the style you choose. But, the installation is rather simple compared to built-in tubs, so you are sure to save some costs there.
The following are the other options from most to least amount of votes: clawfoot with 130 votes (21.45%), drop-in with 64 votes (10.56%), alcove with 59 votes (9.74%), and corner with 47 votes (7.76%).