Get Inspired By These 25 Dark Bathrooms That Make Black And Gold Look So Good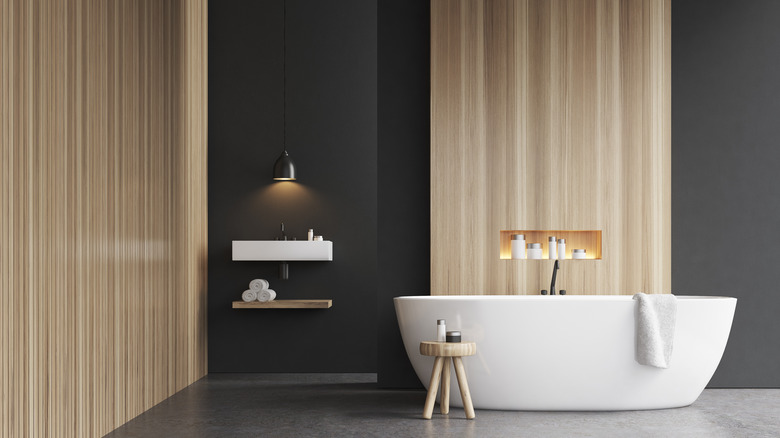 ImageFlow/Shutterstock
If you want to portray a luxury bathroom, it's best to focus on the colors you will use. Black and gold are a combination that showcases the right amount of elegance. As Maison Valentina points out, using black in your design is classic and gives off an air of lusciousness, while gold is a metal known for wealth and to signify prosperity. Putting these two hues into space brings these worlds together in a magnificent way!
If you want a quick refresh with this color combo, Homes Outlet shows you that it's easy to transform any room by adding a couple of pieces in the gilded hue, like a mirror or other eye-popping accents. If you paint your walls black or have a sink in a dark shade, a few of these ideas are easy to do to elevate a bathroom, no matter the size. So keep scrolling to get inspired to incorporate the classy black and gold duo into your bathrooms.
1. Sinking in gold
Olga Prava/Shutterstock
A bathroom with a gold sink can have a level of opulence by tying in a gold faucet, mirror, and other accents like the black marble and gold soap dispenser, toothbrush holder, and soap dish.
2. Matte finish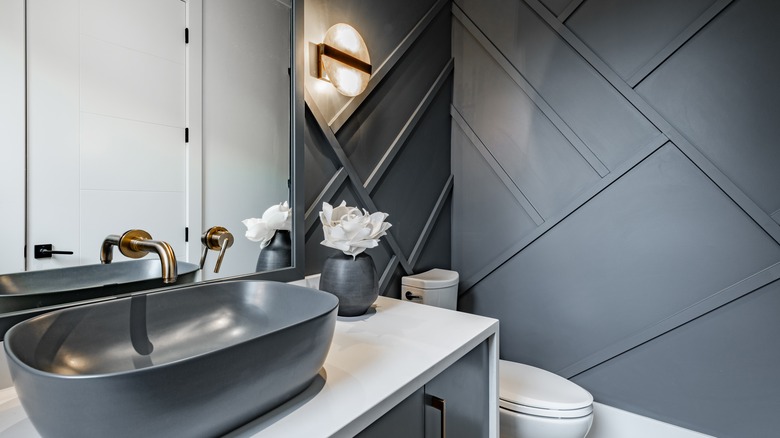 Sheila Say/Shutterstock
If you don't want to go too dark on your walls, think about a muted shade of black with brass tones for the accent lighting and faucet to tie it all together.
3. Seductive powder room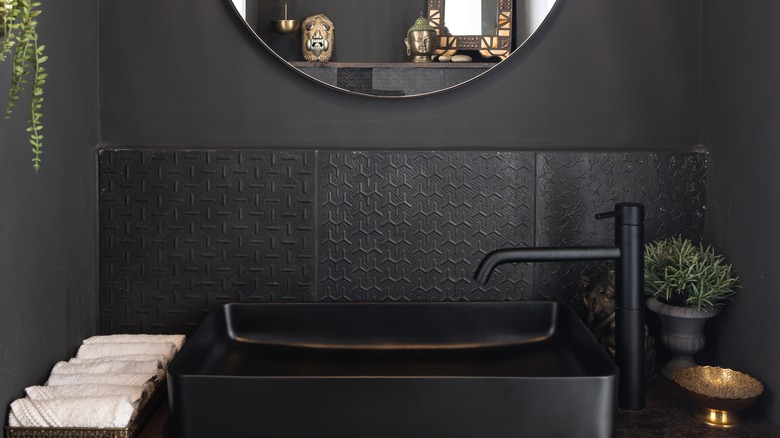 Shai.eps/Shutterstock
Black walls, an attractively textured backsplash, a dark sink, and a matching faucet set the stage for a room filled with luxurious mystery. The gold accents found on the mirror, draw pulls, dish, and Buddha sculpture are the perfect additions for a touch of glamour.
4. Vintage elements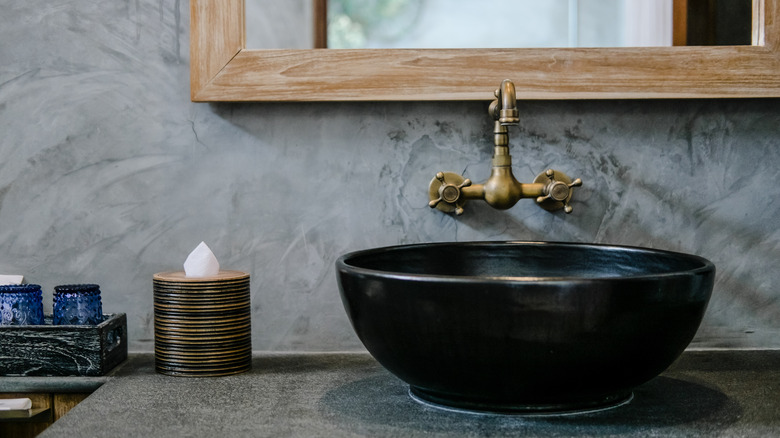 July Prokopiv/Shutterstock
A basic black bowl sink and muted gold accents like a vintage faucet and a tissue holder bring a bit of elegance to an otherwise neutral bathroom. Point2 explains that bringing vintage elements into any room adds character, noting that its small-scale items pack an extra punch, a tip you can quickly do in a bathroom.
5. Eye-popping patterns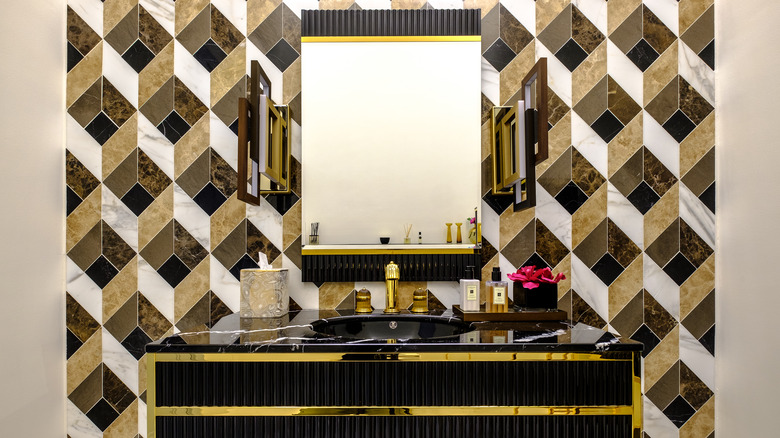 John Grummitt/Shutterstock
A darker bathroom doesn't always mean black walls. A pattern is a stunning option, too, mixing deeper hues of golds, browns, and yellows for an art deco-inspired room. Lastly, a black vanity trimmed in gold is the absolute highlight of this small space.
6. Make it pop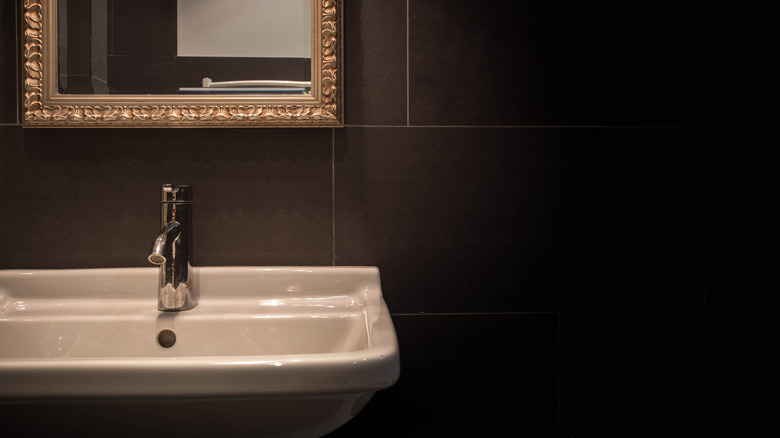 cerro_photography/iStock
A bathroom with black walls looks divine with a white pedestal sink, but the classy gold-trimmed mirror makes this tiny powder room stand out. This goes to show that a simple design is still stunning. 
7. A gilded throne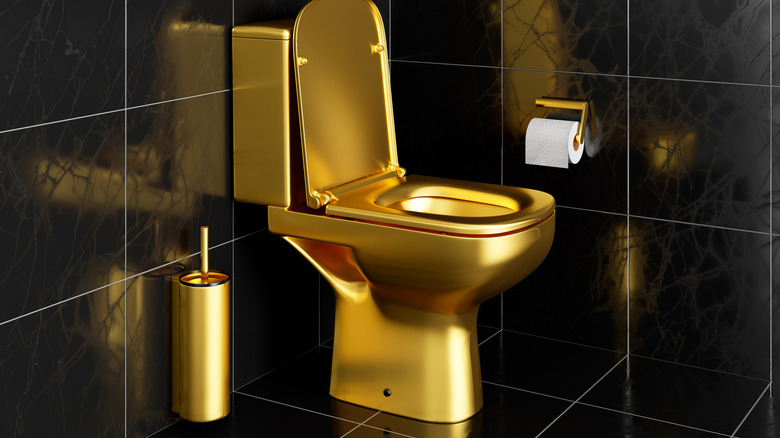 Brankospejs/iStock
If you want to go all-out, showcase a gilded toilet in your bathroom. It shines next to the large black tiles on the floor and walls. There's even a gold toilet bowl cleaner in arm's reach!
8. Blingy toothbrush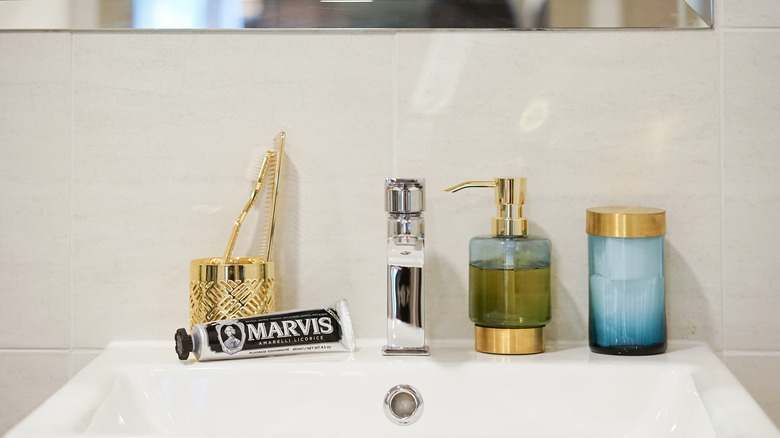 enchanted_fairy/Shutterstock
If you don't want to fully commit to splashes of gold and black all over your bathroom, you can display a blinged-out gold toothbrush for an easy way to feature the trend.
9. Geometric print
This DIY bathroom has a lovely gold geometric pattern thanks to Moggyboxcraft on YouTube, who explained on her channel that she randomly placed painter's tape on the wall to create this epic design. It would be a quick and affordable DIY option for anyone wanting to spruce up their bathrooms.
10. Focus on textured walls
Here's an aesthetically pleasing onyx bathroom with a faux crocodile textured wallpaper that brings an extra element of luxury to the space. 
11. Art deco vibes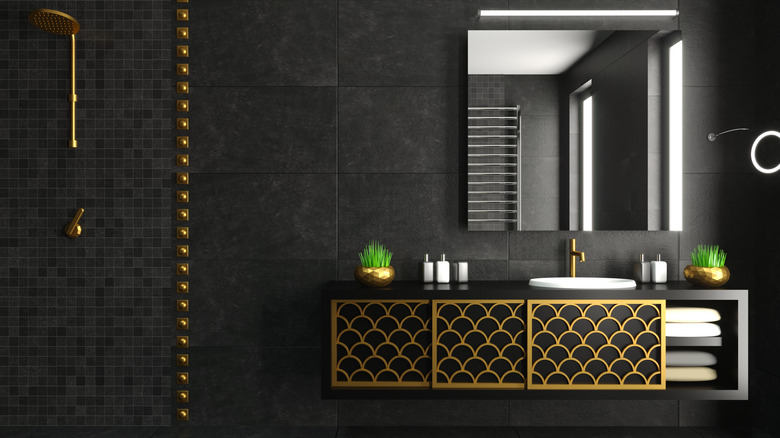 denisik11/iStock
If you can look away from the stunning black tile on the walls, you'll find a luxurious gold and black patterned vanity with an art deco feel, just waiting for all of the attention from your guests. 
12. Disappearing act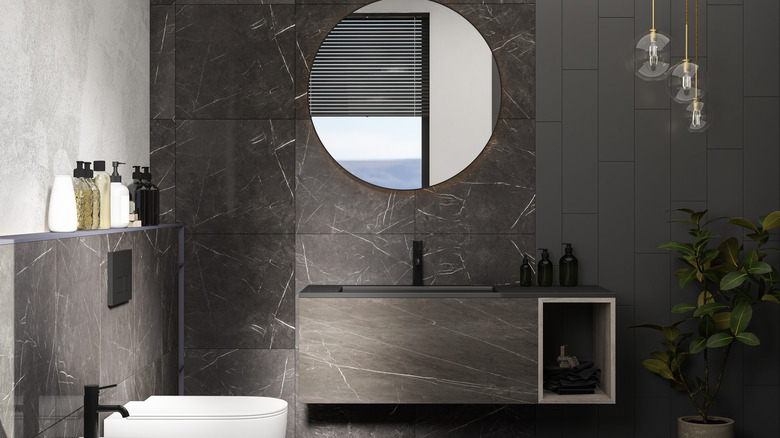 Suleyman Ozkan/iStock
Let your vanity blend into the space with a muted black option. Bring in gold elements with pretty dangling lights or accent pieces you can place on your sink. 
13. Think outside the box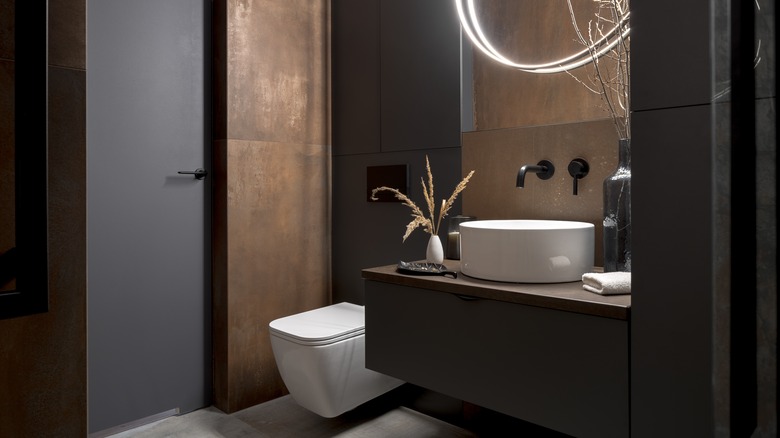 Dariusz Jarzabek/Shutterstock
Here's a bathroom that thinks outside the box with the black and gold combo. The walls have a panel with large tiles in muted copper that pair nicely with the dark paint for a look that will wow guests.
14. In the details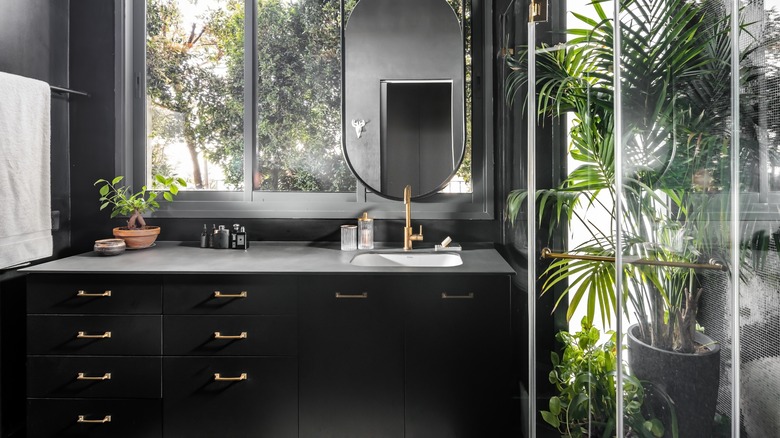 Shai.eps/Shutterstock
You could say the leafy greenery is the main event in this simple yet stunning bathroom, but the truth is, this large vanity with dainty gold drawer pulls will have you doing a double-take.
15. Dark and sleek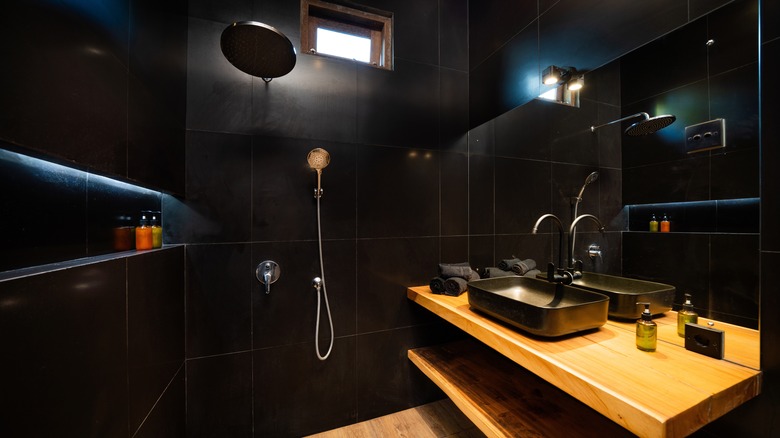 Sanatana/Shutterstock
Adding black tiles to your bathroom is a great way to incorporate the dark-hued trend if you love the minimalist aesthetic. The wood shelving works well against the walls, and opting for gold shower fixtures is the best way to bring in the dynamic black and gold combo.
16. Simply elegant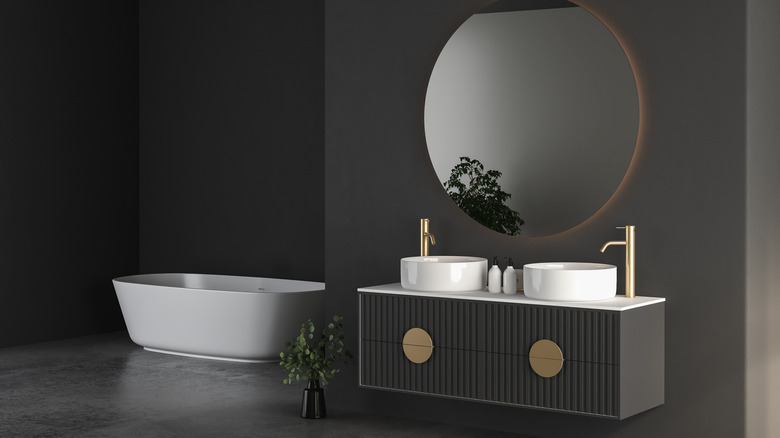 Suleyman Ozkan/iStock
The ultimate color palette is used in this stunning bathroom, including black and gold, to create a glamorous medium-sized bathroom. Painted black walls make the white tub and sink stand out, as do the gold faucet and simple gold-trimmed round mirror.
17. Dramatic lighting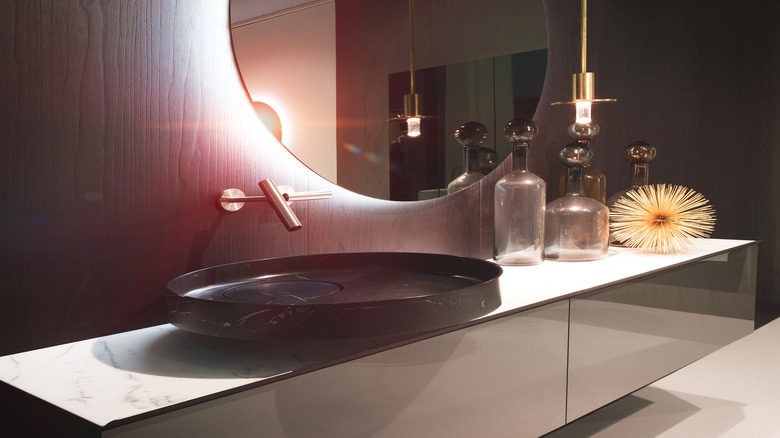 Matveev_Aleksandr/iStock
Add in some drama with your lighting selections like these homeowners did with a stunning gold option that hangs over the vanity, giving this dark space a unique look.
18. A backlit mirror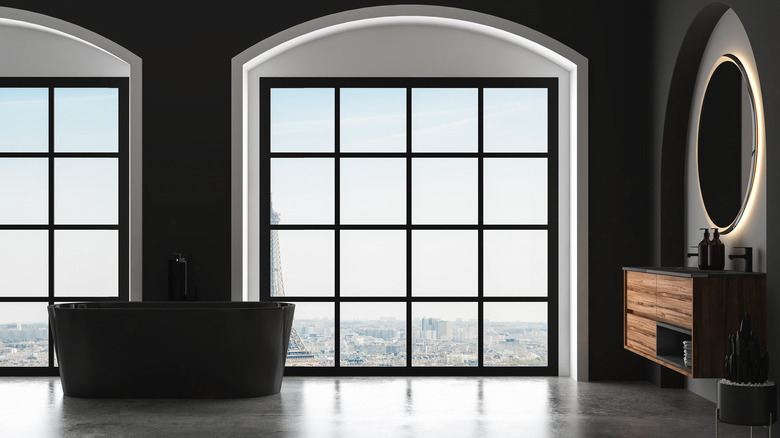 Suleyman Ozkan/iStock
A backlit mirror looks so cool in this space with oversized floor-to-ceiling windows with stunning city views. The dark walls make the rest of the bathroom look elevated.
19. Total luxury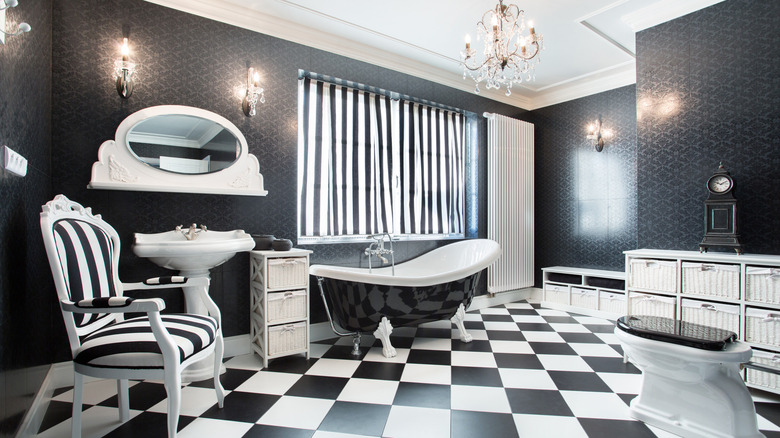 KatarzynaBialasiewicz/iStock
Dark walls, black and white checkered flooring, and an antique chandelier are designs you'd spend all day admiring in your bathroom, that's for sure!
20. Focus on flooring
Hexagon flooring is classic, but this bathroom took it up a notch with a black and gold pattern that will keep guests looking down with admiration. Sebring Design Build says these uniquely shaped tiles became popular in the 1920s and '30s and continually make a style statement, especially today.
21. Luxurious materials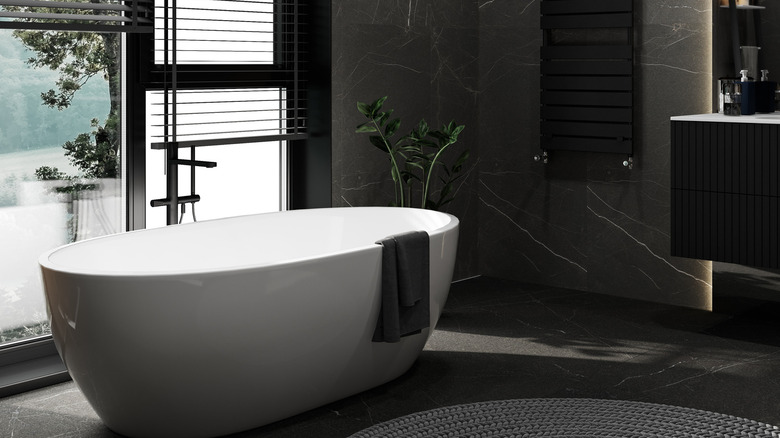 Liliia Lytvyn/iStock
This bathroom is the epitome of luxury with muted black marble walls, a backlit mirror, and a spa tub with lots of natural light.
22. Vintage eclectic
For an eclectic take on a tiny bathroom, Alexandra Gater (via YouTube) transformed a basic white space for a moody "water closet" retreat with dark patterned wallpaper with animals and plants, an ornate gold vintage mirror, a gallery wall, and warm lighting.
23. A black and gold stunner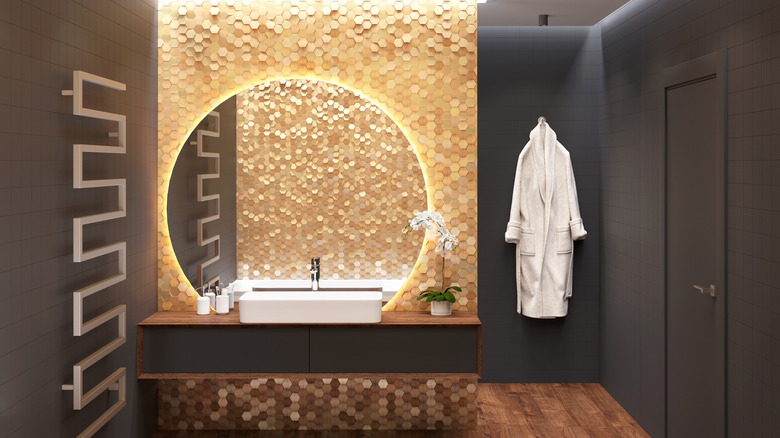 gamespirit/iStock
If you have a large bathroom, look for a statement-making focal point like this gold mosaic tile that surrounds the mirror. It pairs nicely with the darker walls, too!
24. Golden bathroom accessories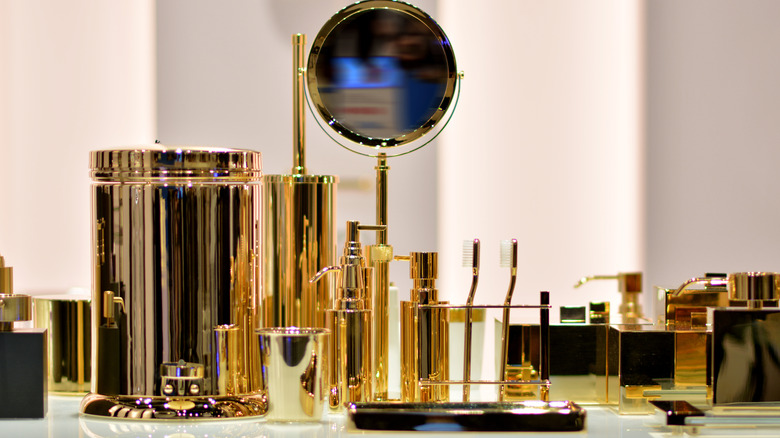 TIL17/Shutterstock
These luxurious bathroom accessories will make any vanity extra beautiful. If you want to go with a DIY approach, DIY Design By CCW (via YouTube) made some ornate versions that are stunning and functional for holding your necessities.
25. A creative table
This unique DIYed black and gold luggage side table would be perfect in a large dark bathroom to display your favorite items like a vintage alarm clock, flowers, or even an array of candles.