What Is A Chair-And-A-Half?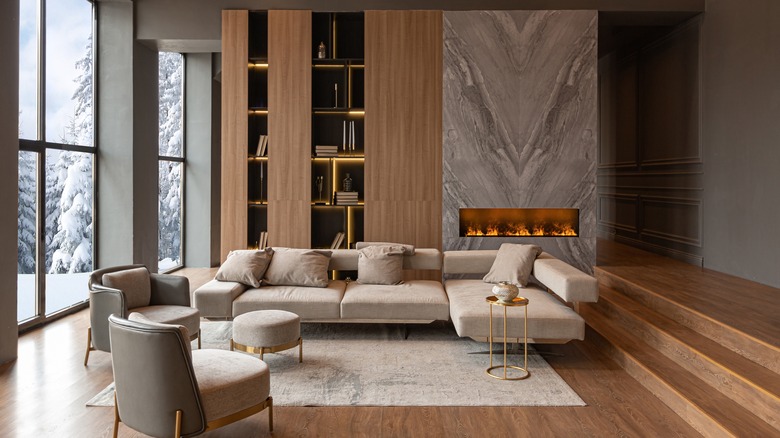 Pinkystock/Shutterstock
Styling a living room with the proper seating is key to keeping your family and guests comfortable when they come over for a visit. This space is where you go to entertain or take a load off during a stressful week, so careful consideration should be taken when selecting the right furniture for comfort and personal design style.
Once you've selected your couch, it's time to consider what accent chairs you want to bring into the space to create a comfortable area. Per Wayfair, there are many chair styles to choose from, including the recliner, the wingback, the barrel, and the chair-and-a-half. If you haven't heard of the latter option before, it could be because they are best used for a niche audience, as Houzz points out. So what exactly is a chair-and-a-half? Keep reading to find out what style it is and why you should consider getting one for your living room or cozy reading nook.
This chair is ... just right!
A chair-and-a-half is larger than a normal armchair but still smaller than a loveseat. New York interior designer Ilene Wetson shared the perfect description with The New York Times, saying, "One can lounge — or two can cuddle." The outlet notes that these chairs are ideal if you have a small living situation where a standard sofa won't suffice or if you have a massive room and you need to think about the scale of furniture to fill the space. Think of a chair-and-a-half as an efficient choice if you're looking for that go-between to fill your home's awkward spaces.
Houzz explains that these chairs work well in open-concept living situations, in front of a fireplace offering a unique spot to lounge (or nap!), in a sunken conversation pit, or they could be the ideal chair for a movie room because of the larger size. Another spot Houzz suggests for a perfect location for a chair-and-a-half is in a bedroom. These chairs are actually remarkable for sleeping since many can transform into beds, so it's something to think about when designing your guest bedroom.
There are plenty of style and fabric options
Now that you know the areas the chair-and-a-half works in, you'll be happy to see that it comes in several styles, catering to just about any home's aesthetic. There is a selection for everyone's design taste, whether your house is more elegant and modern or you live in a rustic-style cottage in a rural setting.
According to Wayfair, these oversized chairs also come in several fabric options. Comfort Works advises using polyester upholstery if your home gets a lot of direct sunlight, as the fabric won't fade. If you have a large family, they suggest cotton or linen that can take a lot of daily use, and if you want something elegant, they say to look for fabrics like linen or velvet.
When selecting an accent chair, Design by Anaïs has two rules. The first tip the interior designer shares is to have fun with it and choose something outside the box regarding color and shape. The second suggestion she notes is to think about the overall vibe of the space to make sure your chair will work with the rest of the décor, which are excellent points you can use when picking out your chair-and-a-half!