Why You May Start Seeing Cake Stands As Living Room Décor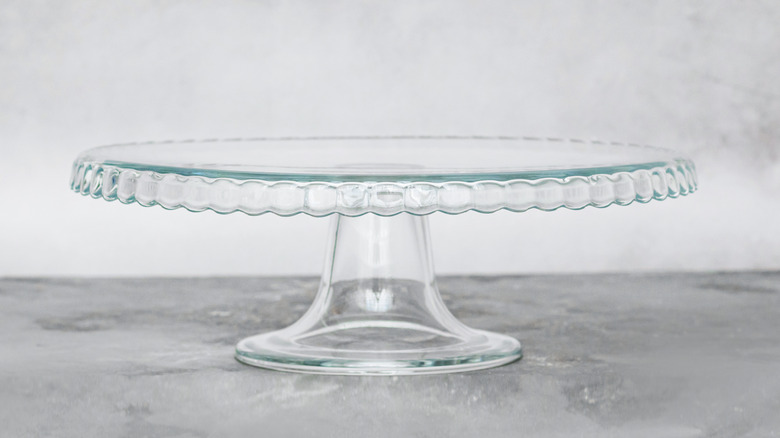 Natalia Khimich/Getty Images
Using a cake stand is a simple way to quickly elevate an ordinary confection to an impressive presentation. James Beard Award-winning baker and co-owner of Boston's Flour Bakery & Café, Joanne Chang, told The New York Times, "It's a relatively easy way to bring your baking up to the next level, just because it makes your cake look much more stellar. It's up on a pedestal, quite literally."
Cake stands come in several shapes, sizes, and materials, and they enhance the overall presentation of food at an event. A versatile piece of tableware, cake stands are most often placed on counters and dining room tables. So, as you enter someone's house, you can expect to see one in the kitchen displaying delicious baked goods and pastries. You may see someone getting creative with a cake stand and using it to elevate seasonal fruit on a serving cart, or turned into a DIY charcuterie board presenting an array of breads and cheeses. One space you probably weren't expecting to see a cake stand, though, is in the living room, especially if there's no food involved.
Cake stands make aesthetically pleasing candle holders
When creating an inviting space, you may turn to cozy layered throw blankets, potted plants, a warm color palette for the walls, and of course, candles. Decorating your home with candles adds to the ambiance of any space, and the delicious aroma accompanying them is always an added bonus. According to candle company Purcell & Woodcock, using candles in your home promotes relaxation and sets the mood for special moments, events, and rituals.
Instead of strategically placing decorative candles on the living room coffee table and mantle, many are turning to embellished cake stands to add dimension to their living room décor. Mini scalloped cake holders are great for this, since they hold a traditional jar candle perfectly and end up looking as if they were specifically designed to do so. But you could opt for any size and style that fits your vibe! Cake-stands-turned-candleholders make eye-catching centerpieces, especially when placed on a decorative tray next to other ornamental pieces in your home, like a small bouquet of dried flowers and coasters. 
Cake stand décor ideas
How you choose to decorate with your DIY candle holders is up to you. The good news is this versatile décor piece can be used during any season and event. For the end-of-year holidays, Food Network suggests layering Epsom salt on the flat surface of a cake stand to create the look of freshly fallen snow, then place a few of your favorite scented candles on top. Don't forget to arrange ornaments and pine leaves around the candle! For the summer months, empty the Epsom salt and place brightly colored flowers and baby's breath around the candle instead. Or, you could grab a large glass cake stand and place just a few candles on top for a simple and elegant look.
While cake stands make chic candle holders, that's not all they can be used for, especially when decorating your home. HGTV recommends placing other objects on top of cake stands, like greenery, to create centerpieces. You could even turn your large cake stands into a mini-bar, complete with bottles and glassware. For a creative housewarming gift, fill the cake stand tray with household goodies and top it with a bow. The endless options are proof that cake stands belong in more spaces around your home than just the kitchen.