Property Virgins Host Sandra Rinomato's Simple Design Tip Can Totally Change Your Home
Have you been looking for some change in your home? Perhaps, you are tired of your living room decor aesthetic, or you want to switch up the vibe in your bedroom; but where do you start? If you are not design savvy, you may have issues designing your new space; however, that doesn't mean you need to hire an interior designer. Interior designers typically charge between $2,000 and $12,000 (and that's excluding the price of the furniture), says Decorilla. It's an expensive service — one you really don't need.
With the proper guidance, you can totally change your home's aesthetic all on your own. It may seem intimidating, but it's nothing to fret over; you just need to know a few tips and tricks to make designing your space fun and easy. Thankfully, Sandra Rinomato, from HGTV's "Property Virgins," has a simple design tip that can change your home (via IMDb).
The 60-30-10 principle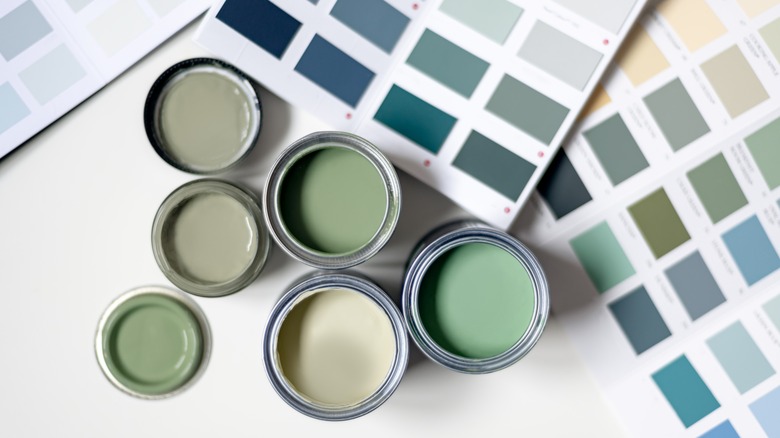 Anna Mente/Shutterstock
One of the most simple design methods you can use is the 60-30-10 principle, Rinomato tells The Huffington Post. The rule states 60% of the room should have a base color palette, 30% must introduce a new color family that is complementary to the base colors, and the last 10% of the room should have pops of color that contrast the rest of the space, which can come via accessories (such as lamps or rugs), linens, and art pieces. Rinomato also suggests adding reflective surfaces and plenty of lighting to really set the tone of the room.
Say you start with a neutral color palette for your kitchen (think browns and grays); this would be 60% of the room. This color palette would account for the walls, countertops, and flooring. For 30% of the space, you choose an earthy neutral tone for your cabinets and window treatments, such as olive green or terracotta. Finally, you switch things up and add pops of dark blue for the kitchen linens or flower vases for the last 10%. Now that you know the secret to designing your home, you only need to pick the colors and where they go.