Are Tufted Headboards Going Out Of Style?
Mirage_studio/Shutterstock
Tufted headboards have offered bedroom decorators a chic alternative for over half a decade. Made with rich fabrics like velvet and classics such as linen in every color imaginable, these padded headboards make a statement all on their own. A few short years ago, they served as a standard of décor excellence, as noted by Mummy Constant. But is this upholstered bedroom trend going out of style? Some interior designers do feel the style is on its way out. The proprietor of Swatts & Co. Design Studio in Grand Rapids, Michigan, Susannah Watts, stated in an Insider feature, "Diamond tufting was overdone in the early 2000s and now these headboards look extremely dated." Not everyone shares her over-it attitude, though. 
Many home decorators and design firms remain fans of upholstered headboards like these. Judging by images seen across the internet and in home magazines and blogs, tufted headboards remain a classic, according to Postcards from the Ridge. Headboards with tufting are also still widely marketed by furniture retailers offering decorating ideas built around them. So, for now, the tufted headboard is still on trend, although the look is morphing to include updated styles.
Fresh tufted headboard looks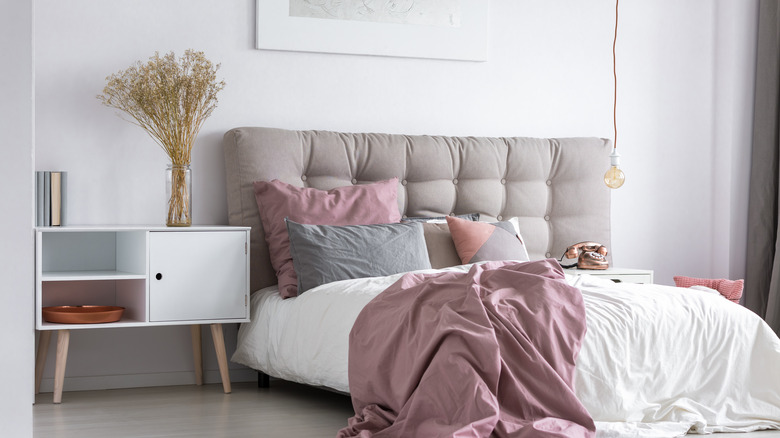 dariatorchukova/Shutterstock
While traditional diamond tufting — a quilt-like pattern made by securing the padded fabric with a knot or a button — can still find a place in a bedroom, this headboard style has transformed to include other patterns. Fresh looks include square, vertical, horizontal, grid, and border tufting. They can also be customized to match any color pallet. Another way to update the look of a room with a tufted headboard is to change the wall behind it. A fresh coat of paint in a fashionable color can transform the face of a room. According to Benjamin Moore, current color trends include shades akin to salmon, blush pink, browns, and yellows in varying spice tones, deep blue, and teal green. Accompanying neutrals range from black to soft gray. 
Adding an accent wall behind a tufted headboard is another alternative. Patterned walls created with painted molding, which can be an easy weekend project, per Jane at Home,  can offer a more sophisticated alternative while materials like wood or stone impart a rustic-yet-elegant feel. Patterned wallpaper is another option for adding color, texture, or complimentary prints to this style of bed.
Other updates for bedrooms with tufted headboards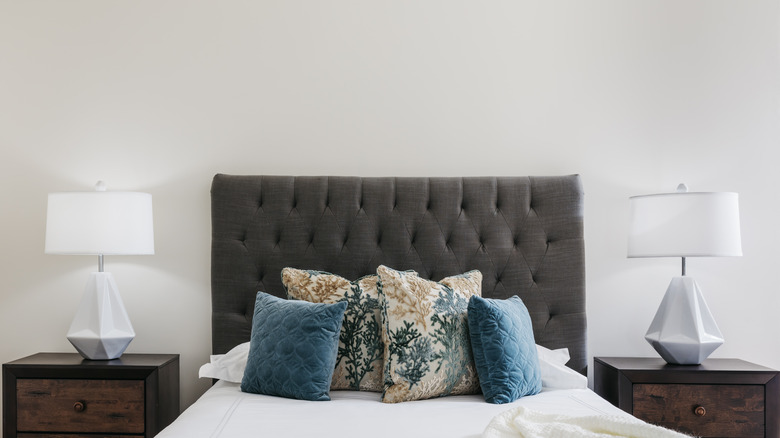 David Papazian/Shutterstock
If you want a fresh look without the expense of a complete redecorating job, replacing an essential element or two can suddenly make your room feel newly warm and cozy without ditching your tufted headboard. As for furniture, the mirrored dresser you purchased years ago may feel a bit dated at this point. Or, maybe you originally went with fast furniture, something to avoid, according to Discover magazine, and now want to upgrade to something with staying power. Even thrift store finds like bedside tables painted to match a new color scheme can transform a room. 
New decorative accents can also be a great way to add trend-setting colors to a bedroom while staying on budget. For instance, keep the neutral throw pillows you own and replace outdated colors or patterns with trendier options. Draping a throw over a tufted headboard, according to The Decor Fix, also offers a way to add a new design, color, or texture affordably. Adding a small area rug near the bed can serve the same purpose. Look to paint color trends for a pallet of hues to consider. And remember, at the end of the day, you decide whether your tufted headboard is in or out. If you love it, hold on to it and enjoy it for as long as you want.