The Best Place To Live In Alaska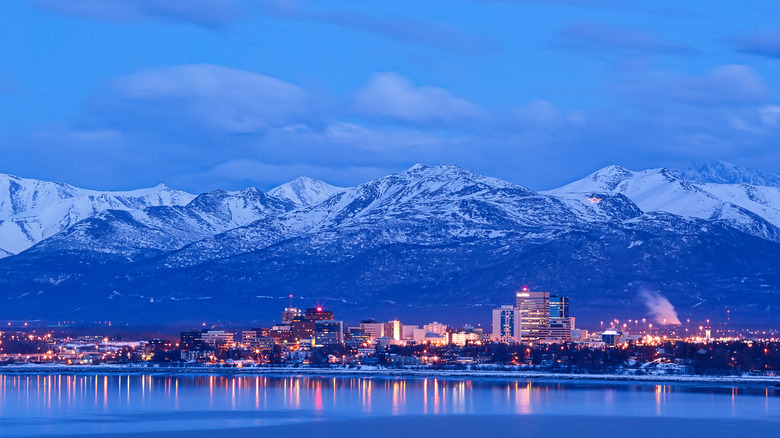 Rex Lisman/Shutterstock
Alaska is perhaps the last frontier space in the United States. Located well above the 48 states, Alaska is a unique slice of America that is often significantly underappreciated for its natural beauty and boundless opportunity. Residents of Alaska can partake in an immense volume of outdoor activities and adventures, according to Moving.com. Some of the country's most abundant fishing and hunting spaces are located in this northern state, and with a sparse population, those looking for a change of pace from the fast and often hectic city life found elsewhere in the U.S. can find it with ease.
Whether you're looking for off-grid living or a community environment, there's something for everyone in Alaska. The state remains a near-secret destination that many people simply don't think about when considering moving to a new community. Alaska is known for its natural lifestyle and friendly community-focused inhabitants. Anywhere you select as a home in the state can provide you with fabulous outdoor experiences and a one-of-a-kind place to grow and take in the serene peacefulness of the great outdoors. Smithsonian Magazine notes that you can even catch the Northern Lights from viewpoints throughout Alaska (with inland skies providing some of the clearest opportunities to see this stunning display). Royal Alaskan Movers suggest that the five regions of the state offer unique advantages to all potential inhabitants, so thinking about your interests can act as a determining factor here.
Anchorage might just provide the best in value and lifestyle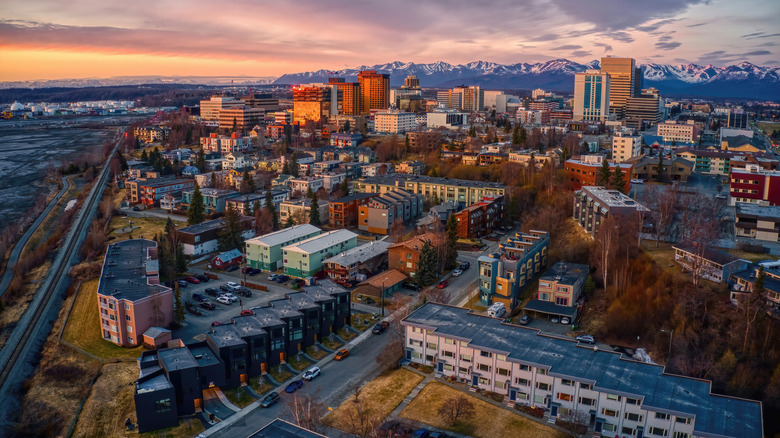 Jacob Boomsma/Shutterstock
Anchorage is the largest city in Alaska, yet its population remains under 300,000 (via World Population Review). This means that residents can experience the best of rural living while also taking advantage of larger town amenities. Alaskans take pride in their remoteness, but even the most self-sufficient of us need the structure of a community from time to time.
Zumper notes that the average rent in Anchorage is just $1,200 for a single-bedroom property, allowing for positive movement in anyone's financial calculations. Homeowners all across the country have been tackling the trend of adding increased natural elements and nature-themed designs inside their properties. Calling Anchorage home can help you double down on this capacity for improving the natural environment of your property. Even though Anchorage remains the largest city in Alaska, residents here enjoy that they are on the doorstep of some of the most scenic natural environments in the country. Hiking, skiing, camping, and hunting are all possible from a home base in Anchorage. This town is perhaps the best place to live in Alaska for many reasons, but the key feature here is how the community blends the best of everything that Alaska has to offer.