You're Going To Want To Steal Magnolia Network Star Joanna Gaines' Genius Toy Storage Tip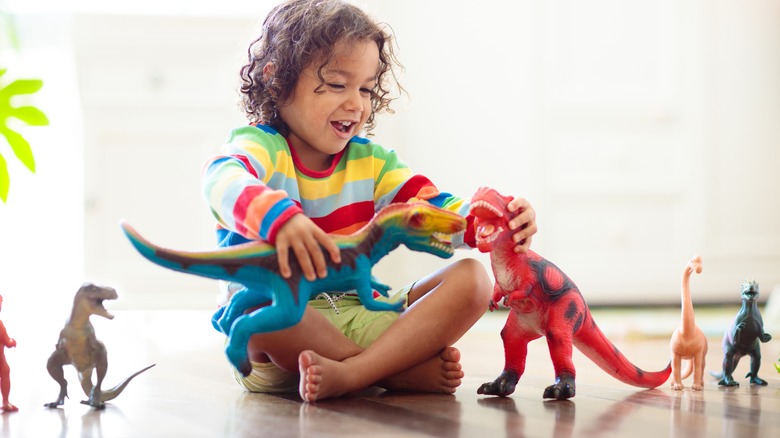 FamVeld/Shutterstock
Every room in your home should have a sense of organization, even in play areas and designated craft rooms. Yes, no one can stop the hectic mess created after playtime, but you can ensure easy clean-up by implementing an organized storage system. According to The Speech Space, creating a toy storage system can help kids develop healthy routines and a sense of responsibility. It can also help prevent kids and adults from stepping on toys and causing any minor or major injuries. It's an overall great way to encourage your child's healthy development.
However, if you're staring wearingly at all the displaced toys in your home, it can be overwhelming to figure out the best storage method. Luckily, interior designer and co-host of "Fixer Upper" Joanna Gaines has shared her tips on how to properly store toys and get your home in tip-top shape. We'll share her methods and reveal how you can incorporate them into your home.
Match your aesthetic
According to Showbiz CheatSheet, Joanna Gaines says to limit the number of toys you purchase for your children. It won't matter how fabulous your storage system is if there are too many toys to organize properly. Limiting options is probably best for your children as well because you don't want to overwhelm them with too many choices. Once you've settled on keeping the toys deemed most important by your children, it's time to choose the proper storage system.
Gaines says to choose bins that fit the style of your home and stay away from the tacky, bright-colored plastic bins you'd find at a preschool. For example, she used a chicken coup in an episode of "Fixer Upper" to store children's books, but you could also use it for crayons or stuffed animals (via HGTV). We're also a major fan of woven baskets because it's a neutral design option, and they can also introduce texture. The Small Seagrass Storage Basket from H&M's is a great example, and its handles are a useful feature if you need to move it around.